CD38 Inhibition: A Novel Target for Hepatic Ischemia Reperfusion Injury
C. Akateh1, B. F. Reader1, Y. Lee1, J. Kim1, K. Maynard1, K. W. Washburn1, J. L. Zweier2, B. A. Whitson1, S. M. Black1
1Surgery, The Ohio State University Wexner Medical Center, Columbus, OH, 2The Ohio State University Wexner Medical Center, Columbus, OH
Meeting: 2019 American Transplant Congress
Abstract number: A107
Keywords: Apoptosis, Ischemia, Liver metabolism, Rat
Session Information
Session Time: 5:30pm-7:30pm
Presentation Time: 5:30pm-7:30pm
Location: Hall C & D
*Purpose: Ischemia/reperfusion injury (IRI) is a major source of injury during many surgical procedures on the liver, and severe IRI can lead to post-hepatectomy liver failure. In liver transplantation, IRI is primarily responsible for most cases of early graft failure and primary graft non-function. This is especially a concern in marginal organs that often tolerate IRI very poorly. CD38 is a molecule, whose enzymatic activities occur through calcium signaling messengers (NADP, ADPR, and cADPR) to drive intracellular calcium metabolism. CD38 has been shown to be directly implicated in IRI, while CD38 inhibition has been shown to be protective of IRI in some organs. The aim of this study is to investigate the protective effects of CD38 inhibition in the liver cells and in the liver during IRI using in vitro methods and a rat hilar clamp model.
*Methods: In vitro, primary liver cells treated with the CD38 inhibitor Luteolinidin were subjected to hypoxia and reoxygenation, and measures of cell health and viability were assessed. IRI was recapitulated in vivo using a rat segmental (70% ischemia) hilar clamp model. Sprague Dawley rats were subjected to a sham operation, 60 minutes ischemia, 60 minutes ischemia plus vehicle treatment followed by 6 hours reperfusion or 60 minutes ischemia plus vehicle Luteolinidin followed by 6 hours reperfusion. Markers of liver injury including plasma ALT and AST, tissue MDA, ATP, and GSH, and histology were assessed.
*Results: In vitro, Luteolinidin treatment resulted in improved tolerance to hypoxia/reoxygenation injury. In vivo, ischemia and reperfusion resulted in increased CD38 activity, which correlated with significant liver injury. Treatment of the liver with Luteolinidin (a CD38 inhibitor) during ischemia resulted in a significant reduction in ALT and AST and an improvement in tissue MDA, ATP, and GSH. There was improved maintenance of tissue architecture on H&E histological staining.
*Conclusions: CD38 plays a critical role in modulating hepatic IRI and inhibition of CD38 during reperfusion provides significant protection. CD38 inhibition prevents CD38 activation and upregulation blocking the downstream signaling necessary for harmful effects of NAD depletion and ROS production during reperfusion. Our data suggest that CD38 inhibition may have potential as a therapeutic agent to be used during transplantation.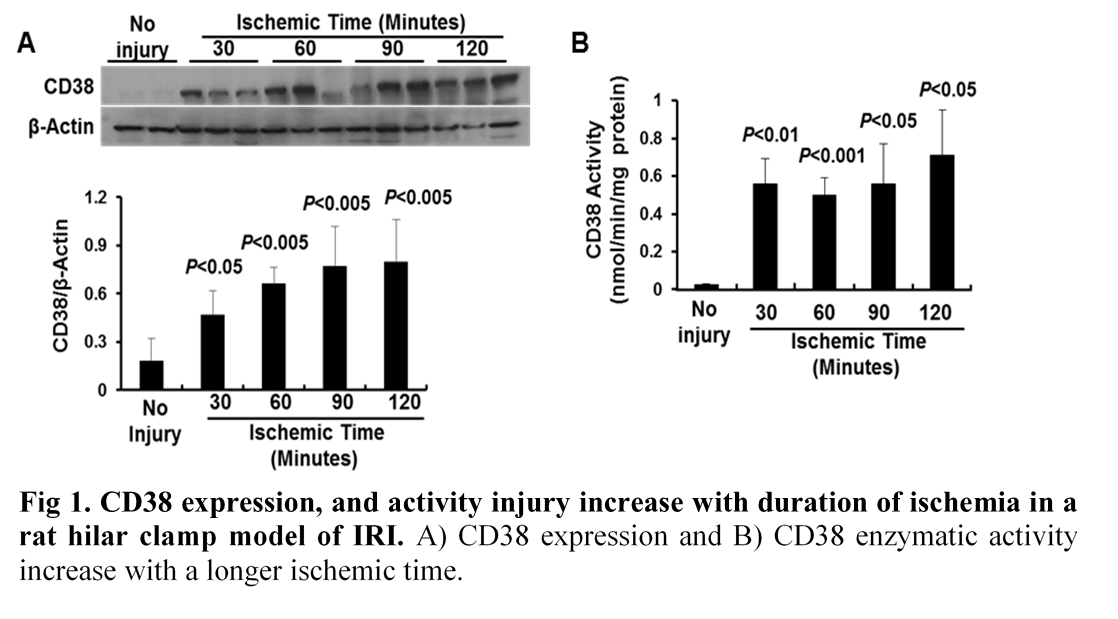 To cite this abstract in AMA style:
Akateh C, Reader BF, Lee Y, Kim J, Maynard K, Washburn KW, Zweier JL, Whitson BA, Black SM. CD38 Inhibition: A Novel Target for Hepatic Ischemia Reperfusion Injury [abstract].
Am J Transplant.
2019; 19 (suppl 3). https://atcmeetingabstracts.com/abstract/cd38-inhibition-a-novel-target-for-hepatic-ischemia-reperfusion-injury/. Accessed September 22, 2021.
« Back to 2019 American Transplant Congress