Tubastatin-A, an HDAC6 Inhibitor, is Protective in Liver Ischemia Reperfusion Injury and Acetaminophen-Mediated Liver Injury
1Perelman School of Medicine, University of Pennsylvania, Philadelphia, PA, 2Children's Hospital of Philadelphia, Philadelphia, PA, 3Starwise Therapeutics, Madison, WI
Meeting: 2019 American Transplant Congress
Abstract number: A109
Keywords: Ischemia, Liver, Liver transplantation, Mice
Session Information
Session Time: 5:30pm-7:30pm

Presentation Time: 5:30pm-7:30pm
Location: Hall C & D
*Purpose: Ischemia reperfusion injury (IRI) causes morbidity and contributes to early graft loss in liver transplantation and no current therapy exists. Liver injury complicates other medical scenarios including drug toxicity. A better understanding of the mechanisms of liver injury is required so that strategies for prevention and treatment can be developed. Histone deacetylases (HDACs) regulate diverse cellular processes. In the kidney, we have previously shown that class I HDAC inhibition provides protection after IRI. We now report that Tubastatin a, an HDAC6 inhibitor, is protective from liver injury in multiple models.
*Methods: Male wild type C57BL/6 (B6) mice were treated with Tubastatin-A (TubA) or control vehicle (DMSO) at 16 and 1 hours pre-IRI. In addition, TubA was given to HDAC6 constitutive knockout animals (HDAC6KO) at 16 hours and 1 hour prior to IRI. To model acetaminophen (APAP) toxicity, WT mice were treated with intraperitoneal vehicle or TubA at 16 hours and again just prior to administration of a sublethal dose of APAP (500 mg/kg). In both settings, AST and ALT levels were assessed 24 hours after injury.
*Results: TubA-treated mice developed significantly less hepatocellular injury after liver IRI than controls (Fig 1A). Addition of TubA to HDAC6 knockout mice did not provide protection after liver IRI (Fig 1B). Pre-treatment with TubA mitigated APAP-induced hepatocellular injury (Figure 1C).
*Conclusions: TubA provides protection in liver IRI and did not protect in HDAC6 deficient mice. TubA also protects in an APAP model of liver injury, which has broad clinical implications. While more mechanistic investigation is needed, our studies indicate the powerful effects of TubA on liver injury in multiple clinically relevant models.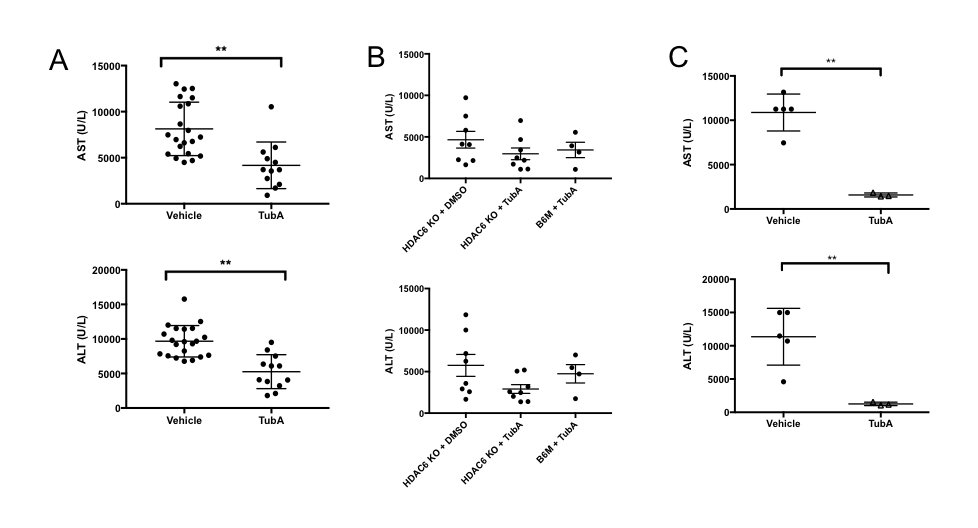 To cite this abstract in AMA style:
Concors S, Murken D, Hernandez P, Aufhauser D, Wang Z, Ge G, Krumeich L, Bhatti T, Kozikowski A, Hancock W, Levine MH. Tubastatin-A, an HDAC6 Inhibitor, is Protective in Liver Ischemia Reperfusion Injury and Acetaminophen-Mediated Liver Injury [abstract].
Am J Transplant.
2019; 19 (suppl 3). https://atcmeetingabstracts.com/abstract/tubastatin-a-an-hdac6-inhibitor-is-protective-in-liver-ischemia-reperfusion-injury-and-acetaminophen-mediated-liver-injury/. Accessed June 29, 2022.
« Back to 2019 American Transplant Congress