Single Center Experience of Valganciclovir and Adjunctive CMV IVIG for the Treatment of CMV Infection in Lung Transplant Recipients
A. A. Fernandez1, N. Sinha2, M. Loebe2, J. Glaze2, S. Manickavel2, M. Fernandez2, T. Pastrana2, J. Simkins3, J. Camargo3, M. I. Morris3, L. Abbo3, Y. Natori3
1Infectious Disease, University of Miami Jackson Memorial Hospital, Miami, FL, 2University of Miami Jackson Memorial Hospital, Miami, FL, 3Transplant Infectious Disease, University of Miami Jackson Memorial Hospital, Miami, FL
Meeting: 2020 American Transplant Congress
Abstract number: D-154
Keywords: Cytomeglovirus, Immunoglobulins (Ig), Lung transplantation, Viral therapy
Session Information
Session Time: 3:15pm-4:00pm
Presentation Time: 3:30pm-4:00pm
Location: Virtual
*Purpose: Cytomegalovirus(CMV) infection happens commonly and causes significant morbidity in lung transplant (LTx) recipients. The use of CMV hyperimmune globulin (CMVIg) as an adjunctive treatment strategy to antiviral therapy is controversial and sometimes used in LTx recipients. There is insufficient evidence of the effectiveness of this strategy.
*Methods: We conducted a retrospective single center cohort study of all lung transplant recipients who received CMVIg between January 2014 and March 2019 as an adjunctive therapy. Our protocol is universal valganciclovir prophylaxis for one year post LTx regardless of CMV serostatus.
*Results: During study period, our center performed approximately 20 lung transplants annually. Twenty two LTx recipients received CMVIg; 17 received it adjunctive to antiviral therapy with a median of 150 (range 100-192.3) mg/kg of CMVIg. Three (17.6 %), 12 (70.6%) and 2 (11.8%) patients underwent single lung, double lung and heart/lung transplant respectively. Six (35.2%) patients were CMV donor positive recipient negative serostatus and the rest were recipient positive serostatus. Median time from transplant to CMV infection and treatment with CMVIg was 12 (range 3-192) months. Three patients developed rejection within 3 months prior to CMV. The majority of the patients received induction immunosuppression with basiliximab and methylprednisolone. Maintenance immunosuppression included prednisone, mycophenolate mofetil and tacrolimus. Three (17.6%) of the patients developed CMV end organ disease (2 colitis, 1 retinitis) and additional 5(29.4%) of the patients presented with CMV syndrome. The peak viral load was a median of 1,996 (range 158-2,900,000) IU/ml. The median duration from initiation for antivirals to achieve negativity was 28 (range 7-70) days. No significant adverse events were noted with the use of CMVIg. One patient developed rejection within 3 months after CMV infection. Only one patient died within 6 months after CMV infection, otherwise no graft loss occurred.
*Conclusions: CMVIg was safely used but further study is needed in lung transplant recipients to show the efficacy.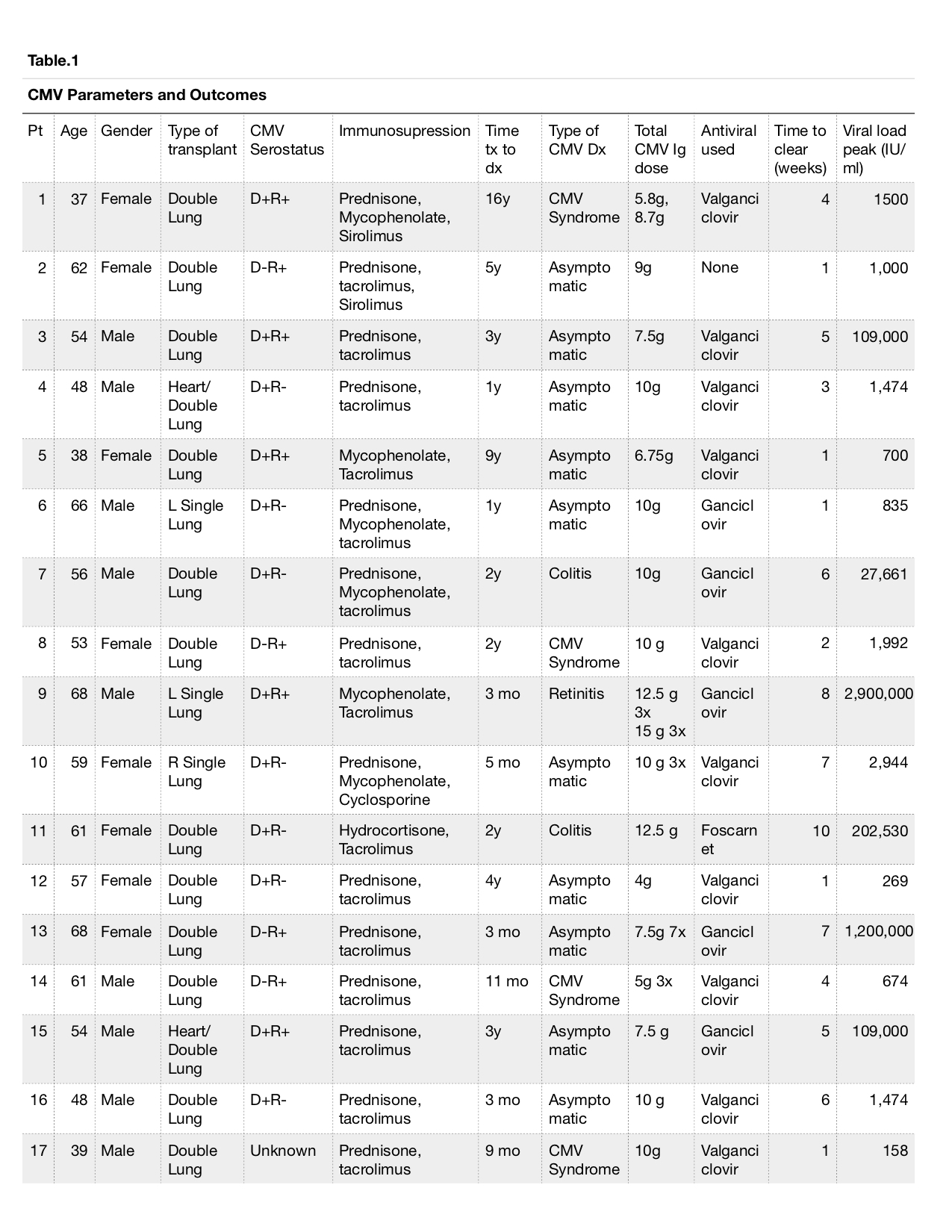 To cite this abstract in AMA style:
Fernandez AA, Sinha N, Loebe M, Glaze J, Manickavel S, Fernandez M, Pastrana T, Simkins J, Camargo J, Morris MI, Abbo L, Natori Y. Single Center Experience of Valganciclovir and Adjunctive CMV IVIG for the Treatment of CMV Infection in Lung Transplant Recipients [abstract].
Am J Transplant.
2020; 20 (suppl 3). https://atcmeetingabstracts.com/abstract/single-center-experience-of-valganciclovir-and-adjunctive-cmv-ivig-for-the-treatment-of-cmv-infection-in-lung-transplant-recipients/. Accessed May 18, 2021.
« Back to 2020 American Transplant Congress