Session Information
Session Time: 5:30pm-6:30pm
Presentation Time: 5:30pm-6:30pm
Location: Exhibit Hall E
OBJECTIVES:
miR-155 has been associated with both innate and adaptive immune responses. SOCS1, which is involved in Treg survival and function, is a direct target of miR-155 in Treg.Since there are two subsets of Treg (nTreg and iTreg), we therefore investigated miR-155 expression in these cells and their possible impact on Treg function after knocking down.
METHODS:
Expression of miR-155 was assessed in UCB nTreg, iTreg and control CD4+CD25- T cells by RT-PCR. Then miR-155 was knocked down by antagomir. Phenotypes and cytokines were assayed by flow cytometry. Interference with biological activity of miR-155 was evaluated in functional Treg assays.
RESULTS:
Besides cytokine differences, nTreg showed significantly lower miR-155 expression and higher SOCS1 expression compared to iTreg.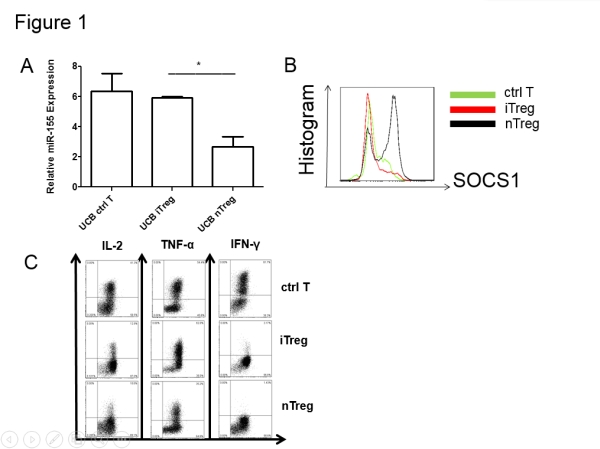 After knock-down of miR-155, SOCS1 expression was the only target we found increased strongly in iTreg while nTreg was not affected. SOCS1 related cytokines were reduced in iTreg after knock-down of miR-155. Diminution of miR-155 expression increased the function of iTreg in the CFSE assay.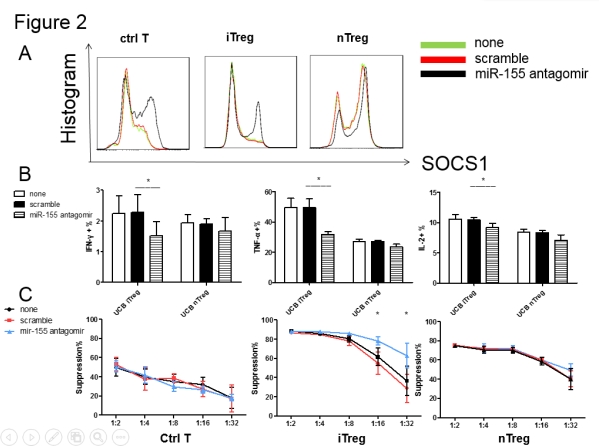 CONCLUSIONS:
Our results demonstrate that miR-155–SOCS1 signaling pathway is different between UCB iTreg and nTreg. Knock-down of miR-155 facilitates SOCS1 expression in iTreg. And increased SOCS1 expression is the main reason that iTreg acquires better suppressive function after knock-down of miR-155.
To cite this abstract in AMA style:
Lu Y, Lu L. miR-155 Different Roles in UCB iTreg and nTreg [abstract].
Am J Transplant.
2015; 15 (suppl 3). https://atcmeetingabstracts.com/abstract/mir-155-different-roles-in-ucb-itreg-and-ntreg/. Accessed April 18, 2021.
« Back to 2015 American Transplant Congress