Session Information
Session Time: 5:30pm-7:30pm

Presentation Time: 5:30pm-7:30pm
Location: Exhibit Hall E
Introduction:
The LMX-SAB has been extensively used for DSA virtual crossmatch (VXM) to predict actual crossmatch (AXM). The extreme pH and harsh chemical reaction conditions used in the preparation of LMX-SAB can cause unpredictable denaturation and configuration changes on HLA-Ag molecules and result in both false positive and false negative VXMs.
A novel cell-based flow cytometry DSA detection method (DSA-FXM) was developed in our lab. It is able to selectively detect HLA-Abs reactive with native HLA molecules presented on the cell surface (Fig. 1) and eliminate false positive DSA called by LMX-SAB.
Methods:
DSA-FXM: 0.2X106 donor PBMCs were incubated with recipient serum at RT for 30', washed, and then the beads conjugated with anti-HLA class-I (CI) and -II (CII) MoAbs were added. The cells were lysed and the complexes of HLA-Ag-Ab were captured by CI or CII beads; and further detected by PE-anti IgG on a flow cytometer.
FXM: Regular IgG FXM procedure
LMX-SAB: One Lambda method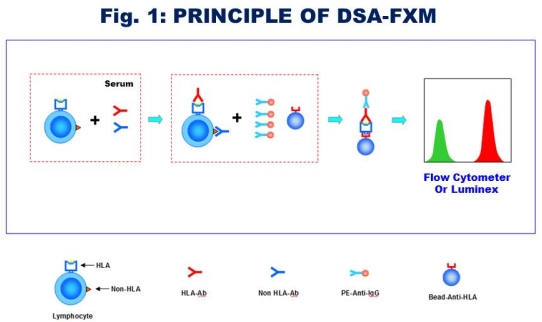 Results:
A total of 116 samples were tested by DSA-FXM, FXM, and LMX-SAB. 140 DSA specificities were identified by DSA-FXM and confirmed by LMX-SAB which covered all class I and II specificities including A, B, C, DR, DQ, and DP (Table 1). 8 DSA+ LMX-SAB samples were found to be false positive (MFI: 5951-10782), proved negative by DSA-FXM and FXM (Table 2).
Conclusions:
The antibodies reacting with non-native HLA molecule can cause false positive DSA results on LMX-SAB leading to an incompatible virtual crossmatch. DSA-FXM was able to eliminate the false positive and detect the true DSA against the native HLA-Ags expressed on the donor cell surface.
To cite this abstract in AMA style:
Chen G, Lin L, Tyan D. Detection of Donor Specific HLA-Ab (DSA) Against Native HLA Molecules Expressed On Donor Cell Surface to Eliminate False Positive DSA in Luminex Single Antigen Beads (LMX-SAB) [abstract].
Am J Transplant.
2015; 15 (suppl 3). https://atcmeetingabstracts.com/abstract/detection-of-donor-specific-hla-ab-dsa-against-native-hla-molecules-expressed-on-donor-cell-surface-to-eliminate-false-positive-dsa-in-luminex-single-antigen-beads-lmx-sab/. Accessed September 26, 2023.
« Back to 2015 American Transplant Congress