Session Information
Session Time: 5:30pm-7:30pm
Presentation Time: 5:30pm-7:30pm
Location: Hall 4EF
Backgroud: Only 20% of donor lungs are used for transplant and 10 y survival of recipients is low. Many patients die within 30 d of transplant due to primary graft dysfunction (PGD). Contributing to PGD is ischemia-induced and ischemia-reperfusion injury (IRI) occurring secondary to ischemic time. The standard preservation solution, low-potassium dextran (LPD), provides protection for up to 6 h. There is significant interest in novel solutions that minimize damage and increase allowable ischemic time. We have developed a lung preservation solution, SolnIX-SK, that hypothermically stabilizes tissue and maintains cell viability, architecture, and oxygen tension. In previously published data we found that SolnIX-SK confers protection to cryopreserved human lung tissue.
Methods: Rhesus macaque lungs are used to compare SolnIX-SK vs LPD. 6-10 kg adults are heparinized prior to lethal injection and the cardiopulmonary circuit removed. Lungs are perfused via main pulmonary artery with 550 cc of cold solution at 8 mL/min via pump. They are inflated to 20 cm H20 with 50% FiO2 and the trachea clamped. Lungs are submerged in solution and kept at 4[deg] for 8 h, then are analyzed using histology and immunohistochemistry (IHC).
Results: Histology shows normal mucosa and minimal damage in SolnIX-SK-perfused lungs, while LPD-perfused lungs exhibit bronchial epithelium sloughing and edema, interstitial alveolar hemorrhage, increased foamy macrophages, and early thrombosis. IHC shows greater vascular integrity of SolnIX-SK lungs compared to LPD, which display vascular endothelial detachment (CD31). The greatest differences were seen in apoptosis (Casp-3) and tissue damage (LDH), which were extensive in the LPD lungs. Matrix remodeling was only slightly increased in LPD lungs (neutrophil elastase).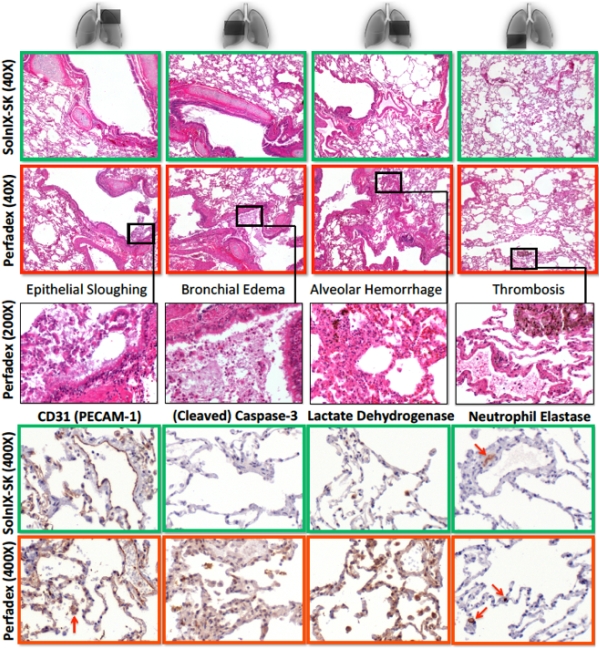 Conclusion: Short allowable ischemic time and IRI contribute to low rates of utilization of donor lungs and high morbidity and mortality in recipients. Use of the novel preservation solution SolnIX-SK demonstrates promising results for increasing allowable ischemic time and improving tissue architecture and cell viability when compared to current standard LPD.
CITATION INFORMATION: Friedman J., Samamrco M., Marrero L., Bunnell B., Spyropoulos D. A Novel Preservation Solution for Lung That Improves Cell Viability and Tissue Architecture Am J Transplant. 2017;17 (suppl 3).
To cite this abstract in AMA style:
Friedman J, Samamrco M, Marrero L, Bunnell B, Spyropoulos D. A Novel Preservation Solution for Lung That Improves Cell Viability and Tissue Architecture [abstract]. https://atcmeetingabstracts.com/abstract/a-novel-preservation-solution-for-lung-that-improves-cell-viability-and-tissue-architecture/. Accessed September 25, 2021.
« Back to 2018 American Transplant Congress