TMA Development in Kidney and Heart Xenografts Treated with Anti-CD40 or Anti-CD154 Antibodies
1Surgery, MGH, Boston, MA, 2Pathology, MGH, Boston, MA
Meeting: 2019 American Transplant Congress
Abstract number: D74
Keywords: Heart, Kidney transplantation, Pig, Primates
Session Information
Session Time: 6:00pm-7:00pm
Presentation Time: 6:00pm-7:00pm
Location: Hall C & D
*Purpose: Genetically modified Galactose-α 1,3-galactose knockout transgenic swine expressing human CD55 (GTKO.hCD55) are resistant to hyperacute rejection of xenografts. We compare anti-CD154 and anti-CD40 antibody-based regimens in kidney and heart xenotransplant models.
*Methods: Cynomologus macaque recipients of GTKO.hCD55 pig kidneys (4) or hearts (3) were treated with rabbit ATG and anti-CD20 mAb as induction, followed by daily MMF, methylprednisolone and sirolimus, as well as weekly anti-CD40 (2C10R4, 20 mg/kg) or anti-CD154 (hu5c8, 20 mg/kg) antibody. In kidney transplantation, 2 recipients received anti-CD40 and the other 2 received anti-CD154. All 3 heart recipients received anti-CD40.
*Results: Kidney recipients receiving the anti-CD40 regimen lost graft function on days 11 and 15 in association with thrombotic microangiopathy (TMA) with mild rejection in one recipient. In contrast, both kidney recipients with anti-CD154 regimen exhibited preserved kidney function until euthanized on days 76 and 93 due to weight loss. Moderate TMA and evidence of chronic rejection was present in one and only C4d deposition in the other. Unlike kidney recipients, heart recipients treated with anti-CD40 did not exhibit TMA, and recipients were euthanized due to acute rejection (d 80) or intractable anemia (d 30, 65), with severe AMR in one.
*Conclusions: Our initial experience suggests that GTKO.hCD55 kidney xenotransplant recipients, exhibit rapid onset of TMA with anti-CD40 regimen, which was effectively inhibited by anti-CD154. In contrast, TMA was not observed in heart xenografts, demonstrating organ-specific susceptibility to TMA.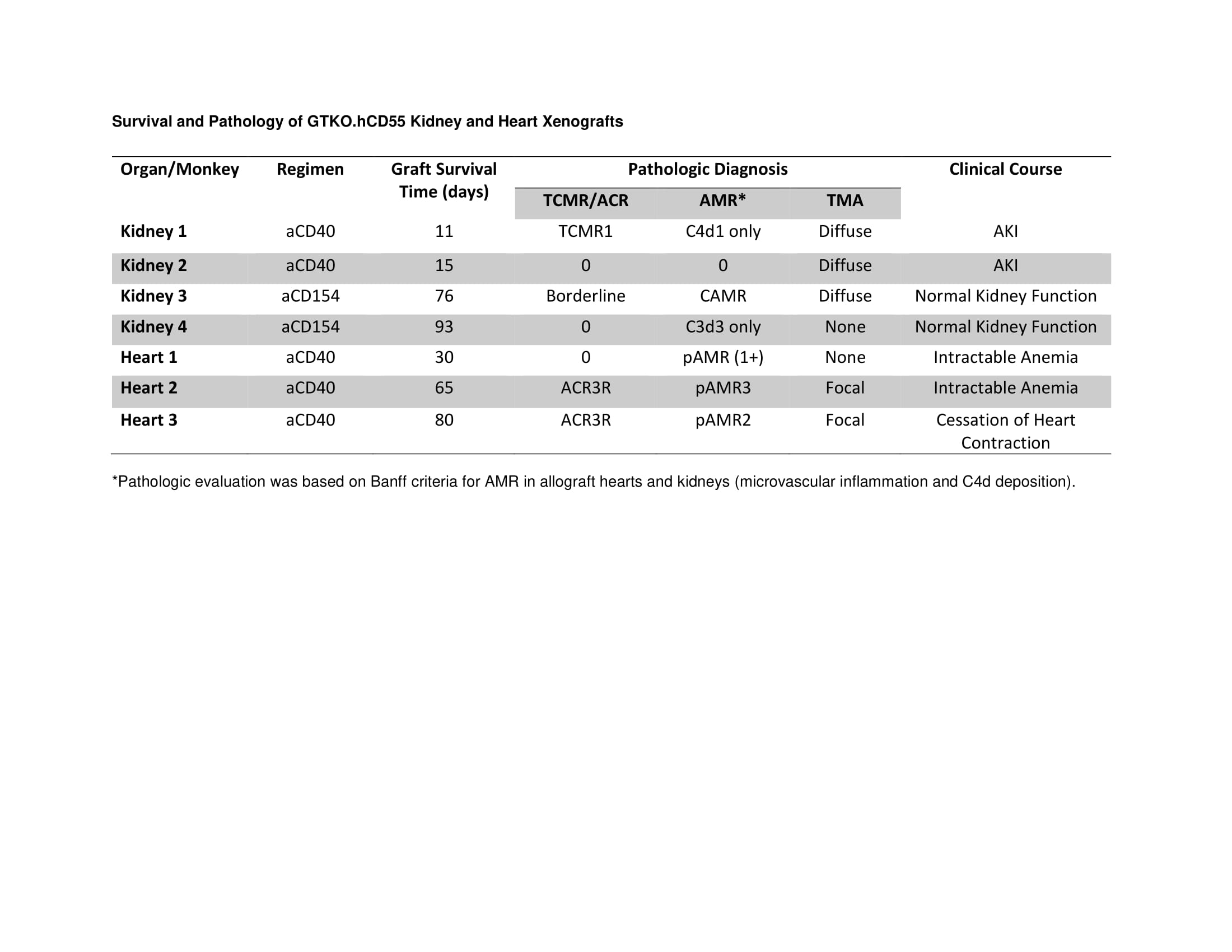 To cite this abstract in AMA style:
Ma DH, Sasaki H, O JM, Ahrens K, Becerra D, Rickert CG, Detelich DM, Oura T, Somer W, Rosales I, Pierson RN, Markmann J, Madsen JC, Kawai T. TMA Development in Kidney and Heart Xenografts Treated with Anti-CD40 or Anti-CD154 Antibodies [abstract].
Am J Transplant.
2019; 19 (suppl 3). https://atcmeetingabstracts.com/abstract/tma-development-in-kidney-and-heart-xenografts-treated-with-anti-cd40-or-anti-cd154-antibodies/. Accessed September 27, 2021.
« Back to 2019 American Transplant Congress