The Liver Protects All? Donor Specific Antibody Formation in Heart-Liver Transplant Recipients
1Department of Pharmacy, Houston Methodist Hospital, Houston, TX, 2Department of Pathology, Houston Methodist Hospital, Houston, TX, 3Department of Surgery, Houston Methodist Hospital, Houston, TX, 4Houston Methodist Hospital, Houston, TX
Meeting: 2020 American Transplant Congress
Abstract number: 81
Keywords: Heart, HLA antibodies, Liver
Session Information
Session Time: 3:15pm-4:45pm
Presentation Time: 4:27pm-4:39pm
Location: Virtual
*Purpose: Donor specific antibodies (DSAs) are key in the development of antibody mediated rejection (AMR). Their role in decreased patient and graft survival has been demonstrated in heart transplantation with a reported incidence of up to 30%. Liver transplants have historically been considered resistant to DSAs, and outcomes in combined liver-kidney transplant suggest immunologic privilege provided to the transplanted kidney by the liver. DSA development in combined heart-liver transplant (CHLT) and its impact on graft outcomes has yet to be described.
*Methods: We conducted a single-center retrospective review of all CHLT at our center from 2014 to present. Both patients and donors were HLA-typed pre-transplant. Post-transplant DSAs were checked regularly per institution protocol or when clinically indicated. Endomyocardial biopsies were performed at regular intervals during the first year post-CHLT and for cause thereafter. HLA-antibody testing was done via single antigen beads (SAB) with a 1000 MFI cutoff for positivity.
*Results: Twenty-two patients underwent successful CHLT without need for re-transplant. Baseline characteristics are described in Table 1. All patients received steroid-alone induction with tacrolimus, mycophenolate, and steroid as maintenance. DSA development was seen in 5 patients post-transplant, see Figure 1. Median follow up was 318 days (IQR 101-465). No graft failures occurred. Two patients developed de novo DSAs (dnDSAs) at days 14 and 447 respectively, neither persisted on repeat testing. Of the 9 with pre-transplant DSAs, 3 were seen post-transplant and 2 persisted on repeat testing. No rejection episodes were seen in patients with pre- or post-transplant DSAs. Two patients developed acute rejection, 2R at POD9 and 0R with poor hemodynamics at POD30, both treated with steroids.
*Conclusions: Despite similar rates of dnDSA development among CHLT recipients these DSAs did not persist and there was no incidence of AMR, suggesting possible immune protection for CHLT over heart transplant alone. The role of DSA in this population remains at question and further evaluation is warranted.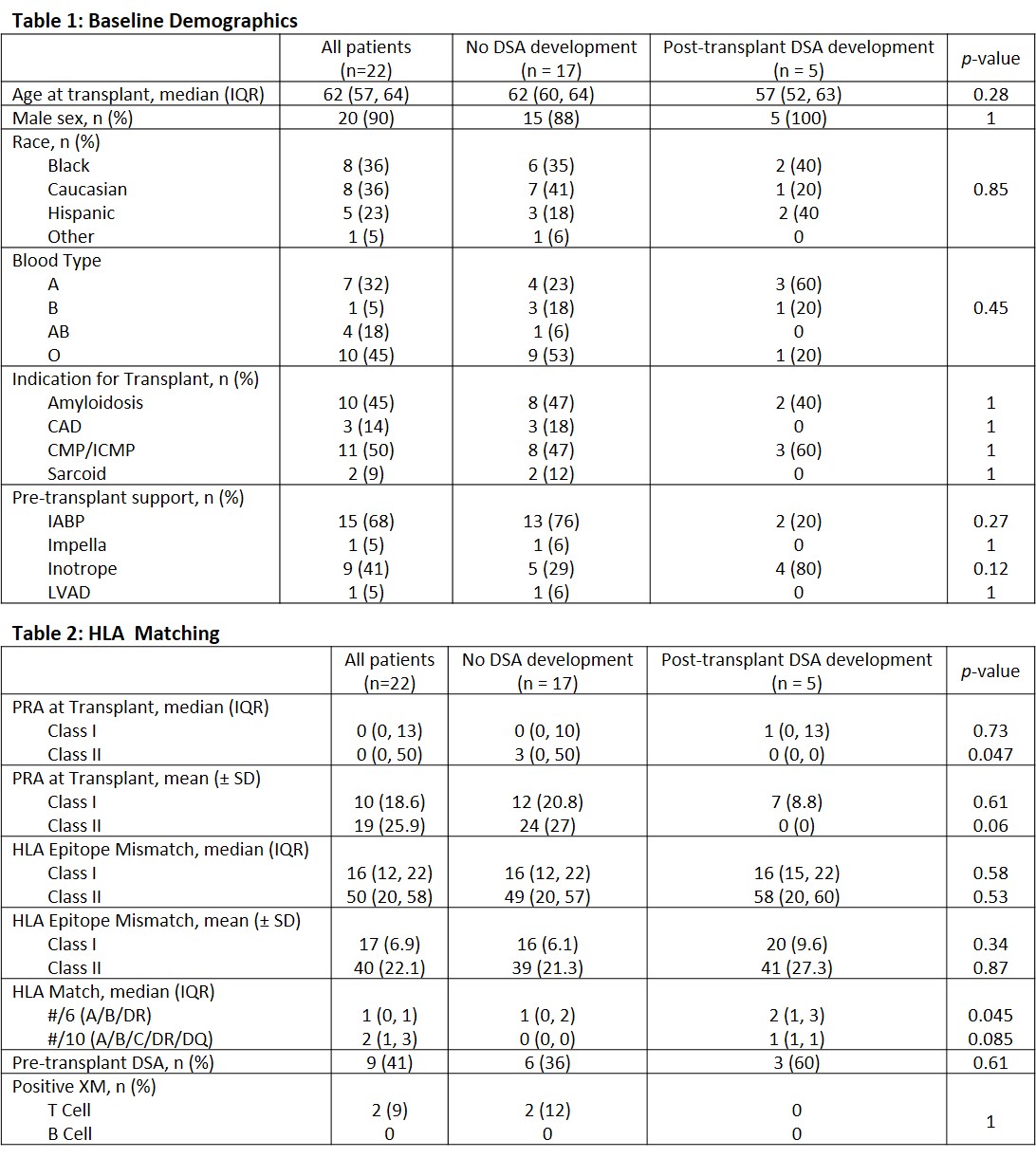 To cite this abstract in AMA style:
Rogers AW, Eagar TN, Pham C, Krisl J, Pierce BJ, Moaddab M, Ghobrial R, Trachtenberg B, Bhimaraj A, Gaber AO. The Liver Protects All? Donor Specific Antibody Formation in Heart-Liver Transplant Recipients [abstract].
Am J Transplant.
2020; 20 (suppl 3). https://atcmeetingabstracts.com/abstract/the-liver-protects-all-donor-specific-antibody-formation-in-heart-liver-transplant-recipients/. Accessed October 23, 2020.
« Back to 2020 American Transplant Congress