Scaffold-Free 3D-Bioprinting of Human Extrahepatic Bile Duct
1Transplant Division, Department of Surgery, Indiana University, Indianapolis, IN, 23D-Bioprinting Core, Indiana University School of Medicine, Indianapolis, IN
Meeting: 2019 American Transplant Congress
Abstract number: C97
Keywords: Bile duct, Bioengineering, Liver
Session Information
Session Time: 6:00pm-7:00pm
Presentation Time: 6:00pm-7:00pm
Location: Hall C & D
*Purpose: Biliary complications are common especially in living and also in deceased donor liver transplantation (LT). Presence of multiple orifices in biliary anastomosis and ischemia, especially in DCD livers, are the leading causes of biliary complications and graft loss. A 3D bioprinted bile duct may help overcome biliary complications in LT. Human extrahepatic bile ducts are formed by smooth muscle cells, connective tissues, vascular capillaries and luminal cholangiocytes. The aim of this study is to bioprint a 3D scaffold-free tubular bile duct using a combination of human cholangiocytes (CHO), bile duct fibroblasts (FIBRO), and liver endothelial cells (LEC).
*Methods: Human CHO were obtained commercially. Human FIBRO and LEC were isolated using donor extrahepatic bile ducts and livers. Different cell numbers and ratios were tested and optimized for spheroid formation using a low-binding 96-well plate at 40,000 cells/well. Culture conditions of CHO were also optimized. Immunofluoresence (IF) staining was performed to confirm cell composition.
*Results: Ratio of CHO-LEC (1:1) and FIBRO-LEC (3:1) were found to be optimal. Two-layer (inner and outer) tubular tissue was designed using 3D-bioprinter's software. While the inner layer was comprised of CHO-LEC spheroids, the outer layer was comprised of FIBRO-LEC spheroids. A total of 96 spheroids were used and each consisted 4×104cells. The outer layer was composed of 4 levels at 16 spheroids per level and the inner layer was composed of 4 levels at 8 spheroids per level (Figure 1). IF staining using anti-CK7 and anti-CK19 antibodies confirmed cholangiocytes. Anti-CD31 antibody was used for endothelial cells and anti-desmin antibody was used for fibroblasts.
*Conclusions: To best of our knowledge, this is the first study building a scaffold-freeextrahepatic human bile duct model. Although further improvement is needed to provide manageable tensile-strength, this scaffold-free human bile duct model has the potential to be used for repairing injured bile ducts in LT.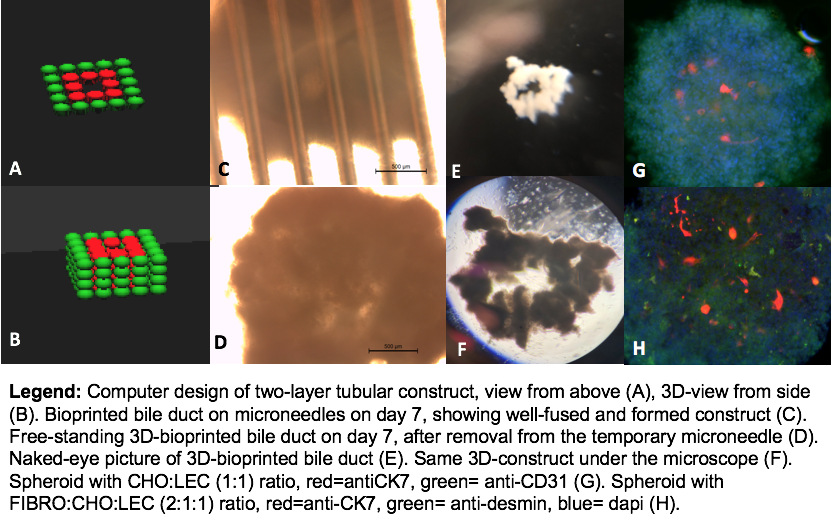 To cite this abstract in AMA style:
Saglam K, Zhang W, Smith LJ, Isidan A, Chen AM, Naqvi RA, Gramelspacher E, Li P, Ekser B. Scaffold-Free 3D-Bioprinting of Human Extrahepatic Bile Duct [abstract].
Am J Transplant.
2019; 19 (suppl 3). https://atcmeetingabstracts.com/abstract/scaffold-free-3d-bioprinting-of-human-extrahepatic-bile-duct/. Accessed September 23, 2021.
« Back to 2019 American Transplant Congress