Regulatory T Cells Engineered with TCR-Signaling-Responsive Il-2 Nanogels Suppress Alloimmunity in Sites of Antigen Encounter
1Medicine, Brigham and Women's Hospital, Harvard Medical School, Boston, MA, 2Koch Institute for Integrative Cancer Research, Massachusetts Insitute of Technology, Cambridge, MA, 3Nephrology, University Medical Center Groningen, Groningen, Netherlands, 4Medicine, Koch Institute for Integrative Cancer Research, Massachusetts Insitute of Technology, Cambridge, MA
Meeting: 2020 American Transplant Congress
Abstract number: 534
Keywords: Bioengineering, Immunosuppression, T cell activation, T helper cells
Session Information
Session Time: 3:15pm-4:45pm
Presentation Time: 3:27pm-3:39pm
Location: Virtual
*Purpose: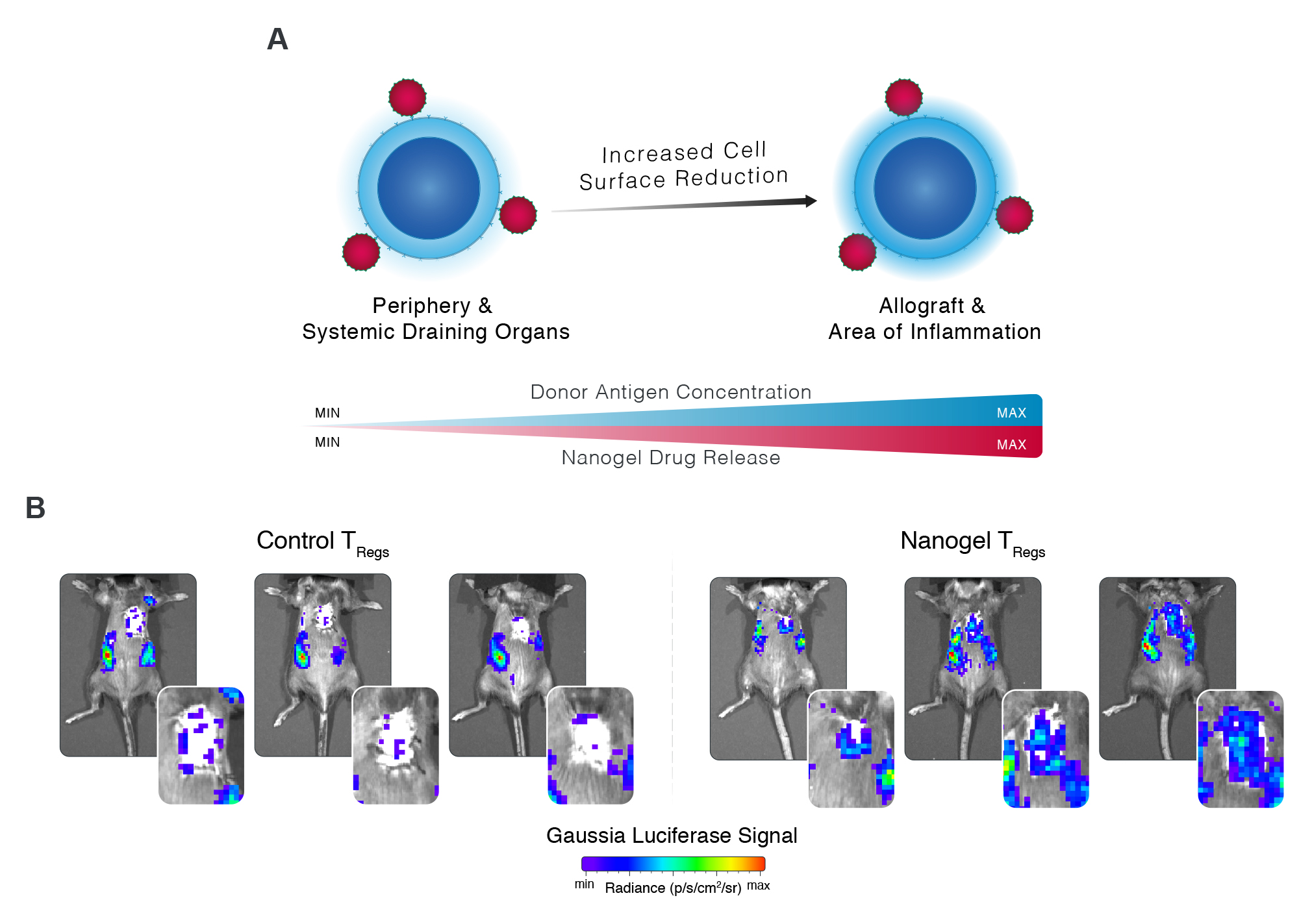 Adoptive cell transfer of ex vivo-expanded regulatory T cells (TRegs) has shown immense potential in animal models of auto- and allo-immunity, although the effective translation of such TReg therapies to the clinic has been slow. As TReg homeostasis is known to require continuous T-cell receptor (TCR) ligation and exogenous interleukin (IL-)2, some investigators have alternatively explored low-dose IL-2 injections aimed at increasing endogenous TReg responses. Systemic IL-2 immunotherapy, however, can also lead to the activation of cytotoxic T lymphocytes and NK cells, causing adverse therapeutic outcomes.
*Methods: Here, we describe a drug-delivery platform which can be engineered to autostimulate TRegs with IL-2 in response to TCR-dependent activation and thus maintain these cells in sites of antigen encounter. To this end, protein nanogels (NGs) were synthesized with cleavable bis-N-hydroxy succinimide crosslinkers and IL-2/Fc fusion (IL-2) proteins to form particles that release IL-2 under reducing conditions, as found at the surface of T cells receiving stimulation through the T-cell receptor (Fig. 1A).
*Results: Immunoregulatory CD4+CD25+Foxp3+ T cells engineered with redox-sensitive IL-2 nanoparticles provided cytokine-mediated survival stimuli to adoptively-transferred TRegs undergoing alloantigen-TCR-specific activation in antigen-rich areas; such as the allograft and allograft-draining lymph nodes (Fig. 1B). Moreover, the membrane-conjugated backpacks improved graft survival times following TReg adoptive transfer by 3-folds in stringent murine and humanized skin transplant models without the need for genetic engineering. Notably, the latter keeps costs low and safety margins high, while supporting translational appeal and applicability.
*Conclusions: While the nanogel platform foregoes the use of state-of-the-art equipment or techniques and requiring only a simple 45-minute incubation step to be conjugated onto TRegs, its significant impact on improving therapeutic outcomes spawns excitement for all future translations of such spatiotemporal drug-delivery to antigen-primed TRegs.
To cite this abstract in AMA style:
Eskandari SK, Alhaddad JB, Sulkaj I, Melo MB, Li N, Allos H, Kollar B, Seelen MA, Irvine DJ, Azzi J. Regulatory T Cells Engineered with TCR-Signaling-Responsive Il-2 Nanogels Suppress Alloimmunity in Sites of Antigen Encounter [abstract].
Am J Transplant.
2020; 20 (suppl 3). https://atcmeetingabstracts.com/abstract/regulatory-t-cells-engineered-with-tcr-signaling-responsive-il-2-nanogels-suppress-alloimmunity-in-sites-of-antigen-encounter/. Accessed August 5, 2021.
« Back to 2020 American Transplant Congress