Pluripotent Stem Cell Differentiation: Delaying Forward Differentiation Signals Maintains Definitive Endoderm Phenotype for Cellular Transplantation
1Surgery, University of Texas Medical Branch, Galveston, TX, 2Opthalmology and Visual Sciences, University of Texas Medical Branch, Galveston, TX
Meeting: 2019 American Transplant Congress
Abstract number: D39
Keywords: Engraftment, Gene expression, Liver, Stem cells
Session Information
Session Time: 6:00pm-7:00pm
Presentation Time: 6:00pm-7:00pm
Location: Hall C & D
*Purpose: Endodermal precursors (EP), derived in vitro from mouse pluripotent stem cell (PSC) sources, are capable of clinically useful engraftment in the unmodified (quiescent) liver parenchyma. The human analogue of the EP (hEP) would be useful as wild type gene vector for critical replacement of specific genetic metabolic deficiencies. However in current iterations, the forward differentiation window for hEPs is quite short (24-36 hr), limiting the time window and available transplantable cell numbers. Here we describe conditions that can derive and maintain hEPs in a stable gene expression program for 5 days, significantly increasing the total cell number while maintaining characteristics required for robust engraftment.
*Methods: Human PSC are maintained in feeder-free conditions and differentiated with extended EP (eEP) culture modification consisting of maintenance of "SR1" endoderm culture recipe, but with the addition of 10% knockout serum replacement from day 4 through day 7. Gene expression analysis was performed by RT-qPCR, with surface marker and proliferation analyses ongoing. Early timepoints after cell transplantation to the liver were monitored using bioluminescence-based in vivo imaging with the IVIS.
*Results: We observe persistent expression of biomarkers for early endoderm through the 7-day culture period, that are comparable to day 3 EP expression. The small cell size associated with hEP cells is also recapitulated in the eEPs, and early time-points of these cells engrafted in the murine liver indicate persistence in the liver parenchyma up to 15 days post-transplant.
*Conclusions: The novel eEP culture method allows for an increased time window of endodermal gene expression and in vitro cell expansion to generate additional transplantable cells. Further analysis and phenotyping of these cells is required, as is longitudinal tracking of them in vivo as therapeutic cell transplant candidates to assess their ability to reverse liver metabolic disorders.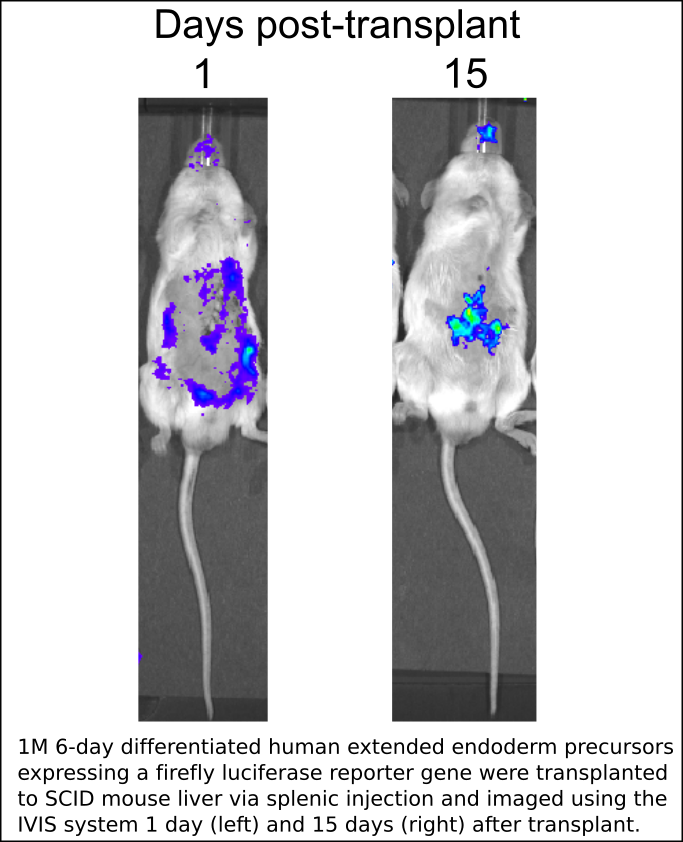 To cite this abstract in AMA style:
Fair J, Shoja MM, Liu N, Patrikeev I, Motamedi M, Fagg WS. Pluripotent Stem Cell Differentiation: Delaying Forward Differentiation Signals Maintains Definitive Endoderm Phenotype for Cellular Transplantation [abstract].
Am J Transplant.
2019; 19 (suppl 3). https://atcmeetingabstracts.com/abstract/pluripotent-stem-cell-differentiation-delaying-forward-differentiation-signals-maintains-definitive-endoderm-phenotype-for-cellular-transplantation/. Accessed May 18, 2021.
« Back to 2019 American Transplant Congress