Islet Stress Leads to Increased Release of Exosomes That Stimulate Immune Cell Response
1Baylor Scott and White Research Institute, Dallas, TX, 2Institute of Biomedical Studies, Baylor University, Waco, TX, 3Baylor University Medical Ctr, Dallas, TX
Meeting: 2019 American Transplant Congress
Abstract number: A121
Keywords: Immunogenicity, Inflammation, Islets
Session Information
Session Time: 5:30pm-7:30pm
Presentation Time: 5:30pm-7:30pm
Location: Hall C & D
*Purpose: Islet dysfunction and death caused by isolation procedures, immune attack and hypoxia significantly affect islet transplantation outcomes. Non-invasive monitoring of islet stress and damage during and after transplantation is a challenge. Our earlier observations suggest islets exposed to cytokines release exosomes containing stress or damage specific molecular signatures. We hypothesize that islet exosomes released before islet cell damage stimulate immune cells, exacerbating acute graft rejection events in the context of islet transplantation.
*Methods: Mouse islets were exposed to recombinant mouse cytokine cocktail consisting IL1β, TNFα and IFNγ. Exosomes in the culture medium were isolated using Total exosome isolation reagent (Invitrogen, USA). Mouse splenocytes were exposed to mouse islet exosomes labelled using BODIPY (Invitrogen, USA) for assessment of uptake. Splenocyte gene expression was assessed using RT-PCR (Qiagen, USA).
*Results: Cytokine cocktail induced release of mouse islet exosomes containing stress or damage specific miRNAs. Within 15 min, 10 % of splenocytes were labelled with BODIPY-exosomes released by untreated islets, with a gradual decrease in signal over 5 h. However, within 5 min of exposure to exosomes released by cytokine treated islets, about 2% of splenocytes were positive for BODIPY-exosomes. This gradually increased to 25 % of splenocytes by 30 min and decreased to 16 % of splenocytes by 5 h. Cytokine induced mouse islet exosomes increased Cxcl1, Cxcl10, Ifng and Il10 mRNA expression in splenocytes while control islet exosomes did not elicit any changes in gene expression except Cxcl1.
*Conclusions: Islet exosomes are processed by splenocytes differentially depending on islet stress. Cytokine treated islet exosomes induce cytokine gene expression in splenocytes. Thus, exosomes released during islet transplantation may exacerbate acute rejection and affect transplantation outcomes.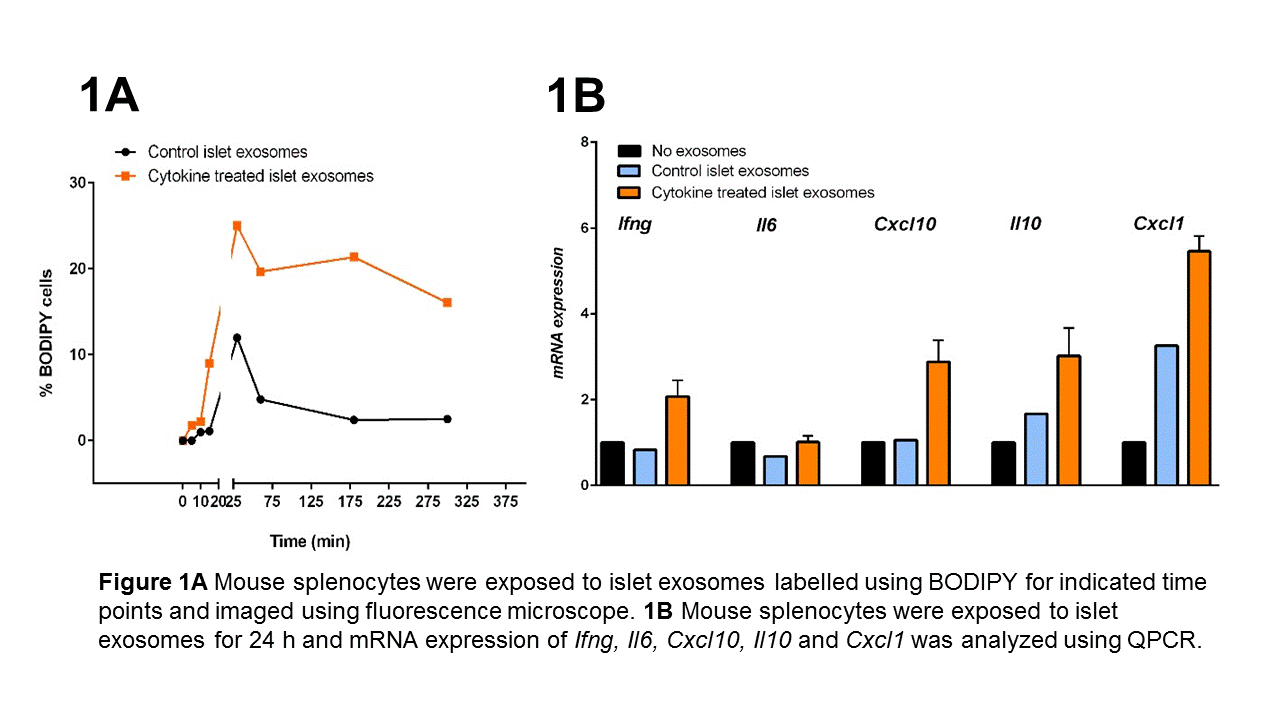 To cite this abstract in AMA style:
Vasu S, Darden C, Kumano K, Naziruddin B, Lawrence M. Islet Stress Leads to Increased Release of Exosomes That Stimulate Immune Cell Response [abstract].
Am J Transplant.
2019; 19 (suppl 3). https://atcmeetingabstracts.com/abstract/islet-stress-leads-to-increased-release-of-exosomes-that-stimulate-immune-cell-response/. Accessed September 24, 2020.
« Back to 2019 American Transplant Congress