*Purpose: Vascularized composite allograft (VCA) transplant is technically feasible and results in successful clinical outcomes. However, skin and muscle containing VCA is highly susceptible to ischemic injury. Ischemia reperfusion injury (IRI) caused inflammation negatively impacts VCA survival. Galectin-3 (Gal3), an endogenous β-galactoside binding lectin released by macrophages and fibroblasts under hypoxia, can drive inflammation. Here we developed a syngeneic rat hind limb transplant model to reduce IRI and improve VCA transplant outcomes by targeting Gal3.
*Methods: Right hind limb of Brown Norway (BN) donor is removed, flushed with heparinized lactated ringers, wrapped in wet gauze and stored at 4 oC for 6 or 24 hours prior to transplant. Recipient animals were provided with either Gal3 blocker, modified citrus pectin (MCP) in drinking water or control untreated water since Day -7. Skin and muscle were obtained at post-operative day (POD) 6 and examined histologically using H&E to quantify injury and inflammation. Serum was collected on POD 6 to measure circulating Gal3.
*Results: All transplanted limb grafts exposed to 6 or 24 hours cold ischemia showed dermal and interstitial edema, myocyte necrosis and myofiber disorganization on POD6. In non-MCP recipients, neutrophil and macrophage infiltration was also observed by POD 6 consistent with reperfusion injury. In contrast, in the MCP recipients, inflammation was greatly reduced (Figure 1). ELISA data shows, with 6 hours cold ischemia, Gal3 is 8.17±1.53 ng/ml from MCP recipient and 12.86±1.29 ng/ml from Non-MCP recipient, respectively. With 24 hours cold ischemia, Gal3 is 11.09±1.94 ng/ml (MCP) and 18.64±2.04 ng/ml (Non-MCP). Gal3 is significantly decreased (Figure 2) with MCP treatment.
*Conclusions: The syngeneic BN rat hind limb transplant model is a reliable platform to study VCA IRI and evaluate preventative strategies. In this model 6 hours or 24 hours cold ischemia consistently yields extensive inflammation throughout the dermis and endomysium on POD 6. Blocking Gal3 using MCP in drinking water significantly decreases circulating Gal3 and reduces inflammation.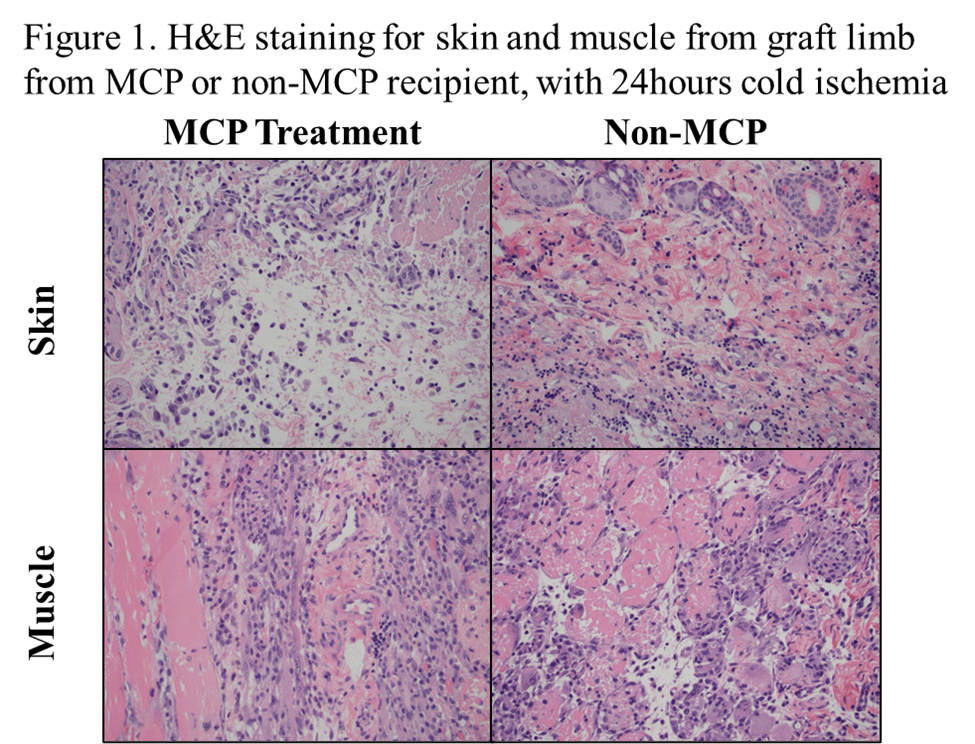 To cite this abstract in AMA style:
Wang Z, Wang Y, Yoeli D, Li B, Su A, Mathes D, Washington K, Farkash E, Huang CA. Galectin-3 Blockade Can Decrease Reperfusion Injury in Response to Ischemia in a Rat Hind Limb Transplant Model [abstract].
Am J Transplant.
2021; 21 (suppl 3). https://atcmeetingabstracts.com/abstract/galectin-3-blockade-can-decrease-reperfusion-injury-in-response-to-ischemia-in-a-rat-hind-limb-transplant-model/. Accessed September 23, 2021.
« Back to 2021 American Transplant Congress