Transgenic Overexpression of Human Ectonucleoside Triphosphate Diphosphohydrolase 1 (entpd1, Or Hcd39) in Pig to Primate Xenotransplantation Models
1Transplantation Surgery Research, Massachusetts General Hospital, Boston, MA, 2eGenesis, Cambridge, MA, 3Beth Israel Deaconess Medical Center, Boston, MA
Meeting: 2021 American Transplant Congress
Abstract number: 592
Keywords: Endothelial activation, Graft survival, Hemodynamics, Inflammation
Topic: Basic Science » Xenotransplantation
*Purpose: Human CD39 (hCD39) is the gene of interest in xenotransplantation due to its reported capacity to prevent platelet aggregation by metabolizing extracellular ATP to AMP, reducing IL-6 and ALT and depleting resident CD4+ T lymphocyte in the graft. One heterotopic cardiac xenotransplantation using a TKO-hCD39 donor (Pig 2.C, n=1) survived >100 days. We studied the impact of endothelial cell activation and expression of hCD39 on survival of aortic endothelial cells (AEC) recovered from normal and genetically modified pigs.
*Methods: AECs from wild type (WT) (n=1), TKO.hCD39 (Pig 2.C; n=3), TKO (Pig 2.B; n=3) pigs and one human deceased donor were isolated and activated using LPS (1ug/mL), Ionomycin (1ug/mL), and PMA (50ng/mL) for 9, 12, 18 and 24 hours at 37°C. CD31 and hCD39 expression and viability were measured by flow cytometry.
*Results: TKO.hCD39 AECs expressed more hCD39 than hAECs, while, as expected, no human CD39 was detected on WT or TKO AECs (Fig 1A). However, after nine hours of LPS challenge, hCD39 expression by the TKO.hCD39 AECs decreased to less than 50% of baseline, while expression of CD39 remained stable in the human AECs (Fig 1B). At nine hours, substantial cell death, as well as decreased CD39, was observed in the activated TKO.hCD39. At 18 hours, cell death measurements in the TKO.hCD39 AECs neared the maximal level observed at 24 hours. In the human AECs, no significant cell death was observed at 9 and 12 hours. However, at 18 hours the signal representing dead hAECs was high (Fig. 1C).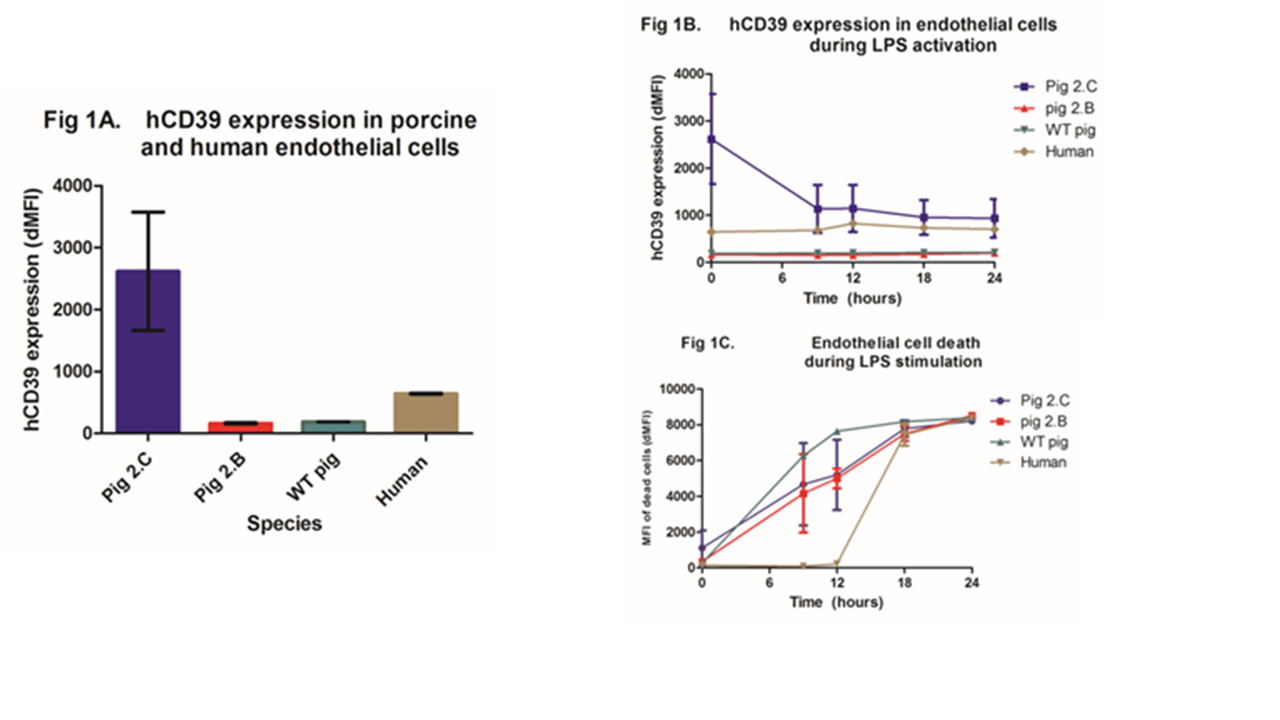 *Conclusions: When compared to porcine AECs, human AECs appear more resistant to activation-mediated cell death. Overexpression of transgenic CD39 in the pig AEC did not afford significant protection, potentially as levels of hCD39 decreased with cellular activation. Further work will be conducted in order to understand effects of hCD39 and other human transgenes in these genetically engineered animals and to determine the impacts on immune and thromboregulatory pathways in vivo.
To cite this abstract in AMA style:
Matheson R, Deng K, Lee KM, Habibabady ZA, Rickert CG, Ahrens KJ, O JM, Becerra D, Patel P, Westlin W, Youd M, Serifis N, Coe TM, Cloonan D, Azimzadeh AM, LeGuern C, Madsen JC, Robson SC, Markmann JF. Transgenic Overexpression of Human Ectonucleoside Triphosphate Diphosphohydrolase 1 (entpd1, Or Hcd39) in Pig to Primate Xenotransplantation Models [abstract].
Am J Transplant.
2021; 21 (suppl 3). https://atcmeetingabstracts.com/abstract/transgenic-overexpression-of-human-ectonucleoside-triphosphate-diphosphohydrolase-1-entpd1-or-hcd39-in-pig-to-primate-xenotransplantation-models/. Accessed September 25, 2021.
« Back to 2021 American Transplant Congress