Session Information
Session Time: 2:30pm-4:00pm

Presentation Time: 3:06pm-3:18pm
Location: Room 208
*Purpose: Tolerance induction is considered to be the final goal in the field of organ transplantation. We have performed combined bone marrow and kidney transplantation (CBMKT) in major histocompatibility complex (MHC)-mismatched patients to induce transient mixed chimerism and donor-specific tolerance. From December 2011 to May 2017, eight MHC-mismatched patients received CBMKT.
*Methods: The initial conditioning regimen (Protocol 1) consisted of cyclophosphamide, rituximab (375 mg/m2, 7 and 2 days before transplantation), antithymocyte globulin (rATG), and thymic irradiation. Tacrolimus and steroids were used for the maintenance of immunosuppression (IS). The regimen was subsequently modified by reducing cyclophosphamide (CP) dose and adding fludarabine (Protocol 2), which was further modified by reducing fludarabine / rATG dose as well as early conversion of tacrolimus to rapamycin (Protocol 3).
*Results: Mixed chimerism, detected by the short-tandem repeat method, was achieved transiently in all subjects for 3-20 weeks. Protocol 1 was complicated with "engraftment syndrome' and side effect of CP, although one of two subjects successfully discontinued his IS for 14 months. In three subjects treated with Protocol 2, IS was successfully discontinued for >35 months in one subject, two of them were suffered from BK nephritis. By reducing the dose of fludarabine (Protocol 3), all three subjects successfully discontinued their IS for 1-41 months. De novo DSA was not detected in all subjects during all the follow-up periods even in the subjects who experienced acute rejection or graft failure.
*Conclusions: Although further modification of the conditioning regimen is still necessary to reduce the risk of infectious complications, our clinical trial has shown that renal allograft tolerance can be achieved by induction of transient mixed chimerism with combined donor bone marrow transplantation.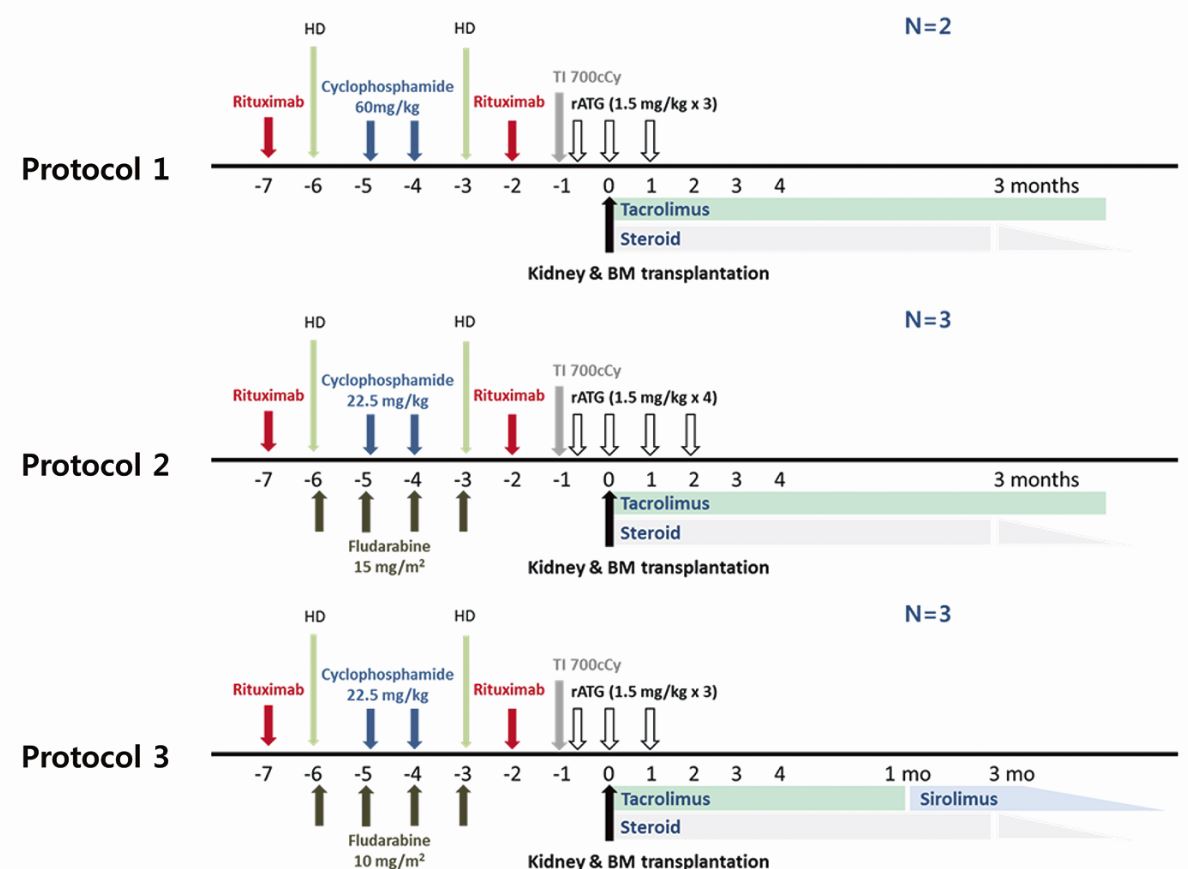 To cite this abstract in AMA style:
Lee K, Park J, Chung Y, Kim S. Tolerance Induction with Hematopoietic Stem Cells in Kidney Transplantations [abstract].
Am J Transplant.
2019; 19 (suppl 3). https://atcmeetingabstracts.com/abstract/tolerance-induction-with-hematopoietic-stem-cells-in-kidney-transplantations/. Accessed June 26, 2022.
« Back to 2019 American Transplant Congress