The Liver Regenerative Effect of Substance P after Major Hepatectomy in Rat Models
1Surgery, Kyung Hee University, Seoul, Korea, Republic of, 2Surgery, Hanyang University, Seoul, Korea, Republic of
Meeting: 2020 American Transplant Congress
Abstract number: D-294
Keywords: Liver transplantation
Session Information
Session Time: 3:15pm-4:00pm
Presentation Time: 3:30pm-4:00pm
Location: Virtual
*Purpose: The hepatic damages are inevitable under liver surgery. Therefore, post-hepatectomy liver failure remains one of the most dangerous and life-threatening complications of hepatectomy. The outcome of liver surgery can be improved by increasing liver regeneration. Substance P has a healing effect on damaged tissues. In this study, we investigated the effect of substance P on regeneration after liver resection(LR) in rat.
*Methods: SD rats aged 8 weeks were used. Animals were divided into three groups: Sham (n = 5); Control (n = 5, injected with saline after LR; SP (n = 5, injected with SP after LR). Liver resection was performed with 70% hepatectomy. The liver regeneration effect of SP was assessed by PCNA, CD133, phosphated mTOR, Akt, ERK, and p38.
*Results: In the Sham, Saline and SP groups, the aspartate transaminase were 83.75 ± 7.14, 3417.23± 2148.34 and 687.62± 219.48, and alanine transferase were 52.25 ± 6.29, 2002.8 ± 1335.69, and 605.52 ± 214.27 on POD1. Total bilirubin was 0.11 ± 0.01, 0.84 ± 0.75, and 0.46 ± 0.27 on POD1. These showed significant lower results in the SP than in the control POD1 (POD1, injected only on the operative day(OD) and examined on POD1) (fig.1). As a result of PCNA (fig.2), it was represented a strongly expressed pattern in SP compared to control group on POD1 & 2 (POD2; OD and POD1, total 2 injections and examined on POD2). There were significant differences between groups (p < 0.05). Phosphated ERK was significantly increased in SP group compared than saline group (fig.3).
*Conclusions: In Rat hepatectomy models, substance P had liver regeneration effect on early stage. It is considered to be effective in liver regeneration within 24 hours of Substance P injection. SP may have the potential to improve the recovery and prognosis after liver surgery.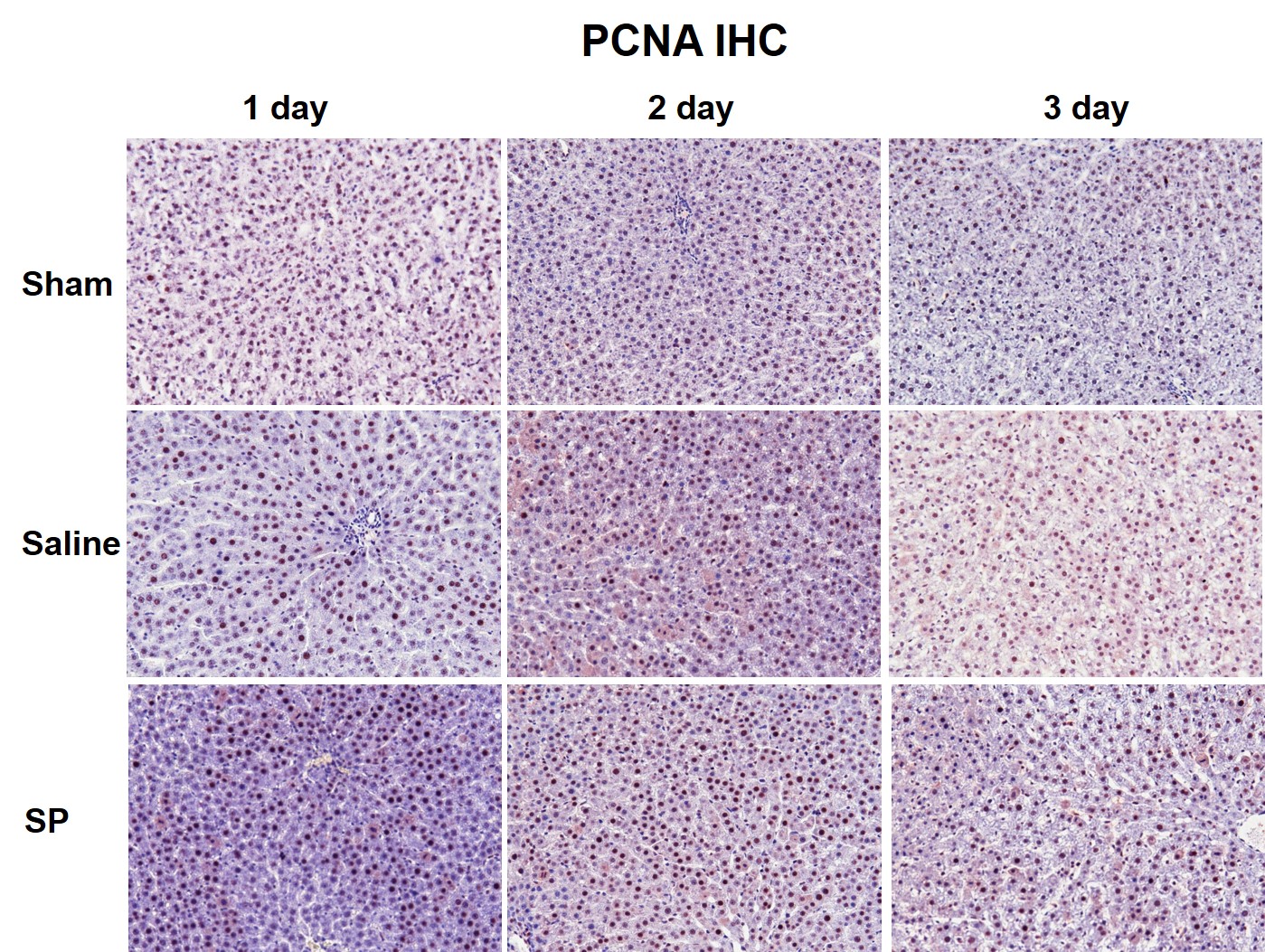 To cite this abstract in AMA style:
Ahn H, Kim Y, Kwon O. The Liver Regenerative Effect of Substance P after Major Hepatectomy in Rat Models [abstract].
Am J Transplant.
2020; 20 (suppl 3). https://atcmeetingabstracts.com/abstract/the-liver-regenerative-effect-of-substance-p-after-major-hepatectomy-in-rat-models/. Accessed April 15, 2021.
« Back to 2020 American Transplant Congress