The Evolution of the National Liver Review Board
1UNOS, Richmond, VA, 2BSWHealth, Dallas, TX, 3UCHealth, Aurora, CO, 4Mayo Clinic, Rochester, MN
Meeting: 2021 American Transplant Congress
Abstract number: 106
Keywords: Liver, Liver transplantation, Public policy, Waiting lists
Topic: Clinical Science » Public Policy » Non-Organ Specific: Public Policy & Allocation
Session Information
Session Time: 4:30pm-5:30pm

Presentation Time: 4:45pm-4:50pm
Location: Virtual
*Purpose: The National Liver Review Board (NLRB) was implemented 5/14/2019, establishing a national structure for liver exceptions comprised of three specialty review boards and a scoring system based on the median score for the area of distribution. The area of distribution was revised with the implementation of Acuity Circles (AC) on 2/4/2020. The OPTN Liver Committee has been closely evaluating this policy.
*Methods: OPTN exception requests and liver waitlist (WL) registrations data during 8/21/2018-5/13/2019 (RRB era), 5/14/2019-2/03/2020 (pre-AC NLRB era), and 2/04-10/26/2020 (post-AC NLRB era) were used, as well as snapshots of the WL each month from 8/2019 – 10/2020. OPTN transplant data was used for deceased donor liver-alone transplants, divided into RRB (8/21/2018-3/18/2019), pre-AC NLRB (5/14-12/09/2019), and post-AC NLRB (2/04-8/31/2020) eras. Chi-square and Kruskal-Wallis tests assessed differences between eras.
*Results: The proportion of auto-approvals significantly increased over the study period (38% post-AC NLRB, 31% pre-AC NLRB, 24% RRB eras, p<0.001). Time for reviewers to resolve cases in the post-AC NLRB era continued to decrease over time (average 4.4 days post-AC NLRB, 5.1 pre-AC NLRB, 5.8 RRB eras, p<0.001). WL dropout rates increased for exception candidates, with similar rates for non-HCC exceptions and non-exceptions post-AC NLRB era, and the relationship between non-exception and HCC exception transplant rates has reversed (Figure 1). There was a decrease in the proportion of exceptions on the WL and transplants (Figure 2).
*Conclusions: More exception forms continue to be automatically approved, decreasing the burden on reviewers. Reviewers also continue to resolve cases quicker. Exception candidate priority relative to non-exception candidates has begun to decrease, particularly for HCC exception candidates, and this has allowed non-exception candidates with higher medical urgency to receive transplants while driving down the scores at which exception candidates access transplant.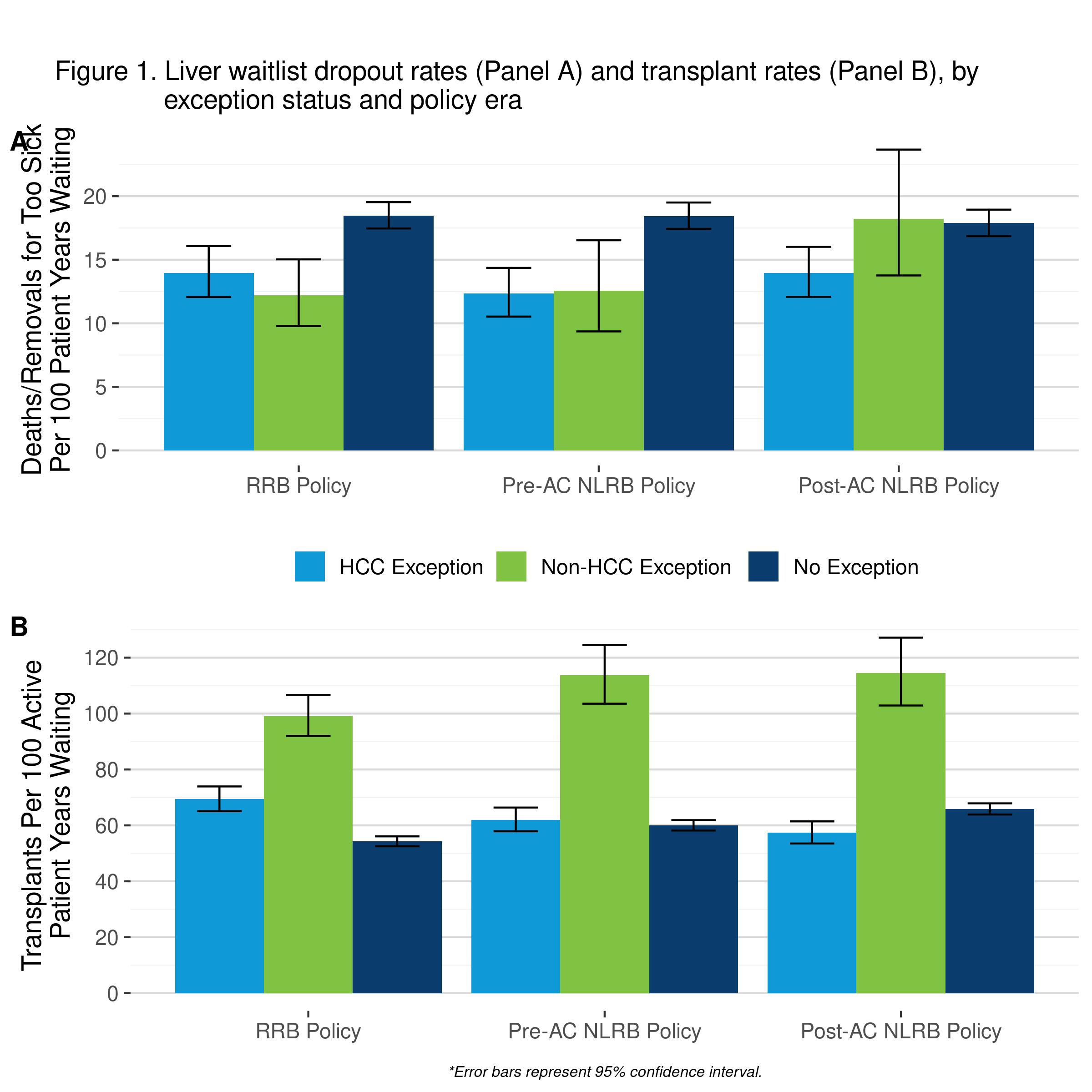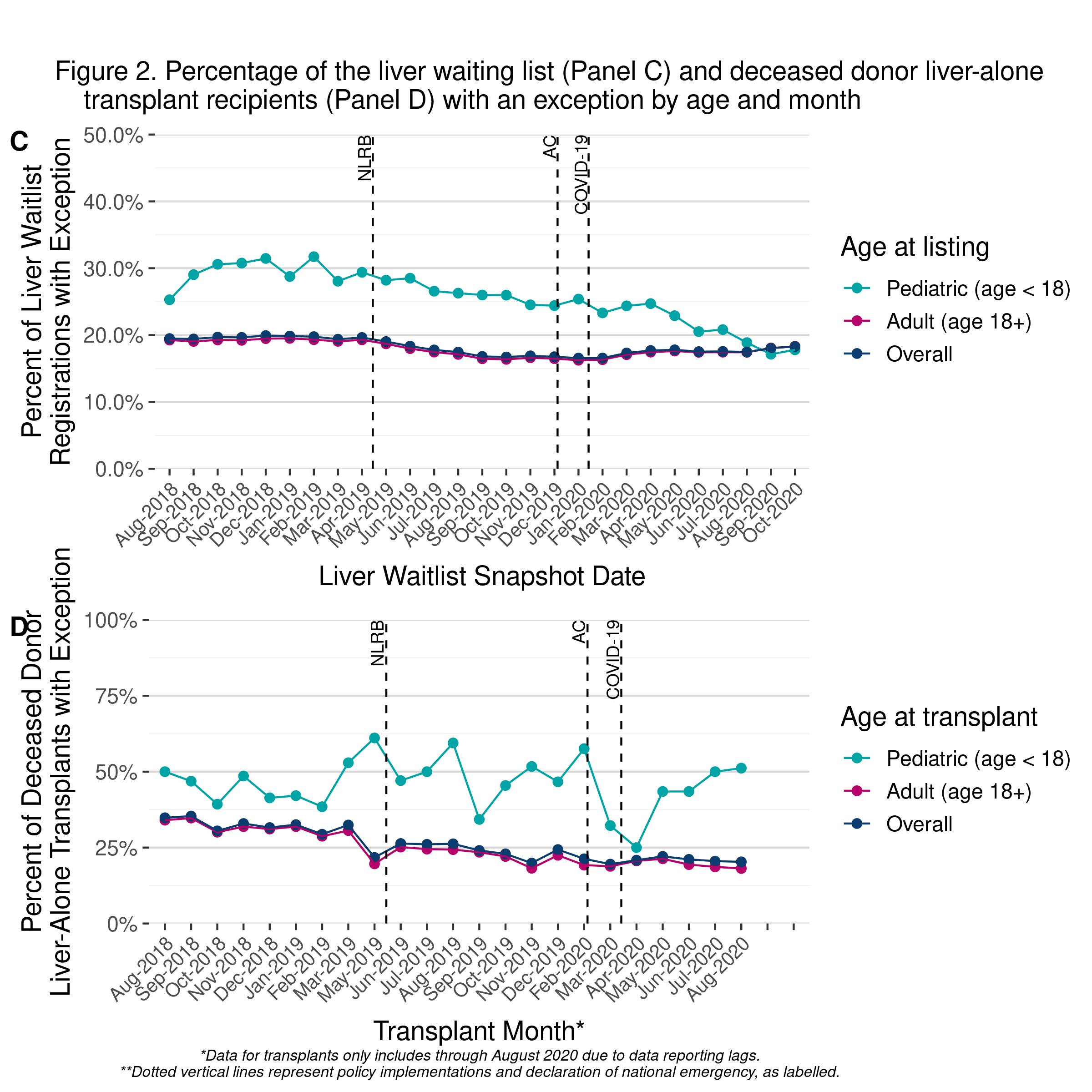 To cite this abstract in AMA style:
Noreen S, Trotter J, Pomposelli J, Cafarella M, Heimbach J. The Evolution of the National Liver Review Board [abstract].
Am J Transplant.
2021; 21 (suppl 3). https://atcmeetingabstracts.com/abstract/the-evolution-of-the-national-liver-review-board/. Accessed November 29, 2022.
« Back to 2021 American Transplant Congress