Session Information
Session Time: 3:15pm-4:45pm

Presentation Time: 3:27pm-3:39pm
Location: Virtual
*Purpose: Hepatocyte growth factor (HGF) regulates cell growth, development and tissue repair. HGF activity is mediated by the c-MET signaling pathway. The biological effects of hepatocyte growth factor (HGF) and its mimetics are mediated by a signal cascade initiated by binding of HGF to its tyrosine kinase receptor, c-Met, which is constitutively expressed at low levels on the epithelial cells of most tissues and regulated in the setting of injury. ANG-3777 is an HGF mimetic under development for treatment of delayed graft function. We have characterized the interaction between ANG-3777 and the HGF receptor c-MET.
*Methods: In vitro cell models (rat neuronal Schwann cells [RSC96], human cortical neuron cells [HCN-2], and human umbilical vein endothelial cells [HUVECs]) and an
in vivo rat model were used to evaluate the effect of ANG-3777 on inducing c-MET dimerization and stimulating phosphorylation by Western blot analysis. c-MET small interfering RNA (siRNA) was used to assess c-MET dependency for ANG-3777-stimulated proliferation. The specificity of c-MET phosphorylation by ANG-3777 was also investigated.
*Results: Exposure to both ANG-3777 and HGF induced c-MET dimerization and stimulated c-MET phosphorylation in RSC96 cells (Figure 1A). Activation of c-MET receptor with ANG-3777 induced dose-dependent c-MET phosphorylation in HCN-2 cells (Figure 1B), with phosphorylation levels peaking at 30 minutes following ANG-3777 and HGF treatments in RSC96 cells. c-MET siRNA (10 nM to 370 nM) resulted in a >90% reduction in
c-MET mRNA levels (0.05% to 0.1% of control) vs mock siRNA in HUVECs (p<0.01), which correlated to an effective elimination(0.89 to 1.46) in HUVEC proliferation in response to stimulation with ANG-3777 (0.44 to 1.74 µM) and HGF (50 ng/ml) (p<0.05; Figure 1C). Selective phosphorylation of c‑MET and its downstream protein ERK was also observed with ANG-3777 and HGF. In vivo studies confirmed ANG-3777 induced phosphorylation of liver c-MET peaking at 1 hour post-injection and phosphorylation of kidney c-MET by 24 hours of reperfusion in a rat renal ischemia model.
*Conclusions: Collectively, these findings demonstrate that ANG-3777 induces dimerization and phosphorylation of c-MET in a time-dependent manner, confirming that activation of the c-MET signaling cascade is required for ANG-3777 activity.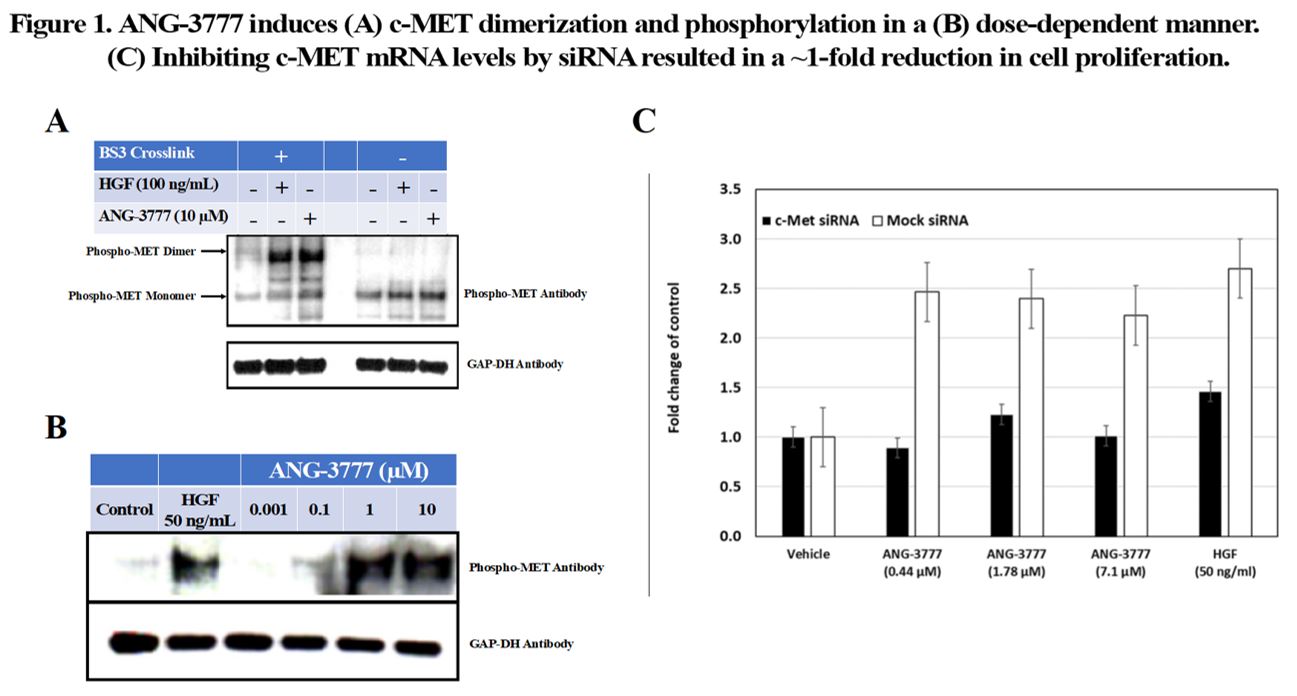 To cite this abstract in AMA style:
Paka L, Goldberg ID. The Effect of ANG-3777 on Hepatocyte Growth Factor Receptor C-MET Signaling [abstract].
Am J Transplant.
2020; 20 (suppl 3). https://atcmeetingabstracts.com/abstract/the-effect-of-ang-3777-on-hepatocyte-growth-factor-receptor-c-met-signaling/. Accessed October 4, 2022.
« Back to 2020 American Transplant Congress