T Cells from Highly Sensitized Kidney Transplant Patients Display Distinct TCR Repertoires
1RIMUHC, Montreal, QC, Canada, 2McGill University, Montreal, QC, Canada
Meeting: 2020 American Transplant Congress
Abstract number: B-376
Keywords: Allorecognition, CD4, Kidney transplantation, T cell receptors (TcR)
Session Information
Session Time: 3:15pm-4:00pm
Presentation Time: 3:30pm-4:00pm
Location: Virtual
*Purpose: Sensitization to HLA antigens limits patient's access to renal transplantation and causes higher risk of acute rejection and graft loss. T-cells, B-cells and donor-specific antibodies play a critical role in allograft rejection. T-cell receptor (TCR) signaling is essential for activation and function of T-cells and the structural features and diversity of TCR is critical for selective alloantigen recognition and response. We sought to characterize the TCR repertoire of CD4+ cells in highly sensitized patients (HSP) and compare it to non-sensitized patients (NSP).
*Methods: Resting CD4+ cells from HSP and NSP were used for analysis of baseline TCR repertoire. One-way MLR was performed by culturing CFSE-labeled PBMC with irradiated antigen-presenting cells carrying alloreactive HLA-antigens. Alloreactive CD4+ cells (CFSElow) were collected using FACS. 5'RACE multiplex PCR amplification and high-throughput sequencing were performed to profile TCR repertoires from both unstimulated and alloreactive CD4+ cells.
*Results: Baseline TCR repertoires of CD4+cells showed more clonotype similarity amongst HSP than NSP. Stimulation with alloantigen leads to expansion of several alloreactive TCR clones in both HSP and NSP and they exhibited similar clonality, diversity and similarity. Shared alloantigen reactive TCR clones were observed from HSP and NSP, and the total frequency of shared clones was higher in HSP. The complementarity determining region-3 of TCR from both unstimulated and stimulated (CFSElo) CD4+cells in HSP display a biased usage of V/J genes and significantly different amino acid physiochemical properties including amino-acid length, charge and polarity. These features determine the antigen binding specificity and affinity of TCR suggesting distinct TCR repertoire in HSP.
*Conclusions: CD4+cells from HSP exhibit distinct baseline and alloreactive TCR repertoires. These results support further exploration of TCR repertoire to develop tools to predict antigen specificity of TCR and target alloreactive T-cells.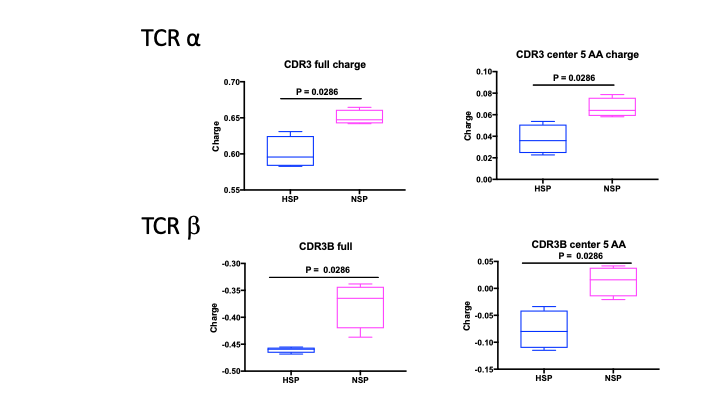 To cite this abstract in AMA style:
Negi S, Li M, Rutman A, Paraskevas S, Polychronakos C, Tchervenkov J. T Cells from Highly Sensitized Kidney Transplant Patients Display Distinct TCR Repertoires [abstract].
Am J Transplant.
2020; 20 (suppl 3). https://atcmeetingabstracts.com/abstract/t-cells-from-highly-sensitized-kidney-transplant-patients-display-distinct-tcr-repertoires/. Accessed January 19, 2022.
« Back to 2020 American Transplant Congress