Sirna Uptake During Ex Vivo Hypothermic And Normothermic Liver Machine Perfusion: Beginning Of A New Era Of Organ Preservation
1University of Massachusetts Medical School, Worcester, MA, 2University of Groningen, Groningen, Netherlands, 3Brigham and Women's Hospital, Boston, MA
Meeting: 2019 American Transplant Congress
Abstract number: 77
Keywords: Fas ligand, Liver, Machine preservation
Session Information
Session Time: 2:30pm-4:00pm

Presentation Time: 2:54pm-3:06pm
Location: Room 313
*Purpose: RNA interference (RNAi) is a natural gene modulation process that was recently approved for clinical use and has great potential for treatment of many pathological conditions. The apoptotic surface receptor FAS and tumor suppressor p53 are implicated in ischemic liver damage. Both may be silenced by RNAi with limited off-target effects. We determined the efficiency of FAS siRNA delivery with lipid nanoparticles during normothermic (37°C) and hypothermic (4°C) ex vivo machine perfusion. We also show silencing p53 via siRNA reduces inflammation and caspase expression during liver ischemia.
*Methods: Rat portal veins were cannulated (Fig. 1A) and perfused at 10mmHg on a closed-loop pump circuit regulated by circulating water bath (Fig. 1B). Controls were perfused with Williams E+10U insulin and lipid nanoparticles (Fig. 1C). Normothermic livers were perfused with medium plus nanoparticle/FAS siRNA complex (50nM) with 3'-AlexaFluor-555 modification at 37°C. Hypothermic livers were perfused similarly at 4°C. Biopsies were collected at 4 hours, fixed in formalin, stained, then imaged with confocal microscopy. To study protective effects, 10nM of p53 siRNA was delivered 24 hours before 15 minutes liver hilum clamping with tissue and blood collected 3 days after siRNA injection.
*Results: Compared to empty vector controls (Fig. 2A-D), both normothermic (Fig. 2E-H) and hypothermic livers (Fig. 2I-L) perfused with FAS siRNA demonstrate diffuse uptake in sinusoids and surrounding central veins. SiRNA is observed together in sinusoid membranes and in hepatocyte cytoplasm. Livers pretreated with p53 siRNA showed reduced cellular infiltration, vacuolization, and fewer caspase-3 positive cells.
*Conclusions: By incorporating RNAi into preservation solutions or delivering before procurement, we may reliably improve the quality of liver grafts during the ischemic period. It will be important to determine the ideal perfusion temperature. Further studies will quantify uptake with peptide-nucleic acid hybridization at both perfusion temperatures and the degree of FAS or p53 silencing in a rat transplant model.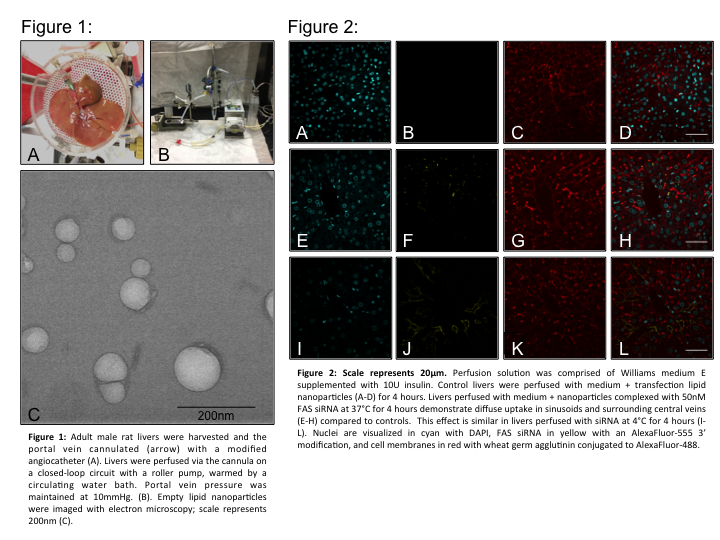 To cite this abstract in AMA style:
Gillooly A, Moore C, Perry J, Bruggenwirth I, Thijssen M, Wang X, E X, Mandrekar P, Kowalik T, Porte R, Leuvenink H, Abdi R, Bozorgzadeh A, Martins PN. Sirna Uptake During Ex Vivo Hypothermic And Normothermic Liver Machine Perfusion: Beginning Of A New Era Of Organ Preservation [abstract].
Am J Transplant.
2019; 19 (suppl 3). https://atcmeetingabstracts.com/abstract/sirna-uptake-during-ex-vivo-hypothermic-and-normothermic-liver-machine-perfusion-beginning-of-a-new-era-of-organ-preservation/. Accessed August 11, 2022.
« Back to 2019 American Transplant Congress