Session Information
Session Time: 2:30pm-4:00pm
Presentation Time: 2:30pm-2:42pm
Location: Room 310
*Purpose: A Shroom3 intronic risk locus & Shroom3 protein have been associated with increased fibrosis but reduced albuminuria in recipients of allografts with the risk genotypes.
*Methods: To understand specific mechanisms downstream of Shroom3 giving rise to these opposing phenotypes, we utilized inducible knockdown mice.
*Results: We identified that glomerular Shroom3 knockdown (CAGS-TG mice), which associated with albuminuria and podocyte actin cytoskeletal changes, also interestingly induced reduction in glomerular volume (Vglom)[Fig 1a], podocyte fraction of Vglom and single podocyte volume[1b] vs control mice(NTG). In Shroom3 knockdown human podocytes, a corresponding reduction in cell volume was identified vs control podocytes. To investigate whether glomerular Shroom3 knockdown regulated Vglom hypertrophy, we performed unilateral nephrectomy in control and knockdown mice and examined Vglom in remnant kidneys. At day 7, Shroom3 knockdown mice showed restricted Vglom hypertrophy vs controls(17% vs 28% delta Vglom, respectively; P<0.001), and compared to published FSGS controls (35-50%)[1c]. To investigate whether reductions of cell size were related to inhibition of cellular protein synthesis we measured protein:DNA ratios. Here Shroom3 knockdown podocytes had markedly reduced Protein:DNA ratios (n=5 sets; P<0.01)[1d]. Since MTOR is a key cell growth pathway regulating protein biosynthesis, we examined whether Shroom3 impinges on MTOR signaling. Phospho AMPKinase, a negative regulator of MTORC1 was significantly increased with Shroom3 knockdown (n=3 sets)[Representative image -1e]. Ribosomal biogenesis (18S / 5S RNA), downstream of MTORC1, was significantly inhibited by qPCR in Shroom3 knockdown podocytes. Other MTOR signaling proteins are being investigated.
*Conclusions: In summary our data suggests regulation of podocyte volume and Vglom by Shroom3 by regulating MTOR signaling. These findings could have implications to glomerular damage in allografts from high risk donors and in live donors with high risk Shroom3 genotypes.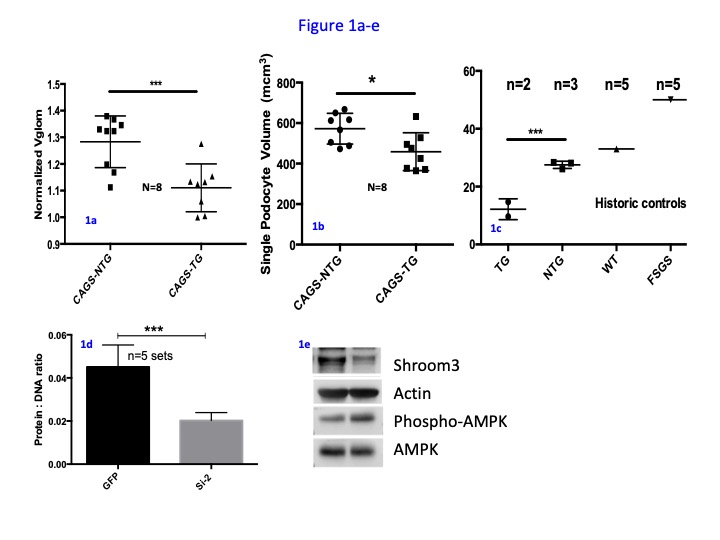 To cite this abstract in AMA style:
Banu K, Garzon F, Wei C, Yi Z, Zhang W, He C, Murphy B, Menon MC. Shroom3 Regulates Glomerular Hypertrophy after Uninephrectomy via mTOR [abstract].
Am J Transplant.
2019; 19 (suppl 3). https://atcmeetingabstracts.com/abstract/shroom3-regulates-glomerular-hypertrophy-after-uninephrectomy-via-mtor/. Accessed September 24, 2021.
« Back to 2019 American Transplant Congress