Session Information
Session Time: 6:00pm-7:00pm
Presentation Time: 6:00pm-7:00pm
Location: Halls C&D
Background
Organs from donors after cardiac death (DCD) suffer from severe loss of function requiring development of innovative methods of preservation. A novel perfusion approach, hypothermic oxygenated perfusion (HOPE), used for DCD livers, is based on cold perfusion for 1h by an oxygenated solution before implantation. We aimed to test HOPE in a rodent model of kidney grafts associated with substantial warm ischemia, mimicking the challenges of DCD kidney transplantation.
Methods
Rat kidneys were exposed to 30min in situ warm ischemia, without application of heparin. Kidneys were removed and cold stored (4[deg]C) for 18h, mimicking DCD organ procurement and conventional preservation. In additional experiments, kidneys were normothermically perfused with oxygenated blood for 1h after 18h cold storage. In a third group, kidneys were perfused by HOPE for 1h after 18h cold storage. Orthotopic kidney transplantation was performed after recipient nephrectomy. Graft injury was assessed during storage, machine perfusion and after kidney transplantation.
Results
HOPE treated DCD kidneys showed dramatically better function after transplantation, when compared to cold stored grafts in terms of nuclear injury (HMGB-1), macrophage activation (TLR-4, CD68), endothel activation (vWF), tubulus damage and graft function. A short period of warm oxygenated perfusion before implantation improved graft quality as compared to CS, but was significantly less effective in all endpoints compared to HOPE. The effect of HOPE was dependent on perfusate oxygenation.
18h cold storage + TPL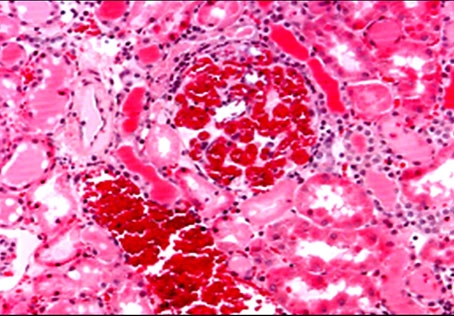 18h cold storage + 1 h HOPE+ TPL
Conclusion
HOPE of DCD kidneys was superior to the other preservation approaches, consistent to earlier results in livers. Based on this, we assume a strong and generalized effect on solid organ viability through mitochondrial pathways by HOPE prior transplantation.
CITATION INFORMATION: Kron P, Schlegel A, de Rougemont O, Oberkofler C, Clavien P.-A, Dutkowski P. Short, Cool and Well Oxygenated – HOPE for DCD Kidneys. Am J Transplant. 2016;16 (suppl 3).
To cite this abstract in AMA style:
Kron P, Schlegel A, Rougemont Ode, Oberkofler C, Clavien P-A, Dutkowski P. Short, Cool and Well Oxygenated – HOPE for DCD Kidneys. [abstract].
Am J Transplant.
2016; 16 (suppl 3). https://atcmeetingabstracts.com/abstract/short-cool-and-well-oxygenated-hope-for-dcd-kidneys/. Accessed March 4, 2021.
« Back to 2016 American Transplant Congress