Recruitment of Regulatory T Cells Promotes Donor-Specific Tolerance in Vascularized Composite Allotransplantation
1Department of Bioengineering, University of Pittsburgh, Pittsburgh, PA, 2Department of Plastic Surgery, University of Pittsburgh, Pittsburgh, PA, 3Department of Dermatology, University of Pittsburgh, Pittsburgh, PA, 4Department of Chemical Engineering, University of Pittsburgh, Pittsburgh, PA, 5Thomas E. Starzl Transplantation Institute, University of Pittsburgh, Pittsburgh, PA, 6Department of Bioengineering, Wake Forest University, Winston-Salem, NC
Meeting: 2020 American Transplant Congress
Abstract number: 506
Keywords: Bioengineering, Tolerance
Session Information
Session Time: 3:15pm-4:45pm
Presentation Time: 3:27pm-3:39pm
Location: Virtual
*Purpose: Vascularized composite allotransplantation (VCA) encompasses face and limb transplantation, but as with organ transplantation, it requires lifelong regimens of immunosuppressive drugs to prevent rejection.
*Methods: To achieve donor-specific immune tolerance and reduce the need for systemic immunosuppression, we developed a synthetic drug delivery system that mimics a strategy our bodies naturally use to recruit regulatory T cells (Treg) to suppress inflammation. Specifically, a microparticle-based system engineered to release the Treg-recruiting chemokine CCL22 was used in a rodent hindlimb VCA model. Three doses of Recruitment-MP (9mg, 50mg and 100mg) were tested.
*Results: The 50mg Recruitment-MP dose prolonged hindlimb allograft survival indefinitely (over 200 days) and promoted donor-specific tolerance. Recruitment-MP treatment enriched Treg populations in allograft skin and draining lymph nodes, and enhanced Treg function without affecting the proliferative capacity of conventional T cells
*Conclusions: With implications for clinical translation, synthetic human CCL22 induced preferential migration of human Treg in vitro. Collectively, these results suggest that Recruitment-MP promote donor-specific immune tolerance via local enrichment of suppressive Treg.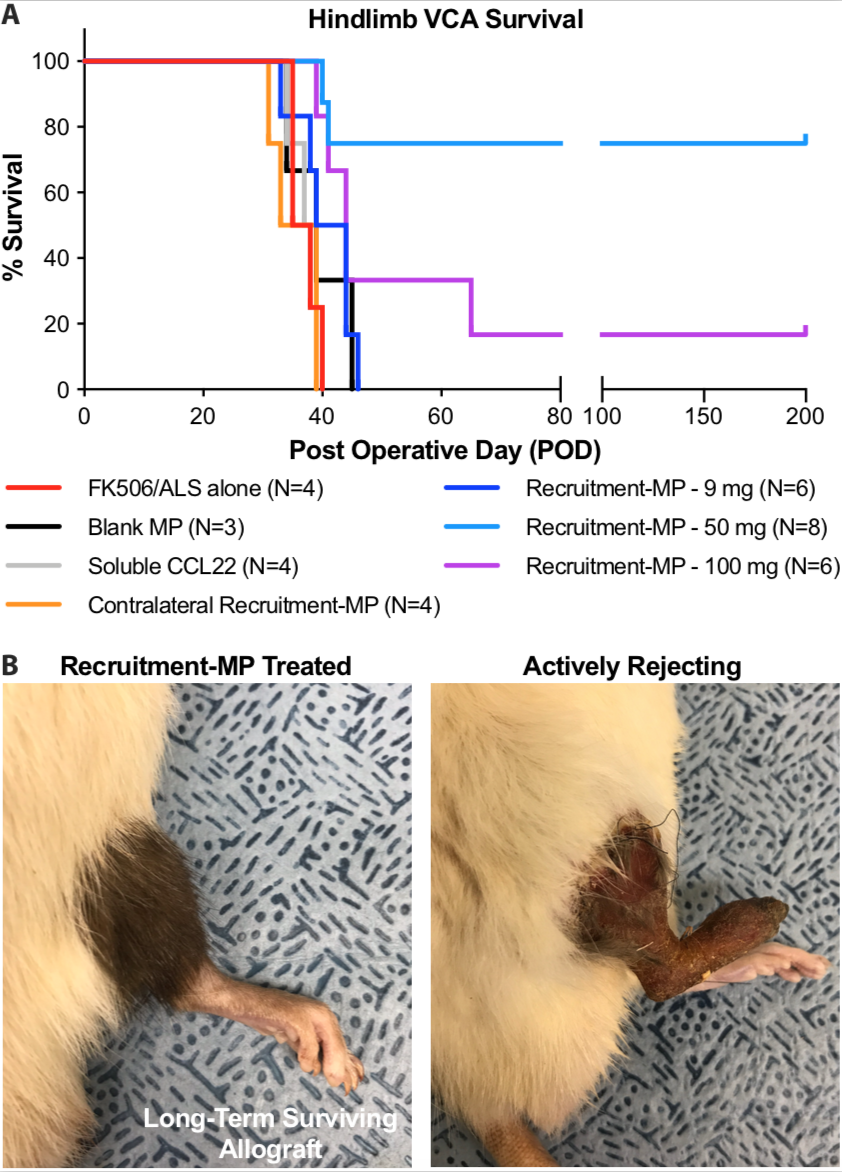 To cite this abstract in AMA style:
Fisher JD, Zhang W, Balmert SC, Aral AM, Kulahci Y, Acharya AP, Li J, Turnquist HR, Thomson AW, Solari MG, Gorantla VS, Little SR. Recruitment of Regulatory T Cells Promotes Donor-Specific Tolerance in Vascularized Composite Allotransplantation [abstract].
Am J Transplant.
2020; 20 (suppl 3). https://atcmeetingabstracts.com/abstract/recruitment-of-regulatory-t-cells-promotes-donor-specific-tolerance-in-vascularized-composite-allotransplantation/. Accessed August 5, 2021.
« Back to 2020 American Transplant Congress