PCR-Enhanced Performance Characteristics of TruGraf Gene Expression Profile in Kidney Transplant
1Transplant Genomics, Inc., Framingham, MA, 2Eurofins-Viracor, Lees Summit, MO, 3Transplant Genomics, Inc., Lees Summit, MO
Meeting: 2022 American Transplant Congress
Abstract number: 1564
Keywords: Gene expression, Kidney transplantation
Topic: Basic Science » Basic Clinical Science » 17 - Biomarkers: Clinical Outcomes
Session Information
Session Time: 7:00pm-8:00pm

Presentation Time: 7:00pm-8:00pm
Location: Hynes Halls C & D
*Purpose: The aim of this study was to perform clinical validation of TruGraf GEP using PCR methodology, as compared to the previously used microarray methodology, to identify immune quiescence or subclinical rejection.
*Methods: This was a large retrospective analysis of paired peripheral blood and surveillance biopsy samples comparing a TruGraf PCR vs the original TruGraf microarray. Samples from CTOT-08 were used as a training set (70% of samples) and as the first validation (30% of samples). We then performed a second and third validation on samples from a NU biorepository and samples from a prospective observational study at UAB.
*Results: In the comparison of technologies on the CTOT-08 Training Set, the PCR method demonstrated significantly improved sensitivity (94 vs 66%), specificity (93 vs 87%), PPV (82 vs 61%), NPV (98 vs 88%), and had a similar AUC (82 vs 83%) (Table 1). Performance remained similar in the first validation set (Table 2). Within the NU and UAB validation sets, performance characteristics of the PCR were significantly better than microarray. The PCR also better discriminated phenotypes of subclinical rejection vs immune quiescence (AUC = 84 vs 71% and 83 vs 69%, respectively) (Table 3 and 4). Table 5 demonstrates the improved concordance with biopsy of PCR vs microarray.
*Conclusions: The clinical performance characteristics of TruGraf have improved with a methodological advancement. Continuous efforts at improving clinical value are critical to advancing biomarker utility in clinical practice.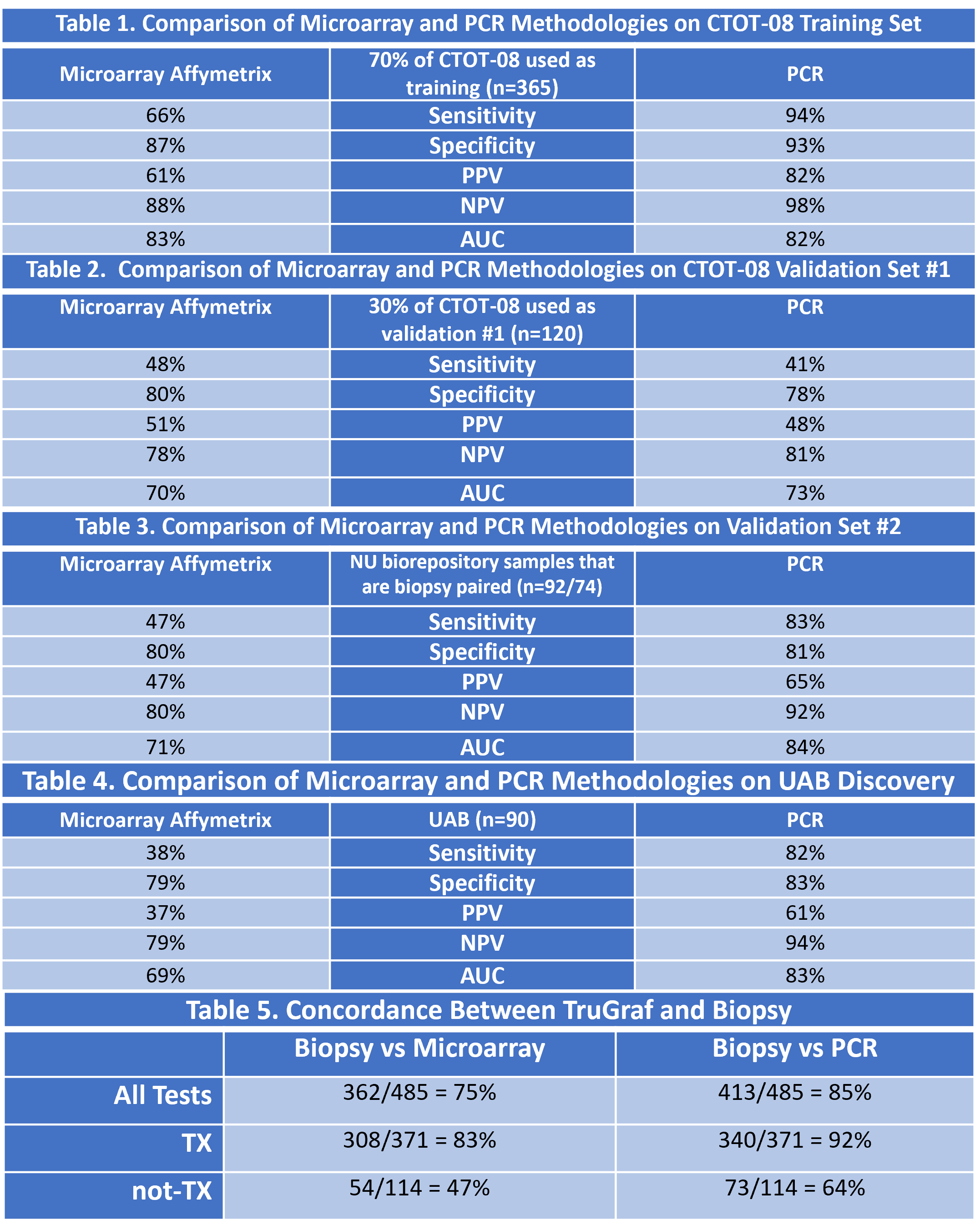 To cite this abstract in AMA style:
West-Thielke P, Fleming J, Miller C, Grund N, Sutton A, Sinha R, Miller M, Kleiboeker S, Weems J. PCR-Enhanced Performance Characteristics of TruGraf Gene Expression Profile in Kidney Transplant [abstract].
Am J Transplant.
2022; 22 (suppl 3). https://atcmeetingabstracts.com/abstract/pcr-enhanced-performance-characteristics-of-trugraf-gene-expression-profile-in-kidney-transplant/. Accessed June 2, 2023.
« Back to 2022 American Transplant Congress