Session Information
Session Time: 3:15pm-4:45pm
Presentation Time: 3:15pm-3:27pm
Location: Virtual
*Purpose: Co-stimulation blockade (CoB) has emerged as a promising immunosuppression strategy with the advent of Belatacept, a novel CTLA4-Ig fusion protein that blocks CD28-mediated T cell co-stimulation. Belatacept confers long-term advantages in graft survival and function in renal transplant recipients compared to traditional calcineurin inhibitor-based immunosuppression but is associated with increased rates of early acute rejection. The aim of this study was to investigate the role of Notch signaling inhibition via blockade of Delta-like ligand 4 (DLL4) on CoB-resistant rejection (CoBRR).
*Methods: We utilized a murine model of MHC mismatched skin transplantation (Balb/C -> C57BL/6) to assess graft survival, T cell activation and anti-donor antibody responses. Donor-specific T cell responses were assessed using mOVA skin grafts in recipients which received an adoptive transfer of Thy1.1+ ovalbumin-specific OT-I T cells. DLL4 blockade was also tested in a large animal non-human primate (NHP) model of MHC mismatched renal transplantation.
*Results: Combined CoB (CTLA4-Ig + anti-CD154) and DLL4 blockade significantly prolonged skin graft survival compared to CoB alone (MST 32 days vs. 85 days, p = 0.001**). DLL4 blockade inhibited T cell activation as measured by CD44 expression and suppressed the formation of anti-donor antibody. In an mOVA model, combined CTLA4-Ig and DLL4 blockade suppressed donor-specific CD8+ T cell effector function via IFN-gamma and TNF-a production. Finally, in non-human primates, preliminary studies suggest combination Belatacept and DLL4 blockade may prolong graft survival compared to Belatacept alone (MST 35 days (n=2 – currently ongoing) vs. 29 days (n=5).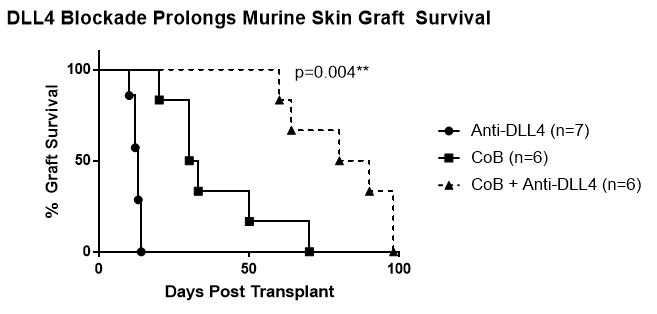 *Conclusions: These murine data and ongoing NHP studies demonstrate that DLL4 blockade suppresses both T and B cell responses in the setting of CoB and prevents CoB-resistant rejection. We have identified the Notch signaling pathway as a promising target for future large animal and clinical studies of CoB-resistant rejection.
To cite this abstract in AMA style:
Matar AJ, Lovasik BP, Dong Y, Faber DA, Habib J, Breeden CA, Regenold J, Ghosh A, Stephenson A, Kitchens WH, Adams AB. Notch Signaling Inhibition via Blockade of Delta-Like Ligand 4 Prevents Co-Stimulation Blockade Resistant Allograft Rejection [abstract].
Am J Transplant.
2020; 20 (suppl 3). https://atcmeetingabstracts.com/abstract/notch-signaling-inhibition-via-blockade-of-delta-like-ligand-4-prevents-co-stimulation-blockade-resistant-allograft-rejection/. Accessed May 7, 2021.
« Back to 2020 American Transplant Congress