Session Information
Session Time: 6:00pm-7:00pm
Presentation Time: 6:00pm-7:00pm
Location: Hall C & D
*Purpose: Checkpoint inhibitor therapy with Programmed cell death protein (PD-1) inhibitors has recently been FDA approved for the treatment of several malignancies. However, it has been associated with acute cellular rejection in liver transplant recipients.
*Methods: We report a case of a liver transplant recipient with severe, recurrent skin cancers, who received Nivolumab therapy. Shortly after initiation of treatment, the patient developed severe acute cellular rejection (ACR). Concomitantly, he developed severe humoral rejection and de novo donor specific antibodies (DSA) which ultimately led to graft loss.
*Results: A 73 year-old man with a history of cryptogenic cirrhosis and hepatocellular carcinoma received deceased donor liver transplantation twelve years ago. Throughout that period, he enjoyed excellent graft function but had twenty-five non-melanoma skin cancers and a conjunctival squamous cell carcinoma that failed local regional therapy. Subsequently, the patient was treated with two cycles of Nivolumab. After his second infusion, the patient developed elevated liver enzymes and biopsy-proven severe acute cellular rejection (ACR) [Rejection Activity Index (RAI) 9/9]. Despite aggressive treatment with methylprednisolone IV (over 7 grams total), the liver function tests remained elevated (ALP 742 U/L, AST 177 U/L, ALT 528 U/L, TB 13.8 mg/Dl) and repeat biopsies showed persistent rejection (RAI 6/9 at 5 days of therapy and 4/9 at 15 days of therapy). DSA panel showed profound elevation of high-mean fluorescence intensity (MFI) DSA to the donor DQ locus (Figure 1). He was initiated on plasmapheresis and IVIG, but the DSA remained significantly elevated. Ultimately, his labs continued to worsen and subsequent biopsy showed resolution of ACR but persistent chronic rejection. He eventually transitioned to hospice care.
*Conclusions: This case draws attention to the high levels of de novo DSA that can accompany liver allograft rejection after Nivolumab therapy. Experimental models have previously shown that the PD-1 ligand is crucial for liver transplant tolerance in mice. These findings suggest that PD-1 may play a role in liver allograft resistance to antibody-mediated injury. In conclusion, early and aggressive treatment of antibody-mediated rejection should be considered when treating liver allograft rejection after checkpoint inhibitor therapy.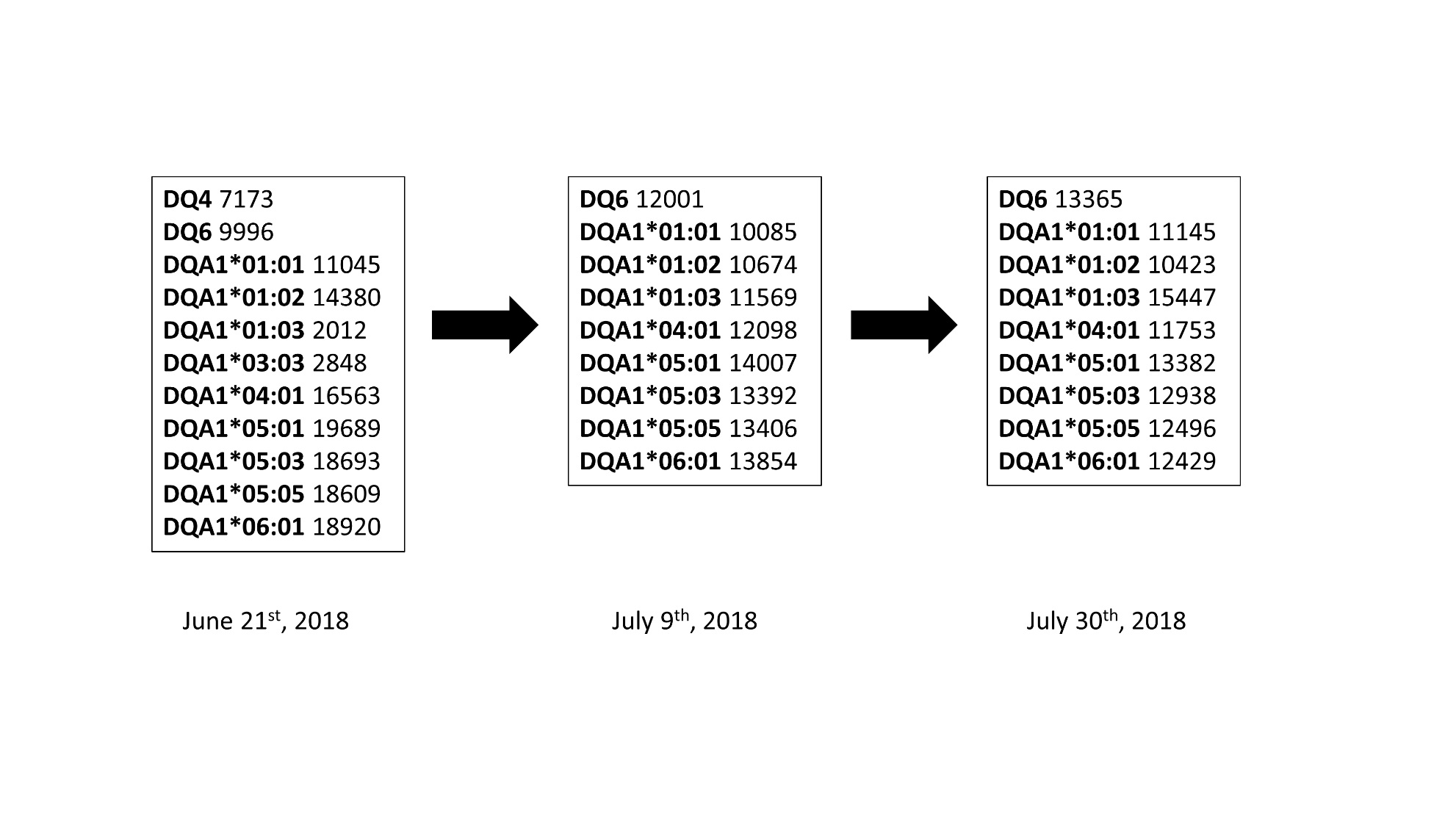 To cite this abstract in AMA style:
Lee BT, Han H, Chopra S, Ahearn AJ. Nivolumab-Induced Rejection of a Liver Allograft: PD-1 Inhibition Thwarts Liver Allograft Resistance to Humoral Rejection [abstract].
Am J Transplant.
2019; 19 (suppl 3). https://atcmeetingabstracts.com/abstract/nivolumab-induced-rejection-of-a-liver-allograft-pd-1-inhibition-thwarts-liver-allograft-resistance-to-humoral-rejection/. Accessed July 24, 2021.
« Back to 2019 American Transplant Congress