Molecular Phenotype of Proliferative Arteriopathy in Kidney Grafts
1Warsaw Medical University, Warsaw, Poland, 2Gdansk Medical University, Gdansk, Poland, 3University of Alberta, Edmonton AB, AB, Canada, 4Pomeranian Medical University, Szczecin, Poland
Meeting: 2019 American Transplant Congress
Abstract number: A189
Keywords: Biopsy, Gene expression, Kidney transplantation, Rejection
Session Information
Session Time: 5:30pm-7:30pm
Presentation Time: 5:30pm-7:30pm
Location: Hall C & D
*Purpose: Proliferative arteriopathy (PA) is a lesion characterized by a fibrotic tissue in the arterial intima. The phenomenon is marked by the lack of elastic fibers multiplication within the thickened intima and/or by the increased number of myofibroblasts in this region (Figure 1). It is believed that PA evolves as a consequence of severe endothelial injury, but its associations with various forms of transplant pathology, including rejection have not been clearly defined yet. It is often simply classified as a v-lesion and called rejection, but how often this is correct is unknown.
*Methods: As a part of "Troubled Polish Kidney Transplants Biopsy" study we analyzed the molecular phenotype (Molecular Microscope Diagnostic System (MMDx)) of 90 biopsies, of which 21 presented PA lesion.
*Results: According to Banff classification in 11/21 cases PA were associated with rejection, including: TCMR (n=2), ABMR (n=6) and TCMR&ABMR (n=3). By MMDx 14/21 PA cases were accompanied by rejection: TCMR (n=4), TCMR&ABMR (n=2), active ABMR (n=5), and inactive ABMR (n=3). In 8 cases both microscopes differed in diagnosis (Table 1). MMDx no rejection cases didn't have rejection features by histology except 1 case of Banff IA. There were 4 Banff no rejection cases that showed rejection phenotype in MMDx (1xTCMR, 3x ABMR). PA-rejection association was more common after first 6 post-transplant months.
*Conclusions: PA may be associated with various transplant pathologies, commonly with rejection, both TCMR, and acute/chronic ABMR, but sometimes with no rejection, particularly within first 6 post-transplant months, when it could perhaps be related to perioperative injury or donor disease. Due to its relatively common occurrence and potential associations PA should be better defined by Banff classification, distinguishing PA from other v-lesions. MMDx is an important complement to conventional microscopy in PA interpretation, and may be useful in guiding the reclassification of PA lesions in the Banff process.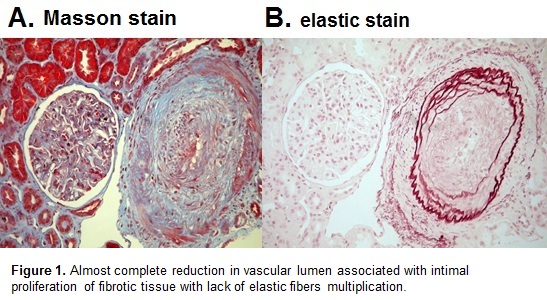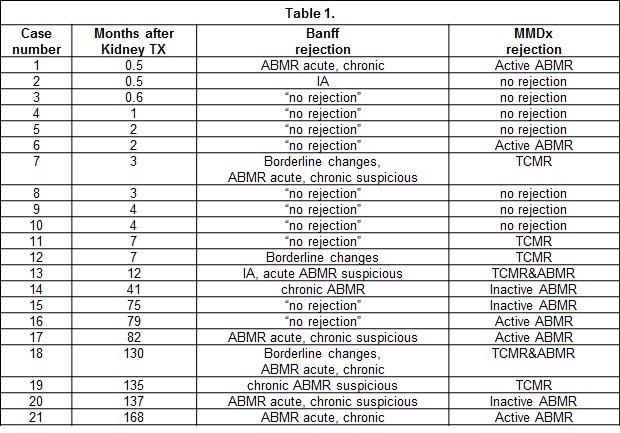 To cite this abstract in AMA style:
Perkowska-Ptasinska A, Ciszek M, Deborska-Materkowska D, Debska-Slizien A, Halloran PF, Myslak M. Molecular Phenotype of Proliferative Arteriopathy in Kidney Grafts [abstract].
Am J Transplant.
2019; 19 (suppl 3). https://atcmeetingabstracts.com/abstract/molecular-phenotype-of-proliferative-arteriopathy-in-kidney-grafts/. Accessed July 24, 2021.
« Back to 2019 American Transplant Congress