Session Information
Session Time: 3:15pm-4:45pm

Presentation Time: 3:51pm-4:03pm
Location: Virtual
*Purpose: This study sought to assess the safety of steroid-containing maintenance immunosuppression in the setting of alemtuzumab (ALEM) induction.
*Methods: Adult (>18 years) kidney transplant recipients (KTR) transplanted 1/1/2015-12/31/2017 who received ALEM induction were included. Data was collected for the first post-transplant year. Per institution protocol, steroids are discontinued on post-operative day (POD) 4 in all KTR receiving ALEM induction, except patients with a panel of reactive antibody ≥30%, an acceptable reactive crossmatch, prior KTR, and delayed graft function. Cohorts were stratified into 2 groups according to those maintained on steroids at POD 37 (steroids vs steroid-free). The primary outcome was the incidence of proven or treated presumed infection (infx) within 12 months post-transplant.
*Results: Total of 445 KTR were included (Table 1), 189 steroid and 256 steroid-free. Patients maintained on steroids had higher incidence of infx (67.2% vs 56.3%, p=0.019), driven primarily by bacterial infx (55.6% vs 37.9%, p<0.001). Patients maintained on steroids also had higher mean number of overall hospitalizations (1.3±1.9 vs 0.86±1.3, p=0.007), and hospitalization secondary to infx (0.67±1.2 vs 0.38±0.8, p=0.005). Time to hospitalization was significantly lower in the steroids group (Figure 1). No difference was seen in new onset diabetes, weight change, and LDL. The steroid group had a lower mean eGFR at 12 months (53.22±17.4 vs 57.51±17.2, p=0.015). Similar rates of rejection, graft loss, and death were seen between groups.
*Conclusions: Infx and hospital admissions are higher amongst KTRs maintained on steroids post-ALEM induction compared with steroid-free patients, but do not exhibit a higher incidence of rejection, graft loss, or death. Consider limiting maintenance steroids in the setting of ALEM induction, especially in those patients at higher risk for infection.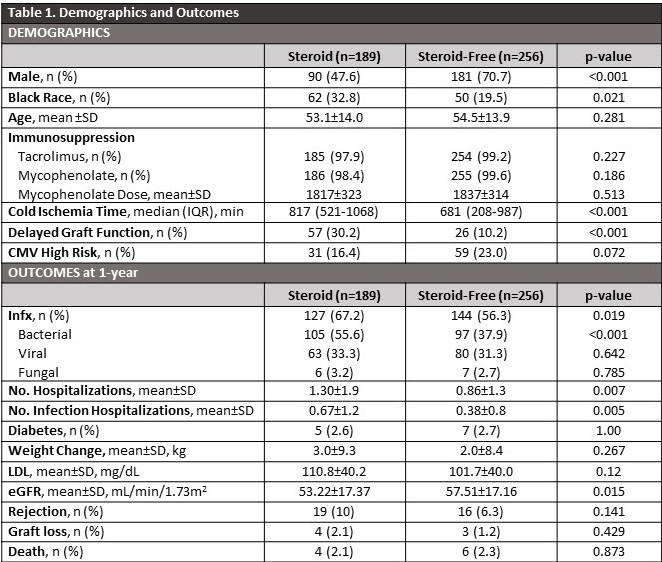 To cite this abstract in AMA style:
Webb AR, Al-Bahou AA, Brueckner AJ, Logan AT, Baliga RS, Anger LJBowman. Maintenance Steroids in the Setting of Alemtuzumab Induction Post-Kidney Transplant Increases Risk of Infection and Hospital Readmission [abstract].
Am J Transplant.
2020; 20 (suppl 3). https://atcmeetingabstracts.com/abstract/maintenance-steroids-in-the-setting-of-alemtuzumab-induction-post-kidney-transplant-increases-risk-of-infection-and-hospital-readmission/. Accessed March 26, 2023.
« Back to 2020 American Transplant Congress