Session Information
Session Time: 2:30pm-4:00pm
Presentation Time: 3:18pm-3:30pm
Location: Room 606/607
Purpose
Latent donor rat cytomegalovirus (RCMV) infection accelerates chronic rejection (CR) in a heterotopic rat heart transplant model. RCMV latency is associated with an influx of macrophages (macs) and T cells into cardiac tissue providing a potential site of alloantigen presentation. We sought to determine whether depletion of macs from RCMV+ donor allografts using clodronate-laden liposomes would slow the rate of CR.
Methods
F344 rats were infected with RCMV 6-9 months prior to organ procurement to establish latent infection. Donor rats were treated with PBS or clodronate laden liposomes. Mac depletion from donor hearts was confirmed by flow cytometry and immunohistochemistry. Donor hearts were heterotopically transplanted into CMV-naïve Lewis recipients. We evaluated the time to rejection, cytokine levels, immune infiltrates and the extent of transplant vascular sclerosis (TVS), which is reflective of CR.
Results
Donor clodronate treatment resulted in depletion of tissue resident macs but not T or B cells from CMV latently infected allografts. Donor clodronate treatment significantly delayed the mean time to graft rejection from 61 days to 84 days post transplant (p=0.002; Figure 1). Beginning at POD7 clodronate treated allografts showed decreased TVS and infiltration of macs compared to untreated allografts. At POD14 clondronate treated allograft levels of G-CSF, GM-CSF, IL-18, CXCL-10 Fractalkine, and CCL-1 were significantly lower than in untreated allografts.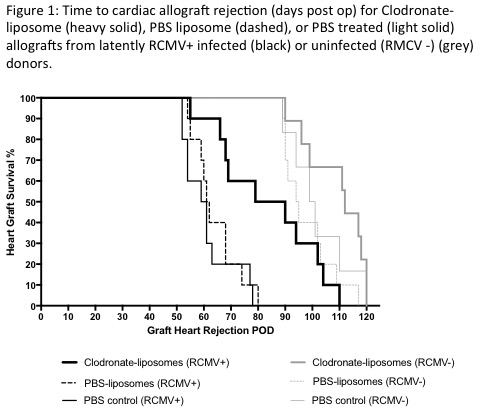 Conclusions
This study represents a novel approach to the treatment of chronic rejection. We show that pre-transplant macrophage depletion of RCMV latently infected allografts slows the time to chronic rejection to a rate comparable to that seen with uninfected allografts. Clodronate treated allografts had decreased proinflammatory cytokines, infiltrate of immune cells, and TVS. These phenomena form the platform for future translational strategies that could amerliorate chronic rejection in the setting of CMV+ donors transplanted into CMV-recipients.
CITATION INFORMATION: Burg J., Haese N., Andoh T., Kreklywich C., Jones I., Orloff S., Streblow D. Macrophage Depletion of RCMV-Latently Infected Allografts Ameliorates Accelerated Chronic Cardiac Rejection Am J Transplant. 2017;17 (suppl 3).
To cite this abstract in AMA style:
Burg J, Haese N, Andoh T, Kreklywich C, Jones I, Orloff S, Streblow D. Macrophage Depletion of RCMV-Latently Infected Allografts Ameliorates Accelerated Chronic Cardiac Rejection [abstract]. https://atcmeetingabstracts.com/abstract/macrophage-depletion-of-rcmv-latently-infected-allografts-ameliorates-accelerated-chronic-cardiac-rejection/. Accessed July 23, 2021.
« Back to 2018 American Transplant Congress