Low-Dose Valacyclovir Prophylaxis for Cytomegalovirus Infection in Renal Transplant Recipients with Intermediate Risk
A. Velioglu1, H. Arikan1, E. Asicioglu1, S. Alagoz2, N. Seyahi2, S. Tuglular1, C. Ozener1
1Nephrology, Marmara University School of Medicine, İstanbul, Turkey, 2Nephrology, Istanbul University, Cerrahpasa Medical School, İstanbul, Turkey
Meeting: 2019 American Transplant Congress
Abstract number: B220
Keywords: Cytomeglovirus, Kidney transplantation, Prophylaxis, Viral therapy
Session Information
Session Time: 6:00pm-7:00pm
Presentation Time: 6:00pm-7:00pm
Location: Hall C & D
*Purpose: According to recent guidelines ganciclovir or valganciclovir chemoprophylaxis is recommended for all kidney transplantation (KT) recipients (except for D-/R- serology) for preventing cytomegalovirus (CMV) disease. In this study, we aimed to share our experience in low-dose valacyclovir prophylaxis in intermediate CMV risk (D+/R+) and low immunological risk KT patients with a special emphasis on occurrence of CMV infection and/or disease, adverse events and short-term graft survival.
*Methods: We included the consecutive KT recipients (n=62) who were transplanted between January 2011 and September 2017 and received valacyclovir prophylaxis in our institution. The valacyclovir dose was 2g/day started on day 7 and all patients had sequential CMV PCR monitoring through first 6 months. Demographic data, occurrence of CMV infection and/or disease, sequential CMV PCR titers and renal outcome were recorded and analyzed. Forty (n=40) KT recipients who received valganciclovir prophylaxis for 3 months were included in the study as control group. Data were compared between the study groups.
*Results: Valaciclovir prophylaxis was given for 6 months in 62 patients. CMV DNAemia at any level of DNA (median level of 280 copies) developed in 14 patients (22%) but CMV disease was not diagnosed in any of them. There was no significant difference regarding demographic data, acute rejection rate and graft survival between two different prophylaxis regimens, except leukocyte count at 3rd month [Table 1and Table 2]. We found that 75% lower cost was achieved in patients who received low dose valacyclovir plus 6 months CMV DNA monitoring when compared to those on 3 months valganciclovir prophylaxis without CMV DNA monitoring (878,52 USD vs. 3387,9 USD, respectively)
*Conclusions: We demonstrated that the use of low dose of valacyclovir (2g/day) was effective in KT recipients regarding antiviral, adverse event and economic perspectives. Clinicians can apply this regimen especially in seropositive, immunologic low risk transplant recipients.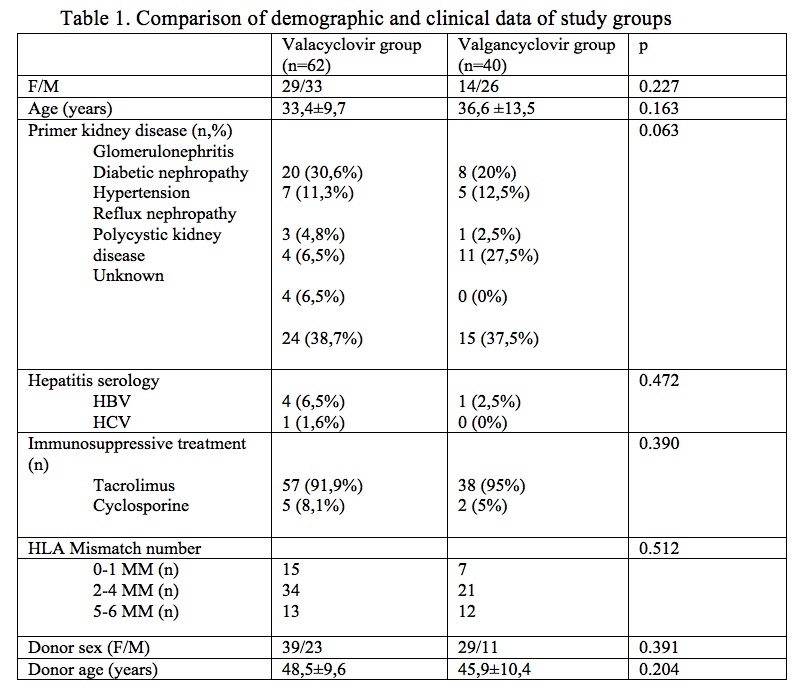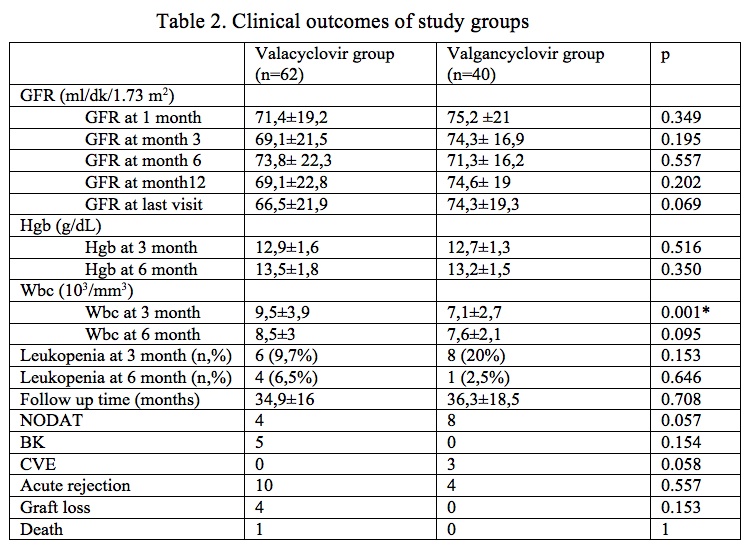 To cite this abstract in AMA style:
Velioglu A, Arikan H, Asicioglu E, Alagoz S, Seyahi N, Tuglular S, Ozener C. Low-Dose Valacyclovir Prophylaxis for Cytomegalovirus Infection in Renal Transplant Recipients with Intermediate Risk [abstract].
Am J Transplant.
2019; 19 (suppl 3). https://atcmeetingabstracts.com/abstract/low-dose-valacyclovir-prophylaxis-for-cytomegalovirus-infection-in-renal-transplant-recipients-with-intermediate-risk/. Accessed February 24, 2020.
« Back to 2019 American Transplant Congress