Session Information
Session Time: 6:00pm-7:00pm
Presentation Time: 6:10pm-6:15pm
Location: Virtual
*Purpose: Ischemia-reperfusion injury (IRI) is a major risk factor for allograft rejection in orthotopic liver transplantation (OLT), involving complex interactions between innate and adaptive immune systems. However, no clinical therapeutics or patient-specific diagnostics are currently available. Etiologies leading to OLT are heterogeneous, and only ~50% of OLT recipients experience IRI despite similar immunosuppression regimens. Genetic susceptibility to IRI is unknown, and rates of progression differ markedly, as do post-transplant liver function and patient and allograft outcomes. Therefore, we sought to identify associations between inflammatory endotypes and clinical presentations in OLT-IRI.
*Methods: We enrolled 164 OLT recipients in our IRB-approved study. We investigated evolving patient immune status via longitudinal single-antigen bead HLA antibody assay, histopathology and RNAseq of pre- and post-reperfusion biopsies, soluble cytokines, chemokines and growth factors via 38-plex Luminex, and immune cell functional phenotypes via 14-color flow cytometry, PRR activation screening and ELISA. We collected clinical parameters from medical and surgical records and examined whether there were any associations between endotype and clinical features.
*Results: Our studies suggest four clinically actionable human endotypes associated with biopsy-proven IRI centered on the involvement of specific DAMP-PRR signaling pathways: 1) disulfide-HMGB1/TLR4/TNFa, 2) cfDNA/HMGB1/RAGE/TLR9, 3) ssRNA/TLR7 and 4) PGN/NOD2. High-risk IRI endotypes 1 and 2 are associated with increased myeloid activation/infiltration, circulating IL-2, IL-3, IL-4, IL-7, IL-13, IL-1a, IL-17A, IL-1RA, CCL11 and de novo HLA donor-specific antibodies, as well as poorer outcomes, including ACR, AMR and death. Low-risk IRI endotypes 3 and 4 are associated with increased tolerance induction in myeloid and T cells leading to improved outcomes and extended allograft/patient survival. Importantly, we identified female Hispanics with NASH as primarily having high-risk IRI endotype 1. Additionally, high-risk IRI endotype 2 is seen in patients with non-active hepatocellular carcinoma (HCC) at the time of transplant, whereas those with active HCC frequently have low-risk IRI endotypes 3/4.
*Conclusions: Clinical presentations are directly associated with inflammatory endotypes in OLT-IRI. Accurate endotyping of patients according to their specific pathogenesis will allow more precise and personalized therapeutic strategies to reduce the influence of IRI on OLT outcomes.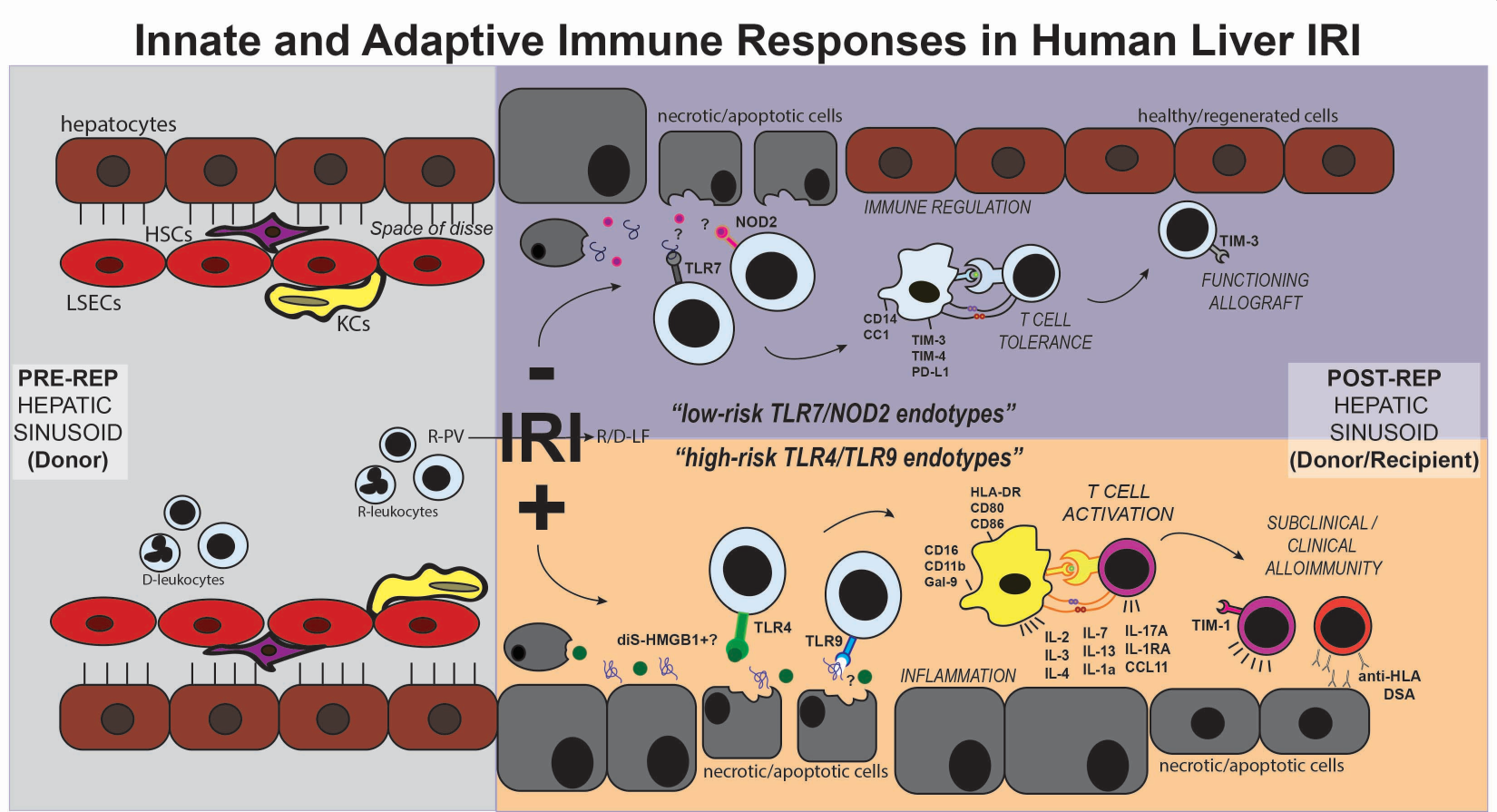 To cite this abstract in AMA style:
Sosa RA, Terry AQ, Kaldas FM, Naini BV, Ito T, Busuttil RW, Gjertson DW, Kupiec-Weglinski JW, Reed EF. Immunologic Endotypes of Ischemia-reperfusion Injury in Human Liver Transplantation [abstract].
Am J Transplant.
2021; 21 (suppl 3). https://atcmeetingabstracts.com/abstract/immunologic-endotypes-of-ischemia-reperfusion-injury-in-human-liver-transplantation/. Accessed September 21, 2021.
« Back to 2021 American Transplant Congress