Hematopoietic Cell Transplantation and Solid Organ Transplantation: Outcomes of Sequential Transplantation in the United States
1University of Kentucky, Lexington, KY, 2University of Pennsylvania, Philadelphia, PA, 3Medical College of Wisconsin, Milwaukee, WI, 4CIBMTR, NMDP, Minneapolis, MN, 5Sarah Cannon Blood Cancer Network, Nashville, TN, 6Children's Hospital of Orange County, Orange, CA, 7Cleveland Clinic, Taussig Cancer Institute, Cleveland, OH
Meeting: 2020 American Transplant Congress
Abstract number: D-188
Keywords: Bone marrow transplantation, Graft-versus-host-disease, Outcome, Survival
Session Information
Session Time: 3:15pm-4:00pm
Presentation Time: 3:30pm-4:00pm
Location: Virtual
*Purpose: Survival after solid organ transplantation(SOT) and hematopoietic cell transplantation(HCT) has steadily risen. Despite these improvements, SOT recipients may develop conditions requiring HCT, and HCT recipients may endure organ damage requiring SOT. Whether prior HCT precludes safe SOT, or SOT precludes safe HCT is not defined as there is a paucity of data to inform decisions regarding sequential transplantation.
*Methods: We merged data from the Center for International Blood & Marrow Transplant Research(CIBMTR) and UNOS to describe outcomes of patients with sequential HCT and SOT in the United States. An analysis of patients with sequential transplants[SOT followed by HCT(SOT+HCT) and HCT followed by SOT(HCT+SOT)] was performed evaluating overall survival(OS) from sequential transplantation and complications. Factors associated with OS were analyzed.
*Results: We identified 171 patients with sequential transplants. Among patients who received SOT+HCT(n=84), there were 15 thoracic, 43 kidney, and 26 liver SOTs performed prior to HCT, with living donation accounting for 23(54%) kidney and 2(8%) liver SOTs. Among patients who received HCT+SOT(n=87), plasma cell disorder was the most common indication for HCT(48%). There were 26 thoracic, 49 kidney, and 5 liver SOTs performed after HCT, with living donation accounting for 27(55%) kidney and 2(40%) liver SOTs in this group. Five-year OS of those undergoing SOT+HCT(32%) was lower compared to HCT+SOT(66%);p<0.01. Figure1.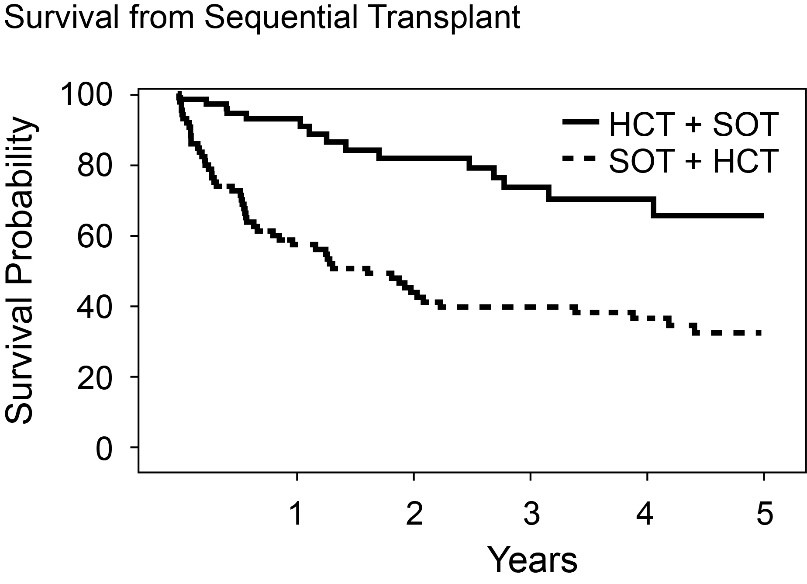 The most common cause of death among SOT+HCT was recurrent disease(original indication) for HCT(40.7%). Among patients who underwent HCT+SOT and SOT+HCT, acute GVHD occurred in 28% vs 16% and chronic GVHD occurred in 37% vs 13%, respectively.
*Conclusions: Sequential transplantation poses an enormous clinical challenge for the transplant community. OS among recipients of SOT+HCT is considerably lower than OS among recipients of HCT+SOT, despite higher rates of GVHD in the latter group. This study highlights the need to better understand the complex immunologic and hematopoietic changes that occur in the setting of sequential transplants with the goal of guiding management of these challenging clinical scenarios.
To cite this abstract in AMA style:
Gupta M, Levine M, Porter D, Brazauskas R, Bo-Subait S, Phelan R, Battiwalla M, Buchbinder D, Hamilton B, Shaw B, Abt P. Hematopoietic Cell Transplantation and Solid Organ Transplantation: Outcomes of Sequential Transplantation in the United States [abstract].
Am J Transplant.
2020; 20 (suppl 3). https://atcmeetingabstracts.com/abstract/hematopoietic-cell-transplantation-and-solid-organ-transplantation-outcomes-of-sequential-transplantation-in-the-united-states/. Accessed September 16, 2021.
« Back to 2020 American Transplant Congress