Extracellular Vesicles from Patients with Diabetic Nephropathy Induce Endothelial Dysfunction Through Icam-1 and Vcam-1 in an In Vitro Model
1Nephrology and Kidney Transplantation Department, Hospital Clínic de Barcelona, Barcelona, Spain, 2Hematopathology Department, Hospital Clínic de Barcelona, Barcelona, Spain, 3Nephrology and Transplant Experimental Laboratory (LENIT), Hospital Clínic de Barcelona, Barcelona, Spain, 4Josep Carreras Leukaemia Research Institute, Hospital Clínic de Barcelona, Barcelona, Spain
Meeting: 2021 American Transplant Congress
Abstract number: 541
Keywords: Endothelial activation, Endothelial cells, Hyperglycemia, Inflammation
Topic: Basic Science » Endothelial Cell Biology
*Purpose: Extracellular Vesicles (EVs) are membranous structures produced by cells which contain different cytoplasmic compounds and that have been described as potentially pathogenic elements in endothelial dysfunction (ED) through a modification of the expression of endothelial receptors. The mechanisms of ED in patients with chronic kidney disease (CKD) and diabetes mellitus (DM) are not well defined, although EVs could have a key role. Thus, the aim of the study was to evaluate the role of EVs in ED in patients with diabetes and ESKD in an in vitro model of ED.
*Methods: Cross-sectional study with sera from 11 patients with a mean age of 46±7.6 years (45% women) and CKD (eGFR 18±7 mL/min) due to diabetic nephropathy (DM1), grouped into 4 pools. The role of the EVs was studied in an in vitro model of ED with HMEC-1 cells exposed during 72 hours to supplemented medium with: a) patient sera (group 1/red), b) EVs-depleted patient sera (group 2/orange) and c) EVs-depleted control sera in which patient's EVs were added (group 3/yellow). Changes in the expression of vWF and the membrane adhesion receptors VCAM-1 and ICAM-1 were analyzed in the cells exposed to the different conditions, with respect to the healthy donor serum.
*Results: The expression of ED markers (vWF, VCAM-1 and ICAM-1) in cells exposed to patient serum (with or without EVs) was higher compared to that observed after exposure to control sera (vWF, p <0.01; Fig. 1A; VCAM-1, p <0.01; Fig. 1B; ICAM-1, p <0.01; Fig. 1C). Moreover, EVs depletion significantly decreases the expression of VCAM-1 and ICAM- 1 with respect to the patient's serum (Fig. 1B, p <0.01 and 1C, p <0.01), but not vWF expression.
*Conclusions: EVs increase endothelial damage through an increased VCAM-1 and ICAM-1 expression, both being inflammatory markers associated with leukocyte adhesion. Thus, EVs constitute a pathogenic element in ED in patients with DM1 and CKD.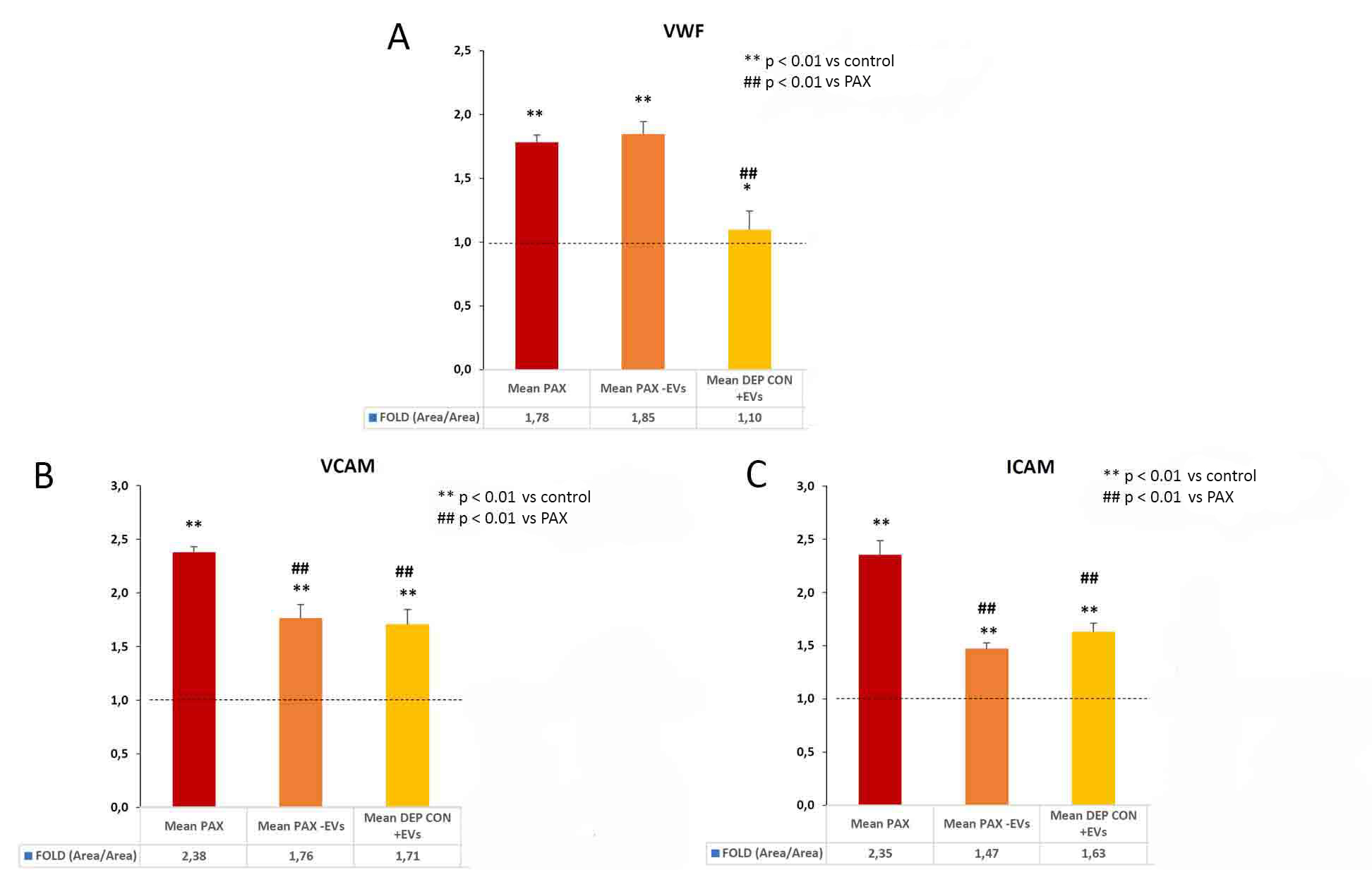 To cite this abstract in AMA style:
Montagud-Marrahi E, Torramadé-Moix S, Ramirez-Bajo M, Rovira J, Bañón-Maneus E, Hermida E, Diekmann F, Palomo M, Díaz-Ricart M, Ventura-Aguiar P. Extracellular Vesicles from Patients with Diabetic Nephropathy Induce Endothelial Dysfunction Through Icam-1 and Vcam-1 in an In Vitro Model [abstract].
Am J Transplant.
2021; 21 (suppl 3). https://atcmeetingabstracts.com/abstract/extracellular-vesicles-from-patients-with-diabetic-nephropathy-induce-endothelial-dysfunction-through-icam-1-and-vcam-1-in-an-in-vitro-model/. Accessed January 21, 2022.
« Back to 2021 American Transplant Congress