Session Information
Session Time: 3:15pm-4:00pm

Presentation Time: 3:30pm-4:00pm
Location: Virtual
*Purpose: Alpha-1 antitrypsin deficiency (AATD) accounts for approximately 6% of all lung transplants (LTx) performed annually. The benefit of replacement with alpha-1 proteinase inhibitor (A1-PI) has not been well studied post-LTx. Our primary objective was to assess benefits in administering A1-PI post-lung transplantation for AATD LTx recipients.
*Methods: A retrospective case series was performed on patients who received LTx for AATD between 2002 and 2018. Data reviewed included AATD phenotype, pulmonary function tests, date of initiation of A1-PI, antibiotic data, photopheresis treatments, and available surveillance bronchoscopies. Endpoints included the change of forced expiratory volume in one second (FEV1) post-transplant, infective episodes, bronchiolitis obliterans syndrome (BOS) staging, and acute lung rejection episodes.
*Results: Out of the 13 AATD LTx recipients, 6 continually received A1-PI beginning prior to transplant (Group 1), and 7 historical control patients were re-introduced to Α1-PI a number of years after LTx (Group 2). All patients received Α1-PI once weekly at a dose of 60 mg/kg. Group 1 experienced a mean FEV1% predicted decline after two years of 6.1% (range: 0.0%-21.0%), and Group 2 experienced a mean decline of 24.2% (range: 13.5%-63.5%). No significant differences noted in frequency of infective episodes between Groups 1 and 2. Only one patient in Group 1 developed BOS about 2.5 years post-transplant, whereas all Group 2 patients developed BOS at a mean of 5.4 years post-transplant (range: 0.7-8.0 years). No patients in Group 1 experienced any acute lung rejection episodes noted from surveillance bronchoscopies, corresponding data not available for Group 2 patients. Figure. Group 1 (blue) and Group 2 (green) FEV1% predicted over time following the baseline FEV1% predicted value for each AATD LTx patient.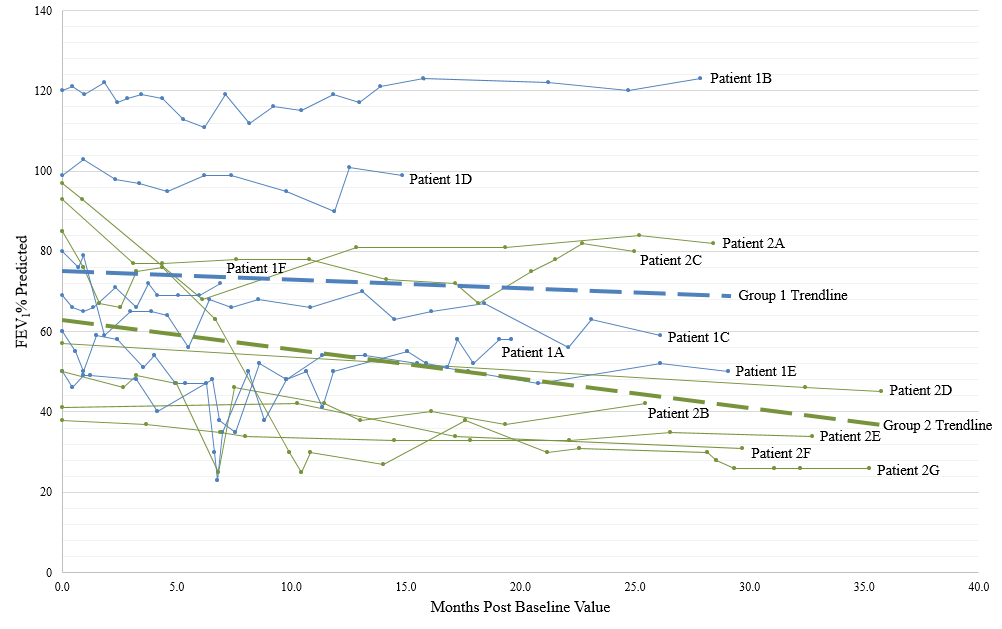 *Conclusions: We report that the continual use of Α1-PI in AATD LTx recipients can result in better maintenance and stabilization of lung functions and potentially less acute cellular rejection episodes early post-LTx. Prospective studies should be performed to confirm a benefit in this population.
To cite this abstract in AMA style:
Bremer M, Feist A, Mariski M, Yung G, Floreth T, Schonhoft E, Schooler G, Golts E, Afshar K. Effects of Alpha-1 Proteinase Replacement Continuation Post-Lung Transplantation in Alpha-1 Antitrypsin Deficiency: A Single Center Case Series [abstract].
Am J Transplant.
2020; 20 (suppl 3). https://atcmeetingabstracts.com/abstract/effects-of-alpha-1-proteinase-replacement-continuation-post-lung-transplantation-in-alpha-1-antitrypsin-deficiency-a-single-center-case-series/. Accessed December 2, 2023.
« Back to 2020 American Transplant Congress