Session Information
Session Time: 6:00pm-7:00pm

Presentation Time: 6:00pm-6:05pm
Location: Virtual
*Purpose: Organ transplantation is life-saving and continued investigations into immunological mechanisms that drive organ rejection are needed to improve immunosuppression therapies and prevent graft failure. DNA-dependent protein kinase catalytic subunit, DNA-PKcs, is a critical component of both the cellular and humoral immune responses. In this study, we investigate the contribution of DNA-PKcs to allogeneic skin graft rejection to potentially highlight a novel strategy for inhibiting transplant rejection.
*Methods: Fully MHC mismatched murine allogeneic skin graft studies were performed by transplanting skin from BalbC mice to C57bl6 mice and treating with either vehicle or the DNA-PKcs inhibitor NU7441. Graft rejection, cytokine production, immune cell infiltration, and donor-specific antibody (DSA) formation were analyzed.
*Results: DNA-PKcs inhibition significantly reduced necrosis and extended graft survival compared to controls (mean survival 14 days vs 9 days respectively). Inhibition reduced the production of the cytokines Interleukin (IL)2, IL4, IL6, IL10, TNFα, and IFNγ and the infiltration of CD3+ lymphocytes into grafts. Furthermore, DNA-PKcs inhibition reduced the number of CD19+ B cells and CD19+ CD138+ plasma cells coinciding with a significant reduction in DSAs. At a molecular level, we determined that the immunosuppressive effects of DNA-PKcs inhibition were mediated, in part, via inhibition of NFκ B signaling through reduced expression of the p65 subunit.
*Conclusions: Our data confirm that DNA-PKcs contributes to allogeneic graft rejection and highlight a novel immunological function for DNA-PKcs in the regulation of NFκ B and concomitant cytokine production.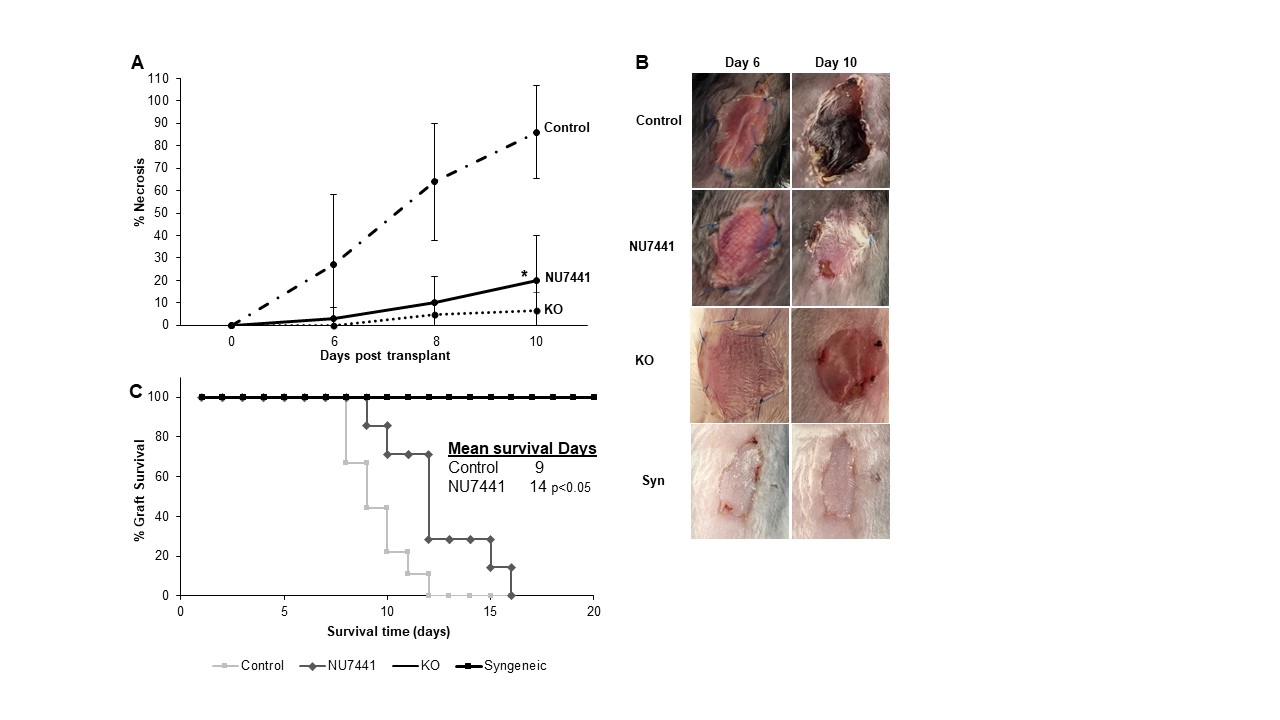 To cite this abstract in AMA style:
Burdine L, Burdine M, Waldrip Z, Harrison D. Dna-pkcs Regulation of the Allogeneic Immune Response [abstract].
Am J Transplant.
2021; 21 (suppl 3). https://atcmeetingabstracts.com/abstract/dna-pkcs-regulation-of-the-allogeneic-immune-response/. Accessed May 15, 2022.
« Back to 2021 American Transplant Congress