Session Information
Session Time: 4:30pm-6:00pm
Presentation Time: 5:06pm-5:18pm
Location: Ballroom B
*Purpose: Even though the liver may provide immunologic protection to the kidney from hyperacute rejection, previous publications suggest this protective effect is not sufficient to prevent Simultaneous Liver-Kidney Transplantation (SLK) kidney rejections and poor transplant outcomes. This study aims to investigate the histocompatibility risk factors associated with SLKT rejections.
*Methods: A total of 106 recipients who underwent SLK during 2006-2018 at the Cleveland Clinic were retrospectively analyzed. We reviewed 46 recipients who had data for post liver and kidney biopsies, pre-SLK Panel Reactivity Antibody (PRA), preformed donor specific antibody (pDSA), and de novo Donor Specific Antibody (dDSA). HLA antibody was detected using Luminex single antigen bead assay with Mean Fluorescence Intensity ≥ 1000 as cutoff. Kidney rejection was graded according to Banff 1997 working classification. Two-tailed Fisher's exact test was utilized to compare proportions.
*Results: 29.3% recipients (12/41) who underwent SLK had pDSA, 9.8% (4/41) had Class I and 19.5% (8/41) had Class II (5 individuals missing pDSA data were excluded). During post SLK, 22.6% (7/31) recipients developed dDSA (15 individuals without dDSA testing were excluded). In the dDSA group, 14.3% (1/7) was from Class I and 85.7% (6/7) was from Class II. Antibody Mediated Rejection (AMR) and Acute Cellular Rejection (ACR) occurrence were 13.0% (6/46) and 10.9% (5/46), respectively. Analysis of kidney rejection showed that AMR was significantly higher in recipients with pre-SLK PRA ≥ 80% than in those with pre-SLK PRA <80%. Class II and DQ dDSA were remarkably related to the incidence of AMR, but not ACR. pDSA and Class I dDSA did not demonstrate correlation to either AMR or ACR (Table 1).
*Conclusions: This large single center SLK cohort study referenced surveillance renal biopsies to investigate the histocompatibility risk factors associated with SLK rejections. PRA over 80% and development of class II and DQ dDSA in SLK recipients are associated with an increased risk of AMR to kidney allograft, which warrants closer monitoring of post-SLK dDSA for highly sensitized recipients and tailoring the immunosuppression therapy accordingly.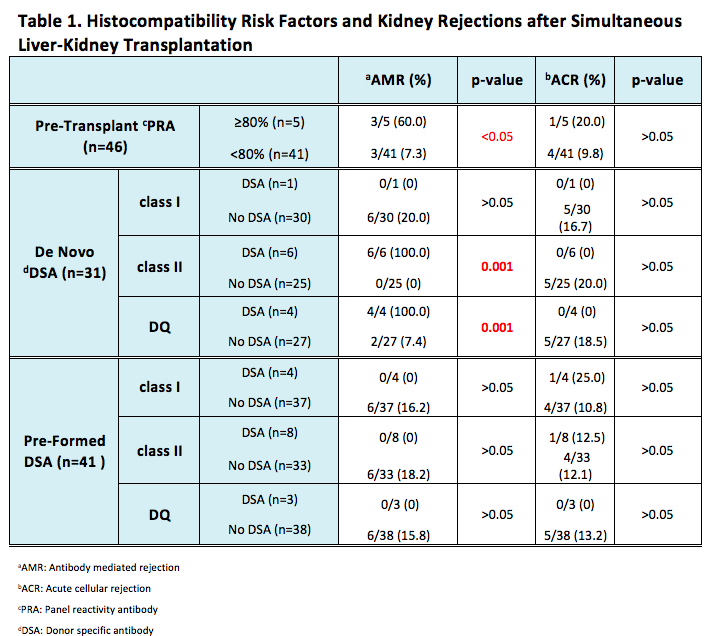 To cite this abstract in AMA style:
Sun Y, Zhang A, Zaky Z. De Novo Donor Specific Antibody and Panel Reactivity Antibody Are Critical Risk Factors for Antibody Mediated Rejection of Kidney Allograft after Simultaneous Liver-Kidney Transplantation (a Single Center Study Using Surveillance Renal Biopsies) [abstract].
Am J Transplant.
2019; 19 (suppl 3). https://atcmeetingabstracts.com/abstract/de-novo-donor-specific-antibody-and-panel-reactivity-antibody-are-critical-risk-factors-for-antibody-mediated-rejection-of-kidney-allograft-after-simultaneous-liver-kidney-transplantation-a-single-ce/. Accessed May 7, 2021.
« Back to 2019 American Transplant Congress