CRISPR Screens to Map CTLA-4 Regulatory Networks in Primary Human T Cells
1UCSF, San Francisco, CA, 2Stanford University, Stanford, CA
Meeting: 2021 American Transplant Congress
Abstract number: 568
Keywords: Effector mechanisms, Genomics, T cell activation, Transcription factors
Topic: Basic Science » Lymphocyte Biology: Signaling, Co-Stimulation, Regulation
*Purpose: For most cell types, the pathways that regulate the levels of critical disease-relevant genes are not known. Recent advances in gene editing have enabled us to perform large-scale perturbation experiments in primary human T cells, allowing for identification of key regulators of disease relevant genes which may have applicability in modulating the transplant immune response.
*Methods: Using a CRISPR loss-of-function screen, we identified transcription factors that regulate levels of CTLA-4, a checkpoint inhibitor found on regulatory T cells as well as activate conventional T cells that is the target of Belatacept. We created a library of 6000 guide-RNAs which target 1349 genes (generally 4 guides per gene), and 600 control guides. Results were validated using ribonucleoprotein knockouts of individual genes of interest.
*Results: Fifty-nine genes significantly regulate the levels of CTLA-4 (FDR < 0.05, Figure 1), 23 of which decrease levels of CTLA-4, while 36 increase CTLA-4. The majority of these hits were validated using an independent arrayed validation strategy (Figure 2).
*Conclusions: CRISPR screens can be used to map regulatory networks that control protein levels of critical factors that mediate the immune response in primary human T cells. We identified both canonical and novel regulators of CTLA-4. These data may help elucidate variances in regulation that could explain phenotypic differences seen in the clinical setting among well-matched recipients who experience heterogeneous outcomes. As gene editing moves into clinical practice, understanding key regulators of the immune system will be critical in selecting appropriate targets for therapeutic intervention.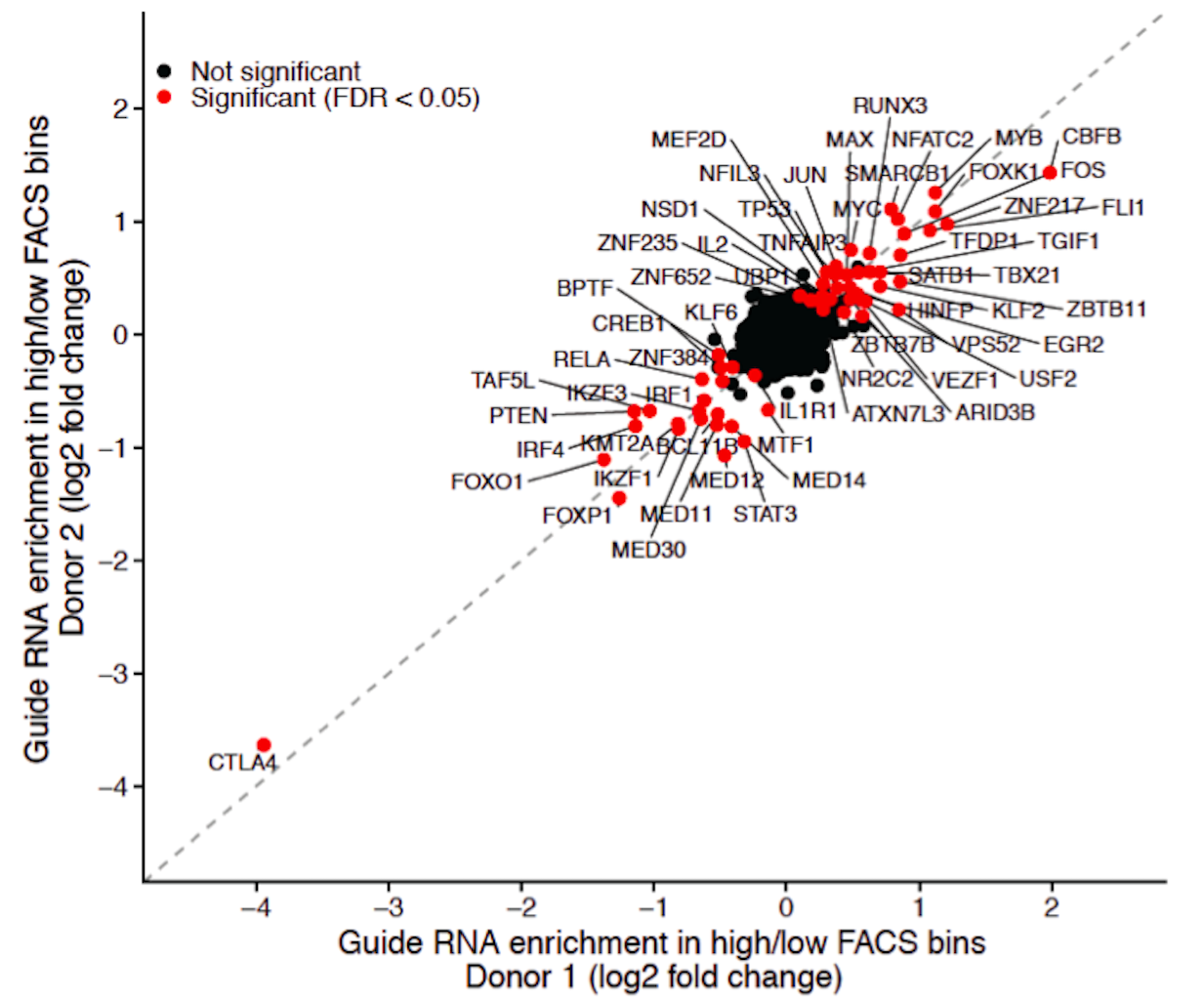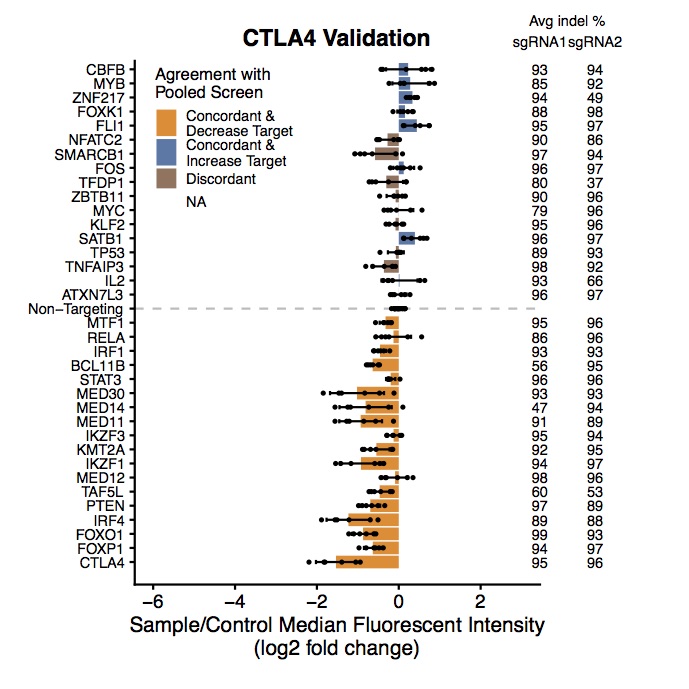 To cite this abstract in AMA style:
Shaked O, Freimer J, Pritchard J, Marson A. CRISPR Screens to Map CTLA-4 Regulatory Networks in Primary Human T Cells [abstract].
Am J Transplant.
2021; 21 (suppl 3). https://atcmeetingabstracts.com/abstract/crispr-screens-to-map-ctla-4-regulatory-networks-in-primary-human-t-cells/. Accessed June 11, 2021.
« Back to 2021 American Transplant Congress