Covid-19 in a Kidney Transplant Patient Associated with Collapsing Glomerulopathy
W. Hninn, M. Merzkani, H. Murad, A. Malone, A. Java, G. Rajashekar, R. Delos Santos, T. Alhamad
Washington University School of Medicine, St. Louis, MO
Meeting: 2021 American Transplant Congress
Abstract number: 739
Keywords: Biopsy, Glomerulonephritis, Kidney transplantation, Proteinuria
Topic: Clinical Science » Infectious Disease » All Infections (Excluding Kidney & Viral Hepatitis)
*Purpose: Coronavirus- 19 is a novel virus with various clinical presentations ranging from a cold to severe acute respiratory syndrome. However, little is known about it's association with glomerulonephritis. We present a case of COVID-19 in a kidney transplant recipient who developed collapsing Focal segmental glomerulosclerosis (FSGS).
*Methods: A 49-year-old African American female who had end stage kidney disease secondary to lupus nephritis received a deceased donor kidney transplant. Post-transplant course was complicated with delayed graft function for 12 days. At 4 months after her transplant, she presented to the hospital with malaise, nausea, vomiting, diarrhea and fever of 101 F. Initially treated empirically for urinary tract infection due to pyuria and lack of respiratory symptoms. However because of a persistent fever, Covid-19 PCR test was performed that resulted positive.
*Results: Chest X ray showed right middle and right lower lobe opacities. She was treated in March 2020 with hydroxychloroquine and we held her mycophenolic acid while continuing tacrolimus and prednisone. Patient was subsequently found to have new onset nephrotic range proteinuria without nephrotic syndrome as well as an AKI with creatinine going to 2. Labs showed negative donor specific antibodies as well as negative DsDNA and normal complement C3 and C4 levels. Urinalysis showed hematuria and proteinuria. Kidney allograft biopsy showed collapsing glomerulopathy with severe podocyte foot process effacement affecting approximately 90-100% of the capillary loop surface area. There was no evidence of cellular or antibody-mediated rejection and c4d was negative. She was treated with plasma exchange and rituximab. Patient was maintained with plasmapheresis every week. Creatinine slowly improved and proteinuria gradually decreased to subnephrotic range as shown in Figure 1.
*Conclusions: COVID-19 infection may result in a wide range of kidney injuries including collapsing FSGS. COVID-19 may serve as an immunologic trigger for FSGS. The mechanism can be similar to other viral infections such as parvovirus B19, HIV and cytomegalovirus. Large number of cases are needed to examine the best treatment option.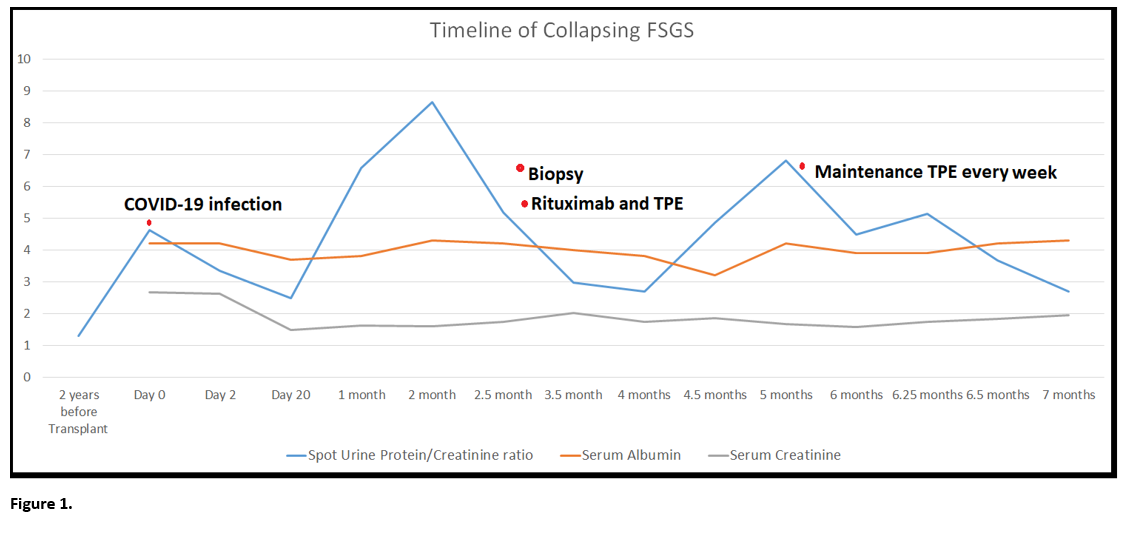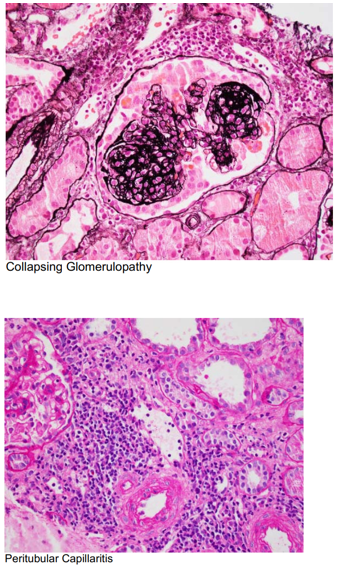 To cite this abstract in AMA style:
Hninn W, Merzkani M, Murad H, Malone A, Java A, Rajashekar G, Santos RDelos, Alhamad T. Covid-19 in a Kidney Transplant Patient Associated with Collapsing Glomerulopathy [abstract].
Am J Transplant.
2021; 21 (suppl 3). https://atcmeetingabstracts.com/abstract/covid-19-in-a-kidney-transplant-patient-associated-with-collapsing-glomerulopathy/. Accessed September 25, 2021.
« Back to 2021 American Transplant Congress