Contrary to Expectation, the Use of Immune Checkpoint Inhibitors is Not Consistently Associated with Early Onset Allograft Rejection in Solid Organ Transplant Recipients
1Division of Nephrology and Hypertension, Mayo Clinic, Rochester, MN, 2Department of Dermatology, Mayo Clinic, Scottsdale, AZ, 3Division of Medical Oncology, Mayo Clinic, Rochester, MN, 4Department of Cardiology, Mayo Clinic, Rochester, MN, 5Department of Dermatology, Mayo Clinic, Rochester, MN, 6Departments of Surgery & Immunology, Mayo Clinic, Rochester, MN
Meeting: 2020 American Transplant Congress
Abstract number: B-206
Keywords: Adverse effects, Immunogenicity, Post-transplant malignancy, Rejection
Session Information
Session Time: 3:15pm-4:00pm

Presentation Time: 3:30pm-4:00pm
Location: Virtual
*Purpose: Immune checkpoint inhibitors (ICIs) have revolutionized cancer therapy but are generally avoided in solid organ transplant recipients (SOTRs) due to concern for allograft rejection justified by their mechanism of action. Data regarding safety and efficacy of these agents are critically needed for those with no alternatives. Herein, we report our center experience.
*Methods: Retrospective data immunosuppression changes, cancer progression, mortality and incidence of rejection on ICI therapy were collected in SOTRs treated with ICIs for metastatic cancers.
*Results: 17 SOTRs were identified; seven kidney, eight liver and two heart transplants (tx) recipients. The two most common cancers in the cohort were squamous cell carcinoma (29%) in kidney and hepatocellular carcinoma (29%) in liver tx. Demographics, median time from cancer diagnosis to ICIs and specific ICIs used in each group are presented in Table 1. Median time of follow up since the initiation of ICIs was 4.6 months (IQR 1.5-13.2). Median time from cancer diagnosis to ICIs use was 10 months (IQR 7-34). Post-ICI initiation, overall net immunosuppression was reduced in all tx and mTOR inhibitor use increased from 12% to 41%. Two liver tx recipients (12%) had biopsy proven acute rejection and one kidney tx (6%) had presumptive rejection based on allograft dysfunction. 11 patients (65%) had cancer progression while complete response was rare (Table 2). Mortality rate was 65% during the follow up period.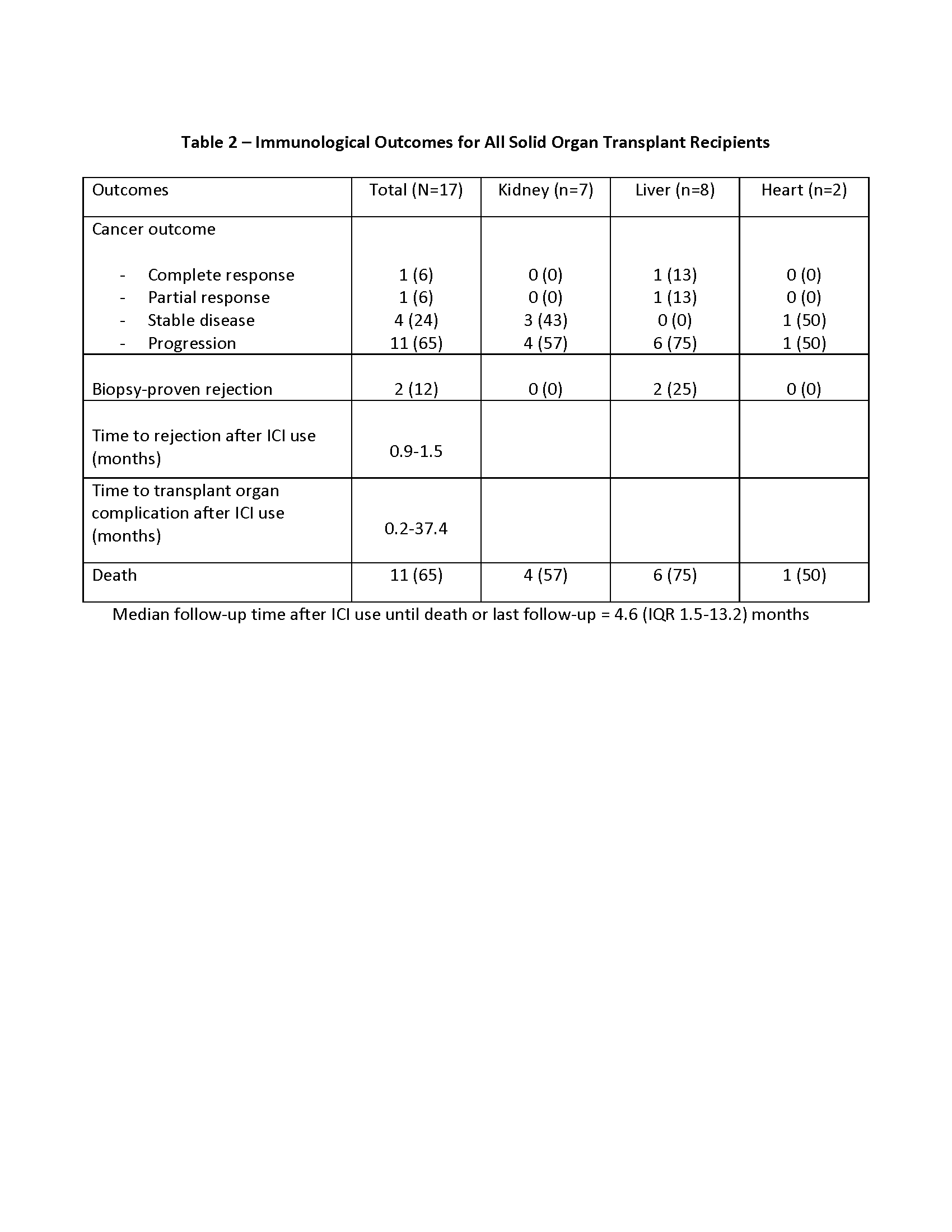 *Conclusions: Rejection rates were not prohibitive in our transplant cohort but follow up was short and limited by the high mortality. More studies are needed on ways to effectively utilize ICIs in SOTRs.
To cite this abstract in AMA style:
Owoyemi I, Costello CM, Thongprayoon C, Markovic S, Joerg H, Otley CC, Taner T, Mangold AR, Leung N, Herrmann S, Kukla A. Contrary to Expectation, the Use of Immune Checkpoint Inhibitors is Not Consistently Associated with Early Onset Allograft Rejection in Solid Organ Transplant Recipients [abstract].
Am J Transplant.
2020; 20 (suppl 3). https://atcmeetingabstracts.com/abstract/contrary-to-expectation-the-use-of-immune-checkpoint-inhibitors-is-not-consistently-associated-with-early-onset-allograft-rejection-in-solid-organ-transplant-recipients/. Accessed December 1, 2023.
« Back to 2020 American Transplant Congress