Are Liver Transplant Center Websites Accessible to All?
1University of Michigan Medical School, Ann Arbor, MI, 2University Of California – Riverside, School of Medicine, Riverside, CA, 3Department of Surgery, University of Michigan Health System, Ann Arbor, MI
Meeting: 2021 American Transplant Congress
Abstract number: 1264
Keywords: Donation, Elderly patients, Liver, N/A
Topic: Clinical Science » Organ Inclusive » Non-Organ Specific: Disparities to Outcome and Access to Healthcare
*Purpose: Ensuring equitable access to transplant center information is an important step in combating health disparities in liver transplantation. This study aimed to assess liver transplant center website readability to determine whether their content was accessible to all patients.
*Methods: US liver transplant centers (n=145) were screened by 2019 transplant volume, and the top 14 centers were selected for initial evaluation. The content of each center's liver transplant website was evaluated for readability ease and the education level required to understand the material presented. We used five validated readability tests: New Dale-Chall, Flesch-Kincaid, Flesch Reading Ease, Fry, and Simple Measure of Gobbledygook (SMOG).
*Results: The average education level required to comprehend the patient-facing information in this selection of liver transplant center websites was a college undergraduate education. This measure ranged from high school sophomore to doctorate level. On a readability scale of 0-100 (0= most difficult to read, 100= easiest to read), the average website readability ease was 35. Comparable readability and grade-level results were obtained with the additional readability tests performed.
*Conclusions: The patient information provided by 14 high volume liver transplant center websites was difficult to read and required an educational level far above the average U.S. national literacy level of 6th-8th grade. We plan to assess the remaining 126 liver transplant center websites and analyze how well they reflect the demographics in their regions based on educational level, race, and alternative languages to English.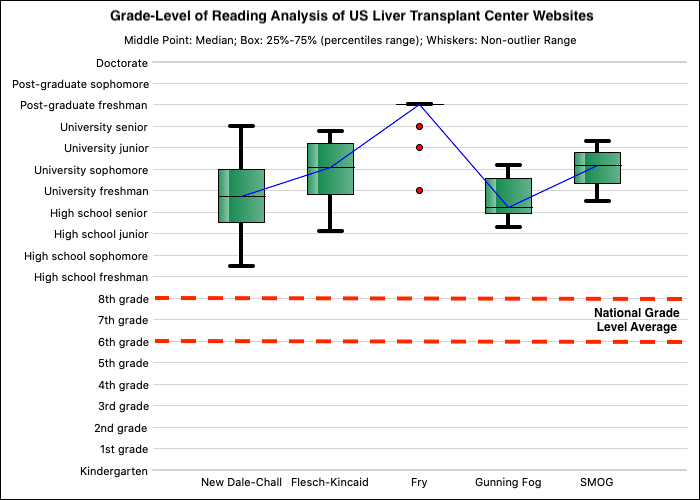 To cite this abstract in AMA style:
Jacobson CE, Barrientos ROlmeda, Anderson MA, Englesbe MJ, Waits SA, Valbuena VS. Are Liver Transplant Center Websites Accessible to All? [abstract].
Am J Transplant.
2021; 21 (suppl 3). https://atcmeetingabstracts.com/abstract/are-liver-transplant-center-websites-accessible-to-all/. Accessed September 19, 2021.
« Back to 2021 American Transplant Congress