Antibody-Mediated Rejection with and without Donor-Specific Anti-HLA Antibodies: Performance of the Peripheral Blood 8-Gene Expression Assay
1Microbiology, Immunology and Transplantation, KU Leuven, Leuven, Belgium, 2KU Leuven, Leuven, Belgium, 3Department of Nephrology and Kidney Transplantation, Necker Hospital, Paris, France, 4Hannover Medical School, Hannover, Germany, 5CHU Limoges, Limoges, France
Meeting: 2020 American Transplant Congress
Abstract number: B-325
Keywords: Antibodies, Gene expression, Non-invasive diagnosis, Rejection
Session Information
Session Time: 3:15pm-4:00pm
Presentation Time: 3:30pm-4:00pm
Location: Virtual
*Purpose: Therapeutic implications of the recently discovered 8-gene expression assay are most clear for detection of antibody-mediated rejection in presence of donor-specific anti-HLA antibodies (HLA-DSA). However, HLA-DSA are not always detectable in cases with histomorphological signs of antibody-mediated rejection (ABMRh), making it a more difficult entity to diagnose.
*Methods: Here, we investigated the diagnostic accuracy of the 8-gene expression assay for ABMRh with or without HLA-DSA in 387 samples.
*Results: In patients with HLA-DSA (N=64), the 8-gene expression assay discriminated DSAposABMRh cases (N=16) with good diagnostic performance (ROC AUC 83.1%, 95% CI 70.8% – 95.3%). In HLA-DSA negative samples (N=323), a fair diagnostic performance was demonstrated for DSAnegABMRh cases (N=30) with a ROC AUC of 75.8% (95% CI 67.4% – 84.4%).Integration with eGFR, proteinuria and age increased the diagnostic performance in HLA-DSA positive samples (ROC AUC 91.9%, 95% CI 82.4% – 100%, p<0.0001) and HLA-DSA negative samples (ROC AUC 79.6%, 95% CI 72.2% - 86.9%, p<0.0001). The 8-gene expression assay associated with graft failure in univariate analysis (HR 1.34, 95% CI 1.03 - 1.75 per unit increase, p=0.03).
*Conclusions: In conclusion, the 8-gene expression assay shows great potential for implementation in clinical practice in the follow-up of high-risk HLA-DSA positive patients, and clinical relevance in HLA-DSA negative cases.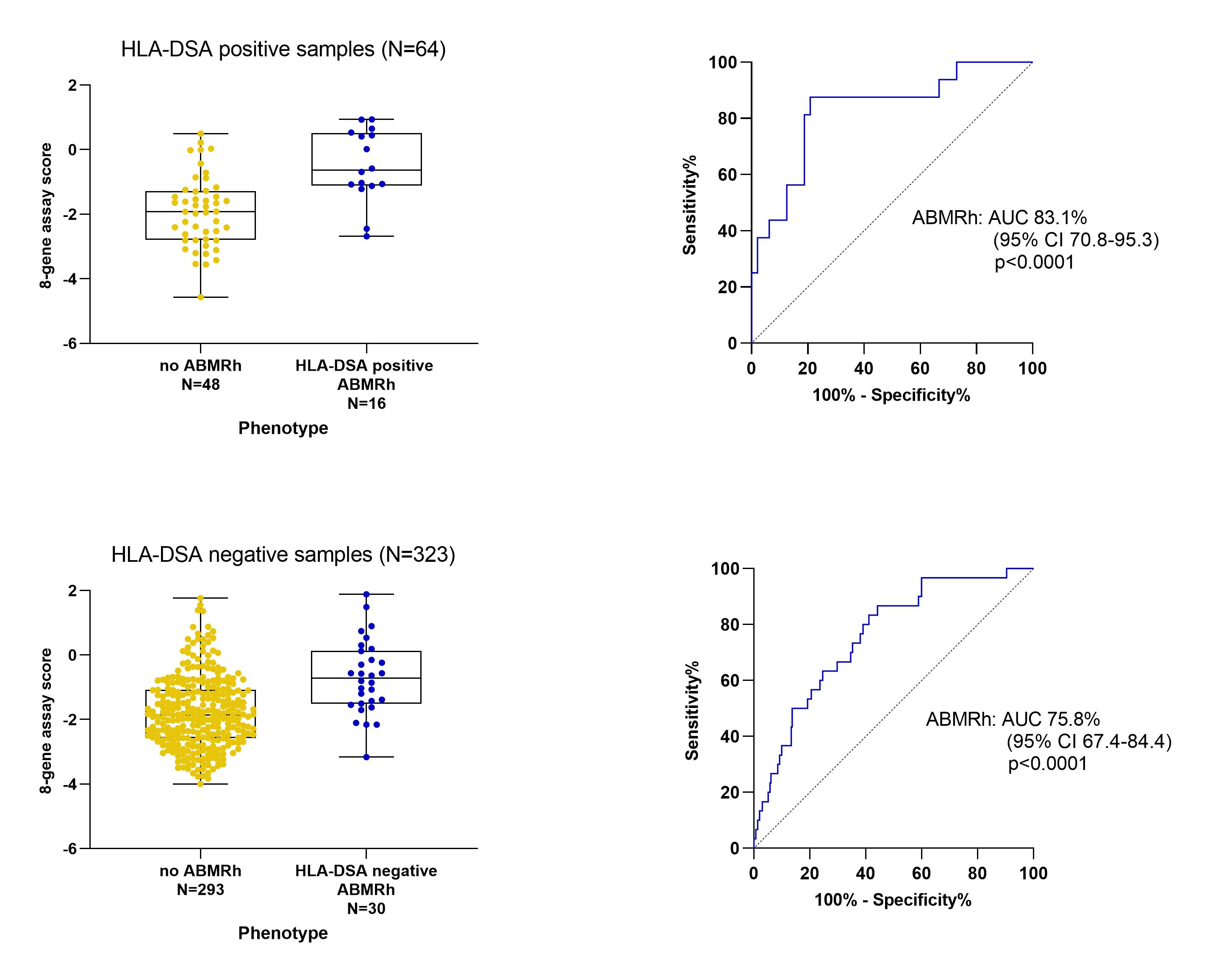 To cite this abstract in AMA style:
Loon EVan, Lerut E, Anglicheau D, Gwinner W, Essig M, Marquet P, Naesens M. Antibody-Mediated Rejection with and without Donor-Specific Anti-HLA Antibodies: Performance of the Peripheral Blood 8-Gene Expression Assay [abstract].
Am J Transplant.
2020; 20 (suppl 3). https://atcmeetingabstracts.com/abstract/antibody-mediated-rejection-with-and-without-donor-specific-anti-hla-antibodies-performance-of-the-peripheral-blood-8-gene-expression-assay/. Accessed March 8, 2021.
« Back to 2020 American Transplant Congress