A Single-Center Experience in Transfusion-Free Liver Transplantation: Referrals and Outcomes from 2005 to 2019
1Internal Medicine, University of Southern California, Los Angeles, CA, 2GI & Liver Diseases, University of Southern California, Los Angeles, CA, 3Surgery, University of Southern California, Los Angeles, CA
Meeting: 2020 American Transplant Congress
Abstract number: D-111
Keywords: Donation, Liver, Liver transplantation, Living donor
Session Information
Session Time: 3:15pm-4:00pm
Presentation Time: 3:30pm-4:00pm
Location: Virtual
*Purpose: The Jehovah's Witnesses is a religious group known to the medical community for its non-acceptance of blood products. This poses a significant challenge in liver transplantation (LT) as the invasiveness of the procedure confers significant bleeding risk. In response to the needs of this community, our center utilizes a specialized protocol with preoperative medical augmentation and intraoperative blood loss-minimizing techniques allowing transfusion-free liver transplantation (TFLT) to proceed. We have previously reported outcomes in TFLTs from 1998 to 2004. The aim of this study is to evaluate the referral process and clinical outcomes of TFLT at our center from 2005 to 2019.
*Methods: The Abdominal Transplant Program database was queried for all TFLT referrals between January 1, 2005 and November 15, 2019. The medical records of identified patients were examined for information related to referral and clinical course.
*Results: In the study period, our center received 118 referrals for TFLT. Of these, 36 patients were accepted for further evaluation. The most common reason for denial at referral was severe decompensation preventing TFLT (n=22) (Figure 1). Of those evaluated, 20 patients were listed for completed LT, with 2 listed individuals dying prior to LT. In total, 12 patients underwent living donor (n=10) or deceased donor (n=2) LT, with average MELD 20 at LT (Table 1). The most common complications included infection (n=3), bile leak (n=2), and hepatic artery thrombosis (n=2). Those with hepatic artery thrombosis were successfully re-transplanted via deceased donor LT. There were no deaths with one-year survival of 100% for those greater than one-year post-LT (n=9).
*Conclusions: Transfusion-free LT remains a viable option for individuals not accepting of blood products, with similar outcomes to standard LT. Individuals seeking TFLT are more likely to receive transplantation via living donor LT and when referred at early disease stage. Thus, early referral is highly recommended for improved odds of TFLT.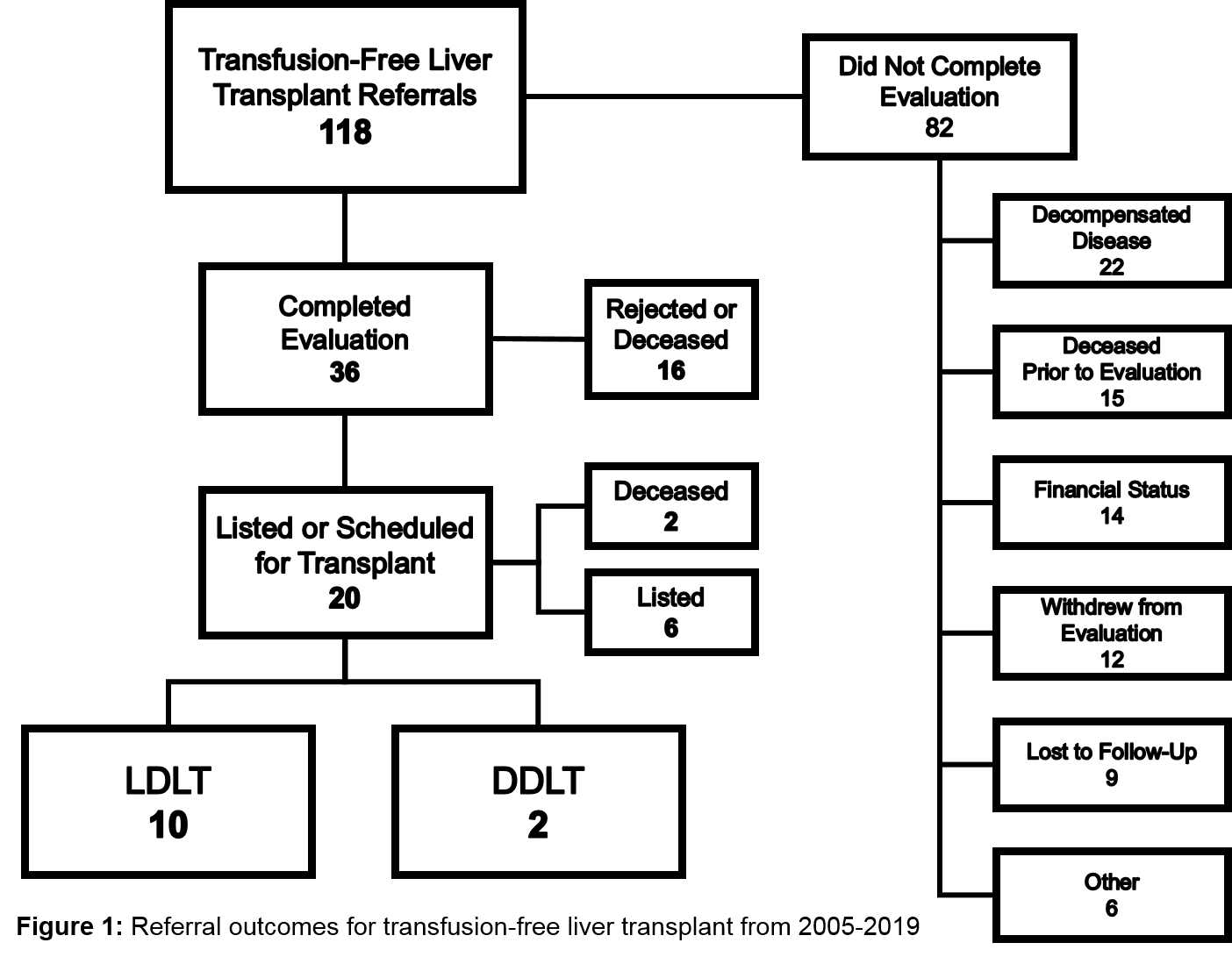 To cite this abstract in AMA style:
Horwich BH, Mulgaonkar A, Kim B, Kaur N, Kahn J, Genyk Y, Ahearn A, Han H. A Single-Center Experience in Transfusion-Free Liver Transplantation: Referrals and Outcomes from 2005 to 2019 [abstract].
Am J Transplant.
2020; 20 (suppl 3). https://atcmeetingabstracts.com/abstract/a-single-center-experience-in-transfusion-free-liver-transplantation-referrals-and-outcomes-from-2005-to-2019/. Accessed February 24, 2021.
« Back to 2020 American Transplant Congress