Session Information
Session Time: 6:00pm-7:00pm
Presentation Time: 6:00pm-7:00pm
Location: Hall C & D
*Purpose: Tregs play a critical role in immune tolerance. If Tregs can be administered to patients suffering from immune disorders, most therapies employing existing immunosuppressants might be unnecessary. However, efficient and stable methods for ex vivo Treg expansion remain unavailable. In this study, it has been shown that human iNKT cells activated by a ligand could promote the proliferation of human Tregs in vitro.
*Methods: Peripheral blood cells (PBMCs) derived from normal healthy volunteers (NHVs) were incubated in the presence or absence of ɑ-galactosylceramide (ɑ-GalCer), a representative iNKT ligand. The ratio of the CD4+/CD4– iNKT subset and the phenotype of the Tregs were analyzed using flow cytometry. IL-2 and TGF-β mRNA expression in each iNKT subset was determined by real-time PCR method.
*Results: After the culture of human PBMCs with ɑ-GalCer at a concentration of 100 ng/mL, the CD4+CD25+Foxp3+ or CD4+CD25+CD127low phenotype cells corresponding to Tregs were remarkably expanded. The number of whole iNKT cells in the PBMCs positively correlated with the magnitude of ex vivo Treg expansion [Figure 1]. Subset analysis of iNKT cells showed that the proportion of CD4–CD8– (DN) subset, but not either CD4+CD8– (CD4+SP) or CD4–CD8+ (CD8+SP) subset was negatively related to Treg expansion even though the number of total iNKTs was remarkably high [Figure 2]. IL-2 expression of CD4+iNKT cells, but not that of CD4–iNKT cells, was substantially detected. However, TGF-β expression was comparable regardless of the addition of α-GalCer to the culture. Taken together, it was suggested that ex vivo Treg expansion might depend on the function of CD4+SP iNKT cells such as IL-2 production.
*Conclusions: The number of whole iNKT cells in PBMCs positively contributed to ex vivo Treg expansion after culturing in the presence of α-GalCer. However, the ratio of CD4+SP subset versus DN subset in the iNKT cells might be more essential for Treg expansion.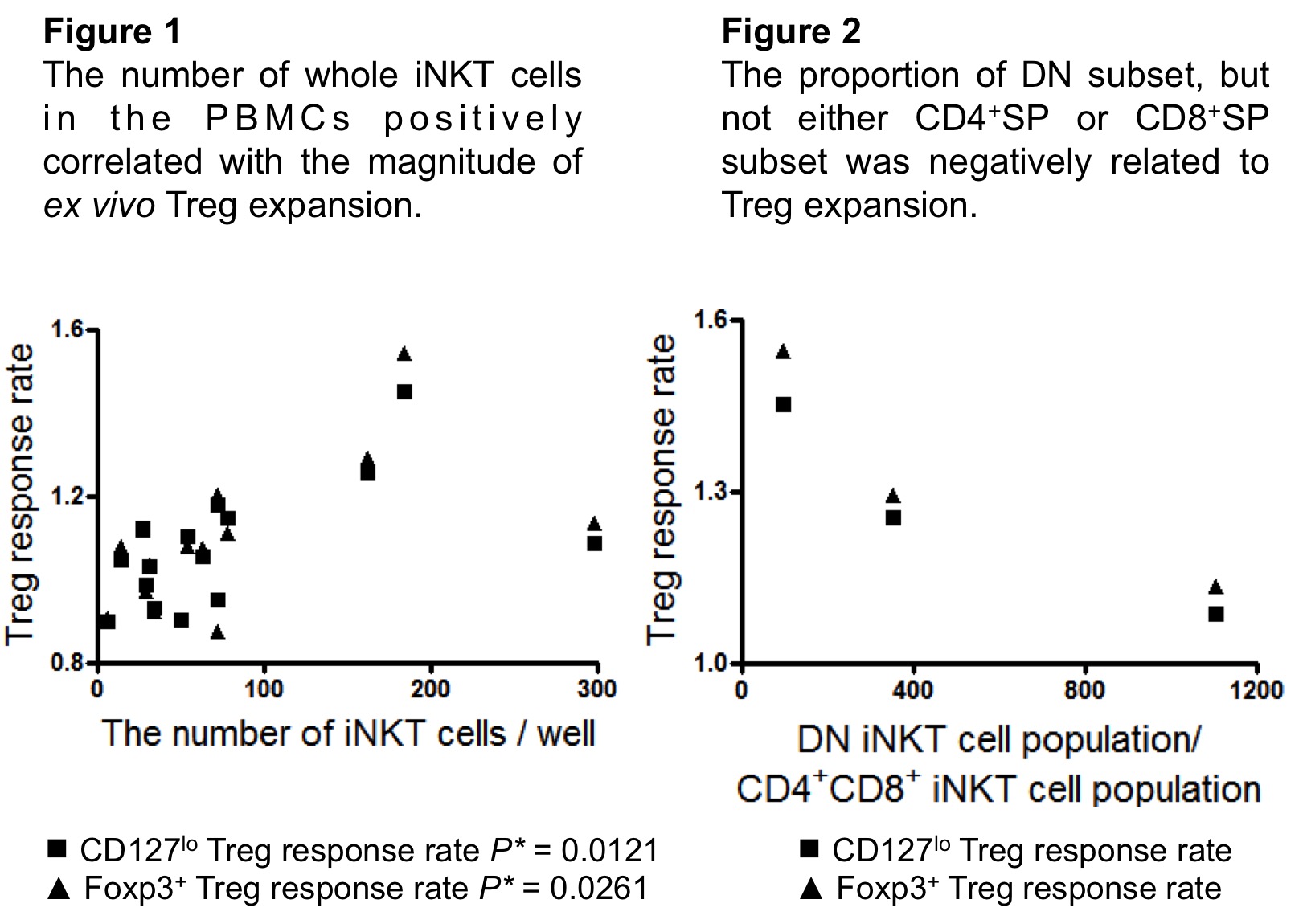 To cite this abstract in AMA style:
Ishii R, Masako I, Katsumata H, Kanzawa T, Yamakawa T, Ishigooka H, Hirai T, Saiga K, Okumi M, Ishii Y, Tanabe K. A Novel Method for Ex Vivo Treg Expansion via Human iNKT Cell Activation [abstract].
Am J Transplant.
2019; 19 (suppl 3). https://atcmeetingabstracts.com/abstract/a-novel-method-for-ex-vivo-treg-expansion-via-human-inkt-cell-activation/. Accessed September 26, 2021.
« Back to 2019 American Transplant Congress