A Mouse Model of Non-MHC Mismatches Recapitulates Chronic Allograft Dysfunction and I-IFTA
1Medicine, Mount Sinai School of Medicine, New York, NY, 2Pathology, Mount Sinai School of Medicine, New York, NY
Meeting: 2020 American Transplant Congress
Abstract number: D-052
Keywords: Fibrosis, Kidney transplantation, Minor histocompatibility antigens, Preclinical trails
Session Information
Session Time: 3:15pm-4:00pm
Presentation Time: 3:30pm-4:00pm
Location: Virtual
*Purpose: Fibrotic and atrophic changes or IF/TA is an important cause of graft loss. We reported that genome-wide donor-recipient non-HLA mismatches independently correlate with Banff chronic dysfunction scores and decreased graft survival.
*Methods: To test our hypothesis that non-MHC mismatches mediate renal allograft survival via IF/TA, we utilized BALB/c mice congenic for H2b MHC (Bb mice) as kidney donors to Bb, BALB/c (H2d, Bc) and B6 (H2b) recipients, to model syngeneic, MHC mismatched, and non-MHC mismatched renal transplants (N=2 vs 3 vs 4). All graft recipients underwent simultaneous bilateral native nephrectomy making recipients dependent on donor kidney.
*Results: Syngeneic Bb recipients gained weight post-operatively till termination (7wks); Bc recipients had highest rate of weight loss (1A) and least survival (1B). Grafts in Bc & B6 recipients had increased Banff i, t, ti scores vs syngeneic controls (1C); however, Bc recipients had severe acute tubular and vascular injury and formed detectable donor specific antibody to Bb thymocytes vs B6/Bb recipients. At termination, B6 recipients had significantly elevated BUN (106.6±2.7 vs 49.2.6±1.3 mg/dl), and significantly higher Banff chronic scores ie Ci, Ct, mm and I-IFTA scores vs Bb (1D), confirmed by Masson trichrome stain (2). Non MHC antibodies against kidney tissue are being tested currently.
*Conclusions: Our data provides proof that donor-recipient non-mHC mismatch induces chronic renal allograft dysfunction and I-IF/TA and provides a unique model for validating individual novel non-mHC loci and testing therapies for Chronic allograft injury.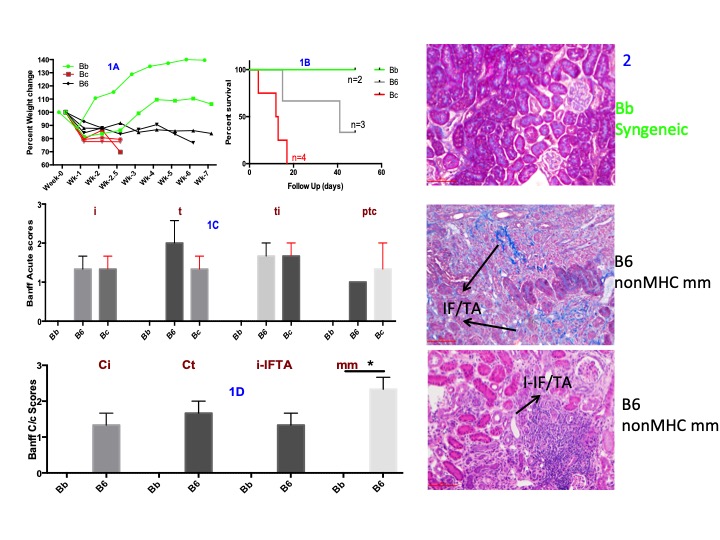 To cite this abstract in AMA style:
Pavlov V, Garzon F, Rasheed RHaroonAl, Banu K, ElSalem F, Li L, Cody E, Planoutene M, Chun N, Zhang Z, Leventhal J, Murphy B, Heeger P, Menon MC. A Mouse Model of Non-MHC Mismatches Recapitulates Chronic Allograft Dysfunction and I-IFTA [abstract].
Am J Transplant.
2020; 20 (suppl 3). https://atcmeetingabstracts.com/abstract/a-mouse-model-of-non-mhc-mismatches-recapitulates-chronic-allograft-dysfunction-and-i-ifta/. Accessed May 8, 2021.
« Back to 2020 American Transplant Congress