XBP1 Modulates Endoplasmic Reticulum and Mitochondria Crosstalk via Regulating NLRP3 Inflammasome in Renal Ischemia/Reperfusion Injury
1Organ Transplant Department, Nanfang Hospital, Southern Medical University, Guangzhou, China, 2Institute of Organ Transplantation, Key Laboratory of the Ministry of Health and the Ministry of Education, Tongji Hospital, Tongji Medical College, Huazhong University of Science and Technology, Wuhan, China
Meeting: 2020 American Transplant Congress
Abstract number: A-367
Session Information
Session Time: 3:15pm-4:00pm

Presentation Time: 3:30pm-4:00pm
Location: Virtual
*Purpose: This study aims to investigate the molecular mechanism and function of X-box binding protein 1 (XBP1)- NLR family pyrin domain-containing 3 (NLRP3) signaling which influenced mitochondrial damage in renal ischemia/reperfusion injury in vivo and in vitro.
*Methods: Mice were subjected to 45 min of unilateral renal warm ischemia, followed by removing the other kidney and 24 h of reperfusion. Mouse renal tubular epithelial (TCMK-1) cells were exposed to 24-h hypoxia (5% CO2, 1% O2, and 94% N2), and 2-h reoxygenation. Apoptosis was assessed by histological staining, immunohistochemical staining of terminal deoxynucleotidyl transferase-mediated nick end labeling and dihydroethidium, and transmission electron microscope. Protein expression were analyzed using Western blot, immunofluorescence staining and ELISA. Bioinformatics analyses were applied to predict the possibility of XBP1 bounding directly to the NLRP3 promoter, which were then confirmed by a luciferase reporter assay.
*Results: The kidney damage alleviated as the levels of serum urea nitrogen, creatinine, interleukin-1β and interleukin-18 decreased. Besides, deficiency of XBP1 decreased the tissue damage and cell apoptosis; and protected mitochondrial (Fig. 1). Disruption of XBP1 markedly raised the survival rate, which was accompanied by reduced NLRP3 and cleaved caspase-1 expression. In the parallel in vitro study, XBP1 interference suppressed caspase-1-dependent mitochondrial damage and decreased mitochondrial reactive oxygen species production in mouse renal tubular epithelial. Luciferase assays revealed that the spliced XBP1 isoform was likely to bound directly to the NLRP3 promoter (Fig. 2).
*Conclusions: Downregulation of XBP1 suppresses NLRP3 expression, which might be a novel regulator of mitochondrial damage in renal inflammatory injury and potential therapeutic target for the XBP1-mediated sterile renal inflammation.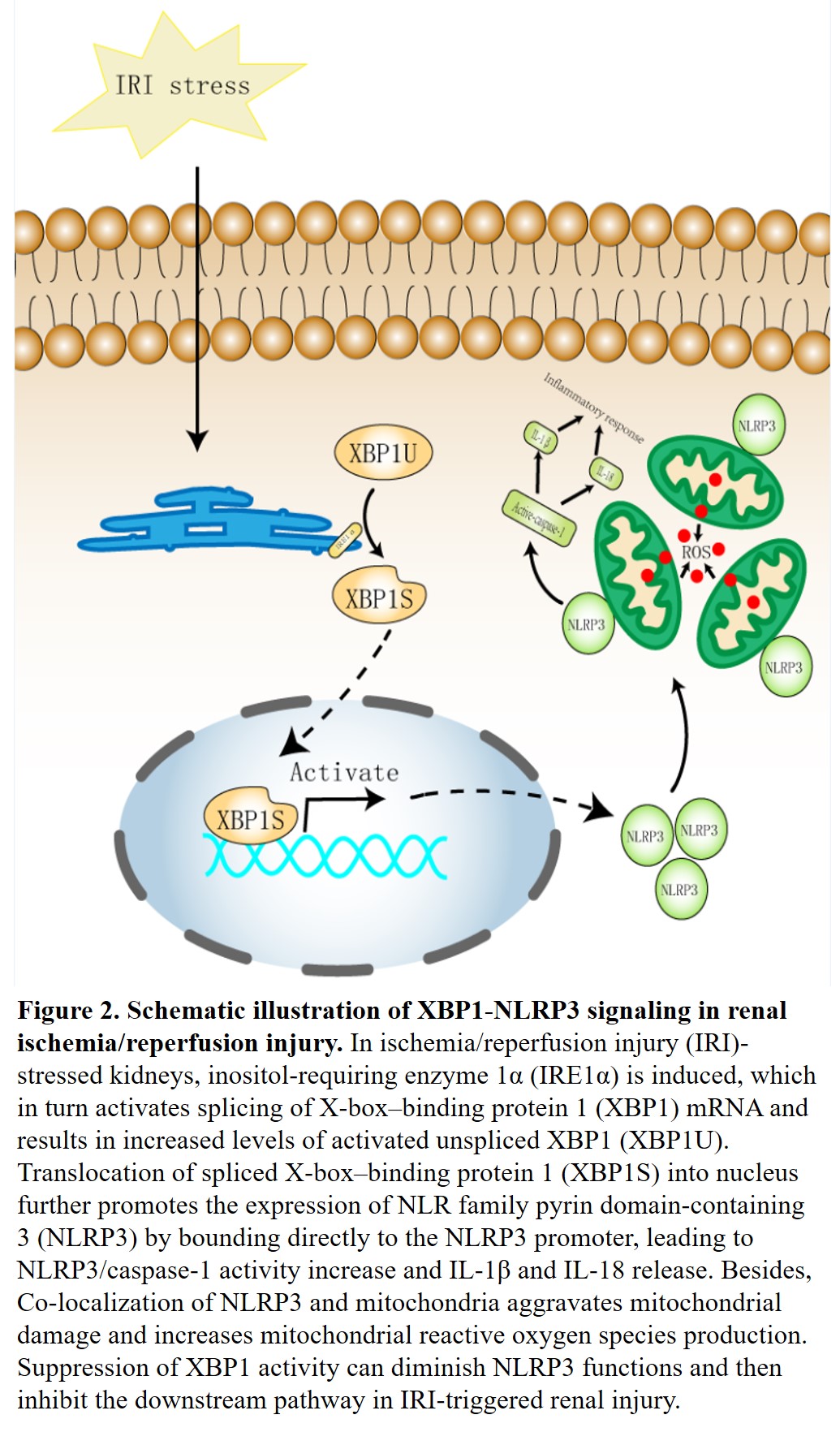 To cite this abstract in AMA style:
Ni H, Liu Y, Deng W, Zhang J, Xu J, Zeng W, Gong N, Miao Y. XBP1 Modulates Endoplasmic Reticulum and Mitochondria Crosstalk via Regulating NLRP3 Inflammasome in Renal Ischemia/Reperfusion Injury [abstract].
Am J Transplant.
2020; 20 (suppl 3). https://atcmeetingabstracts.com/abstract/xbp1-modulates-endoplasmic-reticulum-and-mitochondria-crosstalk-via-regulating-nlrp3-inflammasome-in-renal-ischemia-reperfusion-injury/. Accessed December 3, 2023.
« Back to 2020 American Transplant Congress