UPMC Living Donor Champion Program
C. Caruso, C. Zell, G. Swaytha, B. Angela, S. Sarah, L. Elaine, P. Susan, W. Travis, H. Abhinav.
Transplant Services, University of Pittsburgh Medical Center, Pittsburgh, PA.
Meeting: 2018 American Transplant Congress
Abstract number: D19
Keywords: Donation, Donors, Liver transplantation, Living-related liver donors, unrelated
Session Information
Session Time: 6:00pm-7:00pm
Presentation Time: 6:00pm-7:00pm
Location: Hall 4EF
Aims: Living donation is a good option to address organ shortage and waitlist mortality, but finding a living donor can be a challenge. The goal of developing a Living Donor Champion Program was to help recipients with the challenge of finding a living donor. Methods and Results: We recognize barriers to living donation, such as limited knowledge about the process and sensitivity about asking someone to donate an organ, and developed a Living Donor Champion Program to provide education and support to patients in need of a liver transplant. As part of this, each patient identifies a Champion to initiate the process of finding a donor by connecting with people in the patient's network and extended network. The program employs a multi-pronged strategy to provide resources and emotional support to patients on the waitlist and their Champion. These include a webpage, toolkit, education during clinic visits, print collateral, workshops, and social media. In the first six months of the program, 209 potential donors registered to be a living donor for a patient on the waitlist, an increase of 21.5% from the same timeframe in 2016. There was a 14% increase in donor evaluations and a 100% increase in living-donor liver transplants. More than 100 waitlist patients engaged with the program, there were more than 80 digital downloads of the toolkit, and more than 300 living donor cards distributed. In addition, the program extended beyond the waitlist to reach more than 500,000 people through social media. Conclusion: The Champion program is an effective method to educate a much larger network for any individual recipient and hence increase their access to a living donor.
Key Performance Indicators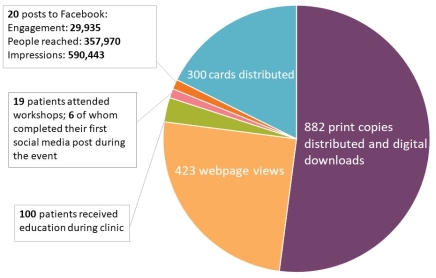 Volumes: April-September 2016 vs 2017
CITATION INFORMATION: Caruso C., Zell C., Swaytha G., Angela B., Sarah S., Elaine L., Susan P., Travis W., Abhinav H. UPMC Living Donor Champion Program Am J Transplant. 2017;17 (suppl 3).
To cite this abstract in AMA style:
Caruso C, Zell C, Swaytha G, Angela B, Sarah S, Elaine L, Susan P, Travis W, Abhinav H. UPMC Living Donor Champion Program [abstract]. https://atcmeetingabstracts.com/abstract/upmc-living-donor-champion-program/. Accessed July 15, 2020.
« Back to 2018 American Transplant Congress