The Surgical Experience and Treatment Options for Hepatic Cystic Disease
1Morsani College of Medicine, University of South Florida, Tampa, FL, 2Honors College, University of South Florida, Tampa, FL, 3Transplant Surgery, Tampa General Hospital, Tampa, FL, 4Hepatobiliary Surgery, Valley Presbyterian Hospital, San Fernando Valley, CA
Meeting: 2021 American Transplant Congress
Abstract number: 1124
Keywords: Liver preservation, Liver transplantation
Topic: Clinical Science » Liver » Liver: Hepatobiliary Surgery
*Purpose: Benign hepatic cysts may require surgical removal when symptomatic particularly in the setting of genetic disorders such as autosomal dominant polycystic kidney disease (ADPKD) or autosomal dominant polycystic liver disease (PCLD) which may also be called isolated PLD. Operations for symptomatic hepatic cysts can include liver transplantation. The purpose of this study was to compare outcomes in patients with hepatic cysts treated with liver transplantation and or fenestration.
*Methods: A retrospective chart review was conducted which included all patients treated surgically for hepatic cystic disease at a single center from June 2011 to May 2020. Treatment groups were divided into those that received fenestrations versus liver transplants. Data were obtained from electronic health records and analyzed with IBM-SPSS version 26. Statistical significance was set at a p-value of less than 5%.
*Results: A total of 35 patients were included, 26 underwent fenestration, and 9 had liver transplantation. There were no significant differences in sex, race, age, or BMI between the fenestration and transplant groups. Creatinine and MELD scores were significantly higher in the transplant arm (p<.039, .021 respectively). All transplant patients had ADPKD and greater than 5 cysts removed. Only half the fenestration group had ADPKD, and 27% had greater than 5 cysts removed. The 30-day complication rate was higher in the transplant group (33%) vs. fenestration (4%). The complications included bile leaks, respiratory distress, and exploratory laparotomy. Five (19%) fenestrations required more than one operation and only one (4%) of the 5 patients had ADPKD.
*Conclusions: Cyst fenestration and liver transplants may be used to treat symptomatic liver cysts. Liver transplantation is typically reserved for patients with genetic disorders such as ADPKD and isolated PLD, which are associated with a large number of cysts. Patients with ADPKD, even those that require kidney transplants make excellent candidates for fenestration when applicable.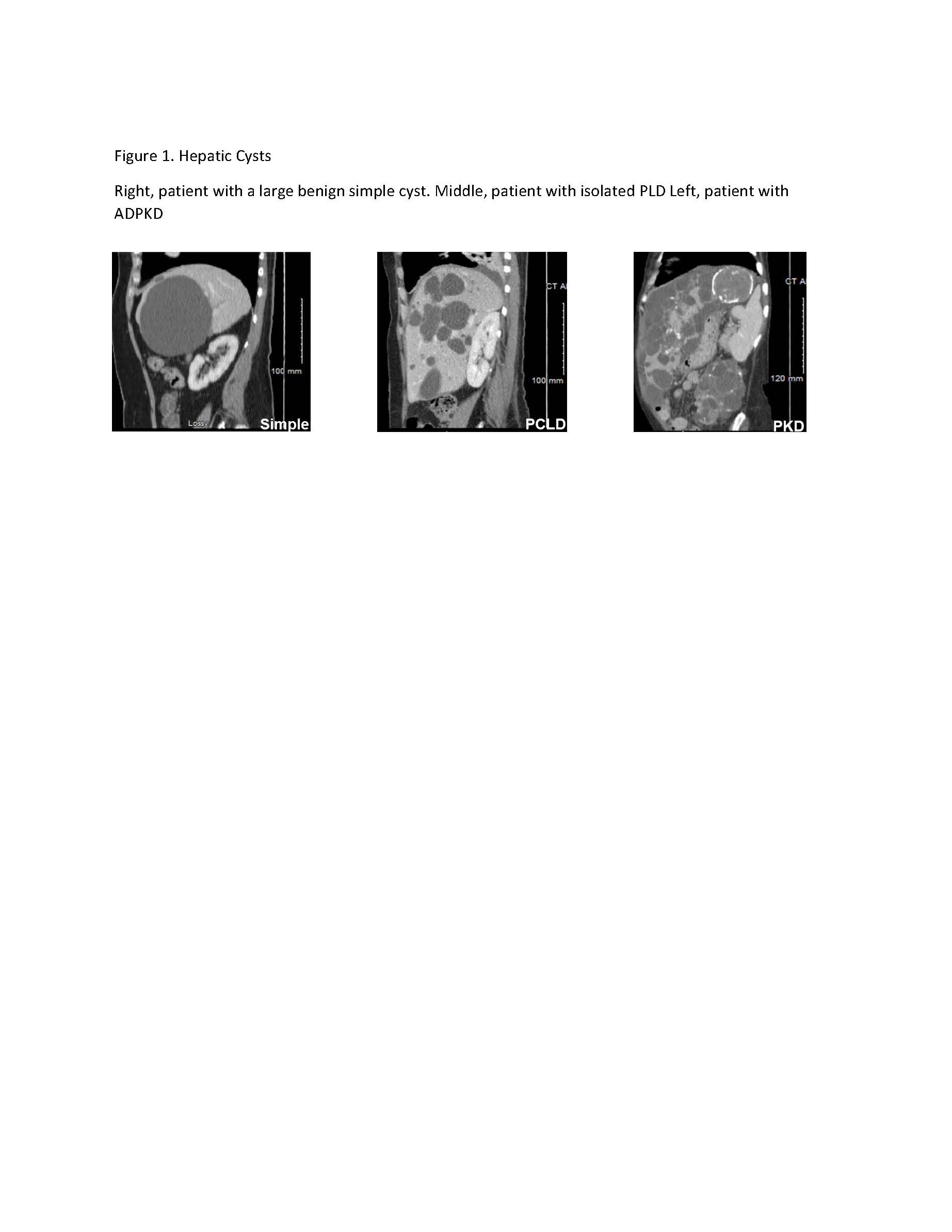 To cite this abstract in AMA style:
Crowley M, Robichaux K, Kumar A, Buggs J, Sokolich J. The Surgical Experience and Treatment Options for Hepatic Cystic Disease [abstract].
Am J Transplant.
2021; 21 (suppl 3). https://atcmeetingabstracts.com/abstract/the-surgical-experience-and-treatment-options-for-hepatic-cystic-disease/. Accessed September 19, 2021.
« Back to 2021 American Transplant Congress