The Impact of Fixed-Dose Alemtuzumab in Renal Transplant Recipients According to Weight
1Morsani College of Medicine, University of South Florida, Tampa, FL, 2Honors College, University of South Florida, Tampa, FL, 3Transplant Pharmacy, Tampa General Hospital, Tampa, FL, 4Nephrology, Florida Kidney Physicians, Tampa, FL, 5Transplant Surgery, Tampa General Hospital, Tampa, FL
Meeting: 2021 American Transplant Congress
Abstract number: 922
Keywords: Induction therapy, Infection, Kidney transplantation
Topic: Clinical Science » Kidney » Kidney Immunosuppression: Induction Therapy
*Purpose: Alemtuzumab, a potent anti-CD52 monoclonal antibody is used for induction immunosuppression post-renal transplantation as a fixed 30mg dose regardless of the patient's weight. The aim of this study was to evaluate the safety and efficacy of 30mg alemtuzumab induction immunosuppression in kidney transplant recipients (KTR) based on patient weight. We hypothesized that lower weight patients would have a higher incidence of leukopenia and infection compared to higher body weight patients.
*Methods: We conducted a retrospective cohort study of adult (>18 years) KTR between January 2015 and December 2017 at a single center. Patients were divided into study groups based on their weight (≤60 kg, 61-74 kg, ≥75 kg). All patients received a 30mg fixed dose of alemtuzumab for induction immunosuppression.
*Results: A total of 445 patients were included in our analysis: ≤60kg group (n=59), 61-74kg group (n=113), ≥75kg group (n=273). There was no difference in the incidence of acute rejection, graft loss, or death at 12 months between groups (figure 1). There was a trend towards higher rates of readmission due to leukopenia at 12 months in the <60kg group, but no difference in readmission secondary to infection (figure 2). While there was no difference in BK viremia or nephropathy, there was a trend toward a higher incidence of CMV viremia in the <60kg group (32.2% vs. 19.5% and 19% in the other two cohorts; p=0.07).
*Conclusions: While there was a trend toward a higher incidence of hospital readmission due to leukopenia and numerically higher incidence of CMV viremia in KTR <60kg that received alemtuzumab 30mg for induction immunosuppression, these findings should be further evaluated in a larger cohort of low body weight adult KTRs. In addition, the safety of fixed-dose alemtuzumab 30mg should be evaluated in other weight ranges to better determine the safety and efficacy of a fixed-dose in all patients regardless of weight.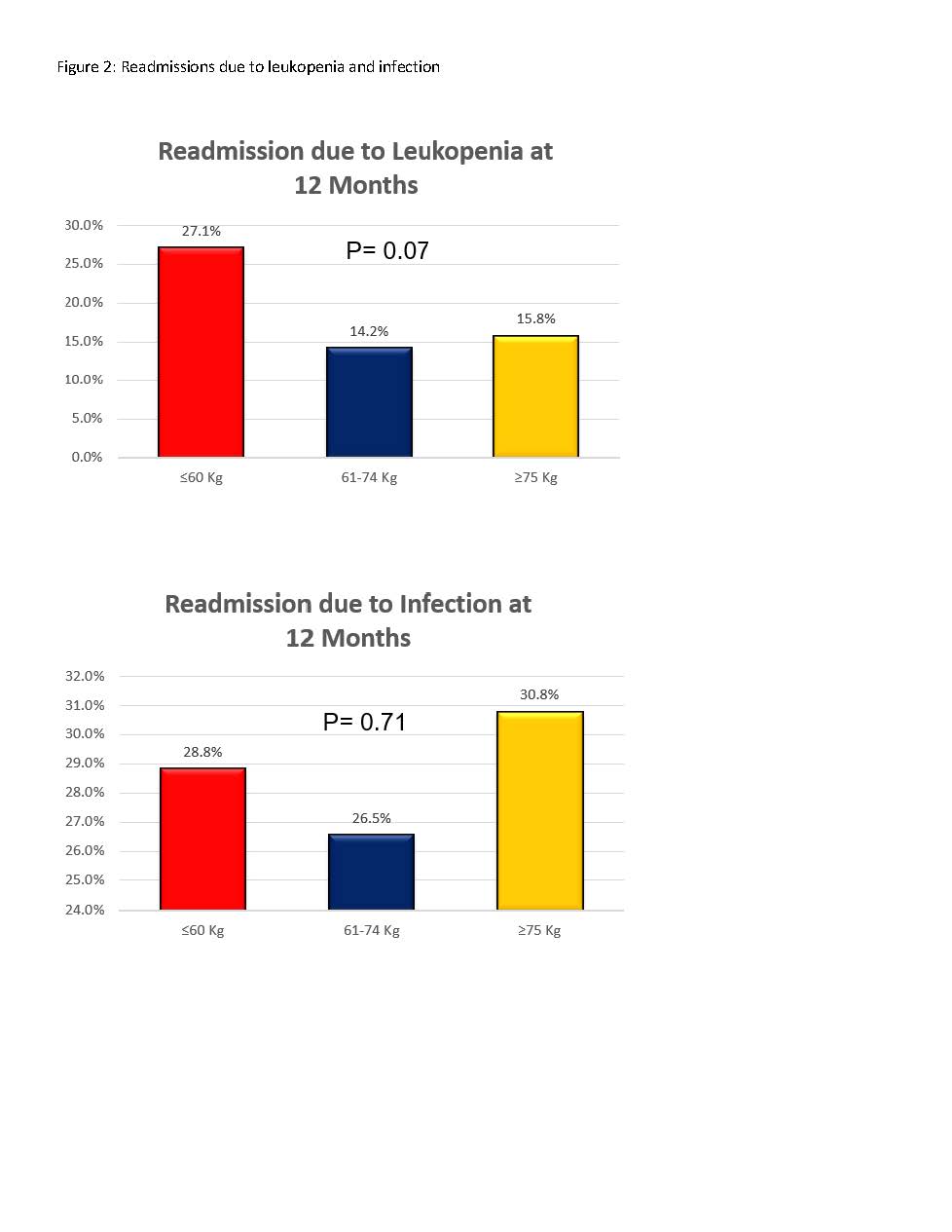 To cite this abstract in AMA style:
Mandala S, Khodieva N, Bigness A, Mohamed S, Mohammed H, Robichaux K, Brueckner A, Baliga R, Buggs J, Kumar A, Bowman L. The Impact of Fixed-Dose Alemtuzumab in Renal Transplant Recipients According to Weight [abstract].
Am J Transplant.
2021; 21 (suppl 3). https://atcmeetingabstracts.com/abstract/the-impact-of-fixed-dose-alemtuzumab-in-renal-transplant-recipients-according-to-weight/. Accessed September 23, 2021.
« Back to 2021 American Transplant Congress