Session Information
Session Time: 5:30pm-7:30pm

Presentation Time: 5:30pm-7:30pm
Location: Hall C & D
*Purpose: De novo DSA was demonstrated as a cause of chronic AMR, leading to worse graft survival. New strategies to treat chronic AMR have been introduced. However the efficacy is still controversial. For the long graft survival, prevention of de novo DSA is important. We investigated the risk factors of de novo DSA and appropriate management of immunosuppression against de novo DSA.
*Methods: Between January 2008 and December 2016, 807 living donor kidney transplantations were performed. 652 of 807 recipients were included in this study. The risk factors for the de novo DSA were investigated in 652 recipients with multivariate analysis. 415 of 652 recipients whose immunosuppressant protocols were continued without any change after operation were investigated. In 47 of 415 recipients, de novo DSA were identified (de novo DSA positive group). By comparing between de novo DSA positive and negative groups, the appropriate management of immunosuppression was investigated.
*Results: The risk factors of de novo DSA were recipient gender, donor gender, and calcineurin inhibitor withdrawal in the multivariate analysis. The difference in the occurrence of de novo DSA among immunosuppressant protocols was not identified.
However, in the tacrolimus (TAC) and extended-release tacrolimus (TACER) based protocol, significant differences were identified in the trough levels (C0) in TAC and TACER for de novo DSA.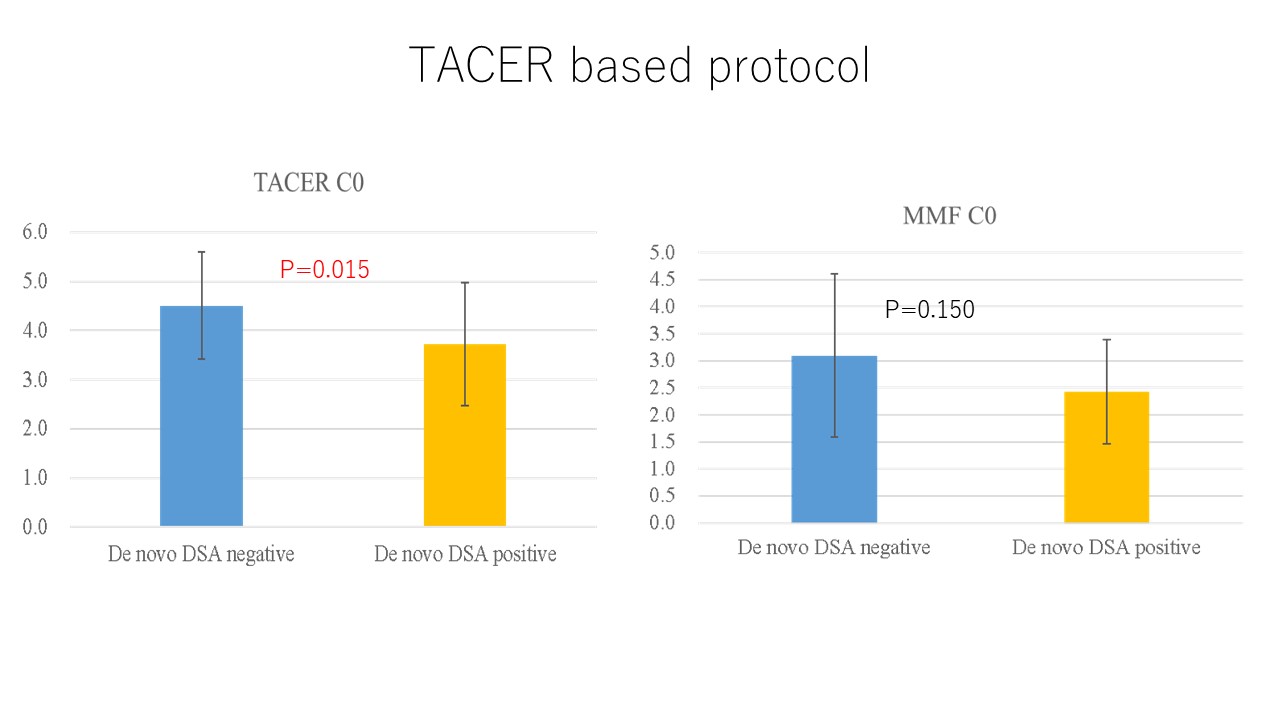 *Conclusions: Calcineurin inhibitors are important to prevent de novo DSA.
To cite this abstract in AMA style:
Hiramitsu T, Tomosugi T, Futamura K, Okada M, Tsujita M, Ichimori T, Goto N, Narumi S, Watarai Y. The Impact of Calcineurin Inhibitors on De Novo DSA in Primary Kidney Transplantation [abstract].
Am J Transplant.
2019; 19 (suppl 3). https://atcmeetingabstracts.com/abstract/the-impact-of-calcineurin-inhibitors-on-de-novo-dsa-in-primary-kidney-transplantation/. Accessed June 29, 2022.
« Back to 2019 American Transplant Congress