Session Information
Session Time: 3:15pm-4:00pm
Presentation Time: 3:30pm-4:00pm
Location: Virtual
*Purpose: Myeloid-derived suppressor cells (MDSCs) are a class of heterogeneous myeloid cells with immunosuppressive function. An effective method to produce MDSCs with better capacity and more quantity is important for inducing immune tolerance to treat many diseases. Our study found that TGF-b induced MDSCs with stable immunosuppressive function is efficient for preventing transplant rejection.
*Methods: We used bone marrow cells from mouse as myeloid progenitor cells for induction. M-CSF is a growth factor to promote bone marrow cell proliferation and differentiation and activated them with TGF-b in vitro to obtain MDSCs. Flow cytometry detected the phenotypes of induced MDSCs. And the immunosuppressive function and mechanisms were determined by co-culture of MDSCs with activated T cells and skin grafted mouse models.
*Results: TGF-b induced these cells with strong immunosuppressive function by inhibition of active T cells proliferation. The phenotype, CD11b+Gr-1+, of these cells also increased compared with M-CSF treatment only. Detection of immunosuppressive factors, we found that Arg-1 expression significantly upregulated in these MDSCs and inhibition of this molecule significantly reversed their immunosuppressive function. In vivo,adoptive transfer of these cells to allografted mouse prolonged allograft survival and promoted immune tolerance.
*Conclusions: It is illustrated that TGF-b combined with M-CSF is an effective and feasible protocol to induce MDSCs in vitro. We believe that TGF-b + M-CSF-induced MDSCs is promising to prevent graft rejection by promoting immune tolerance.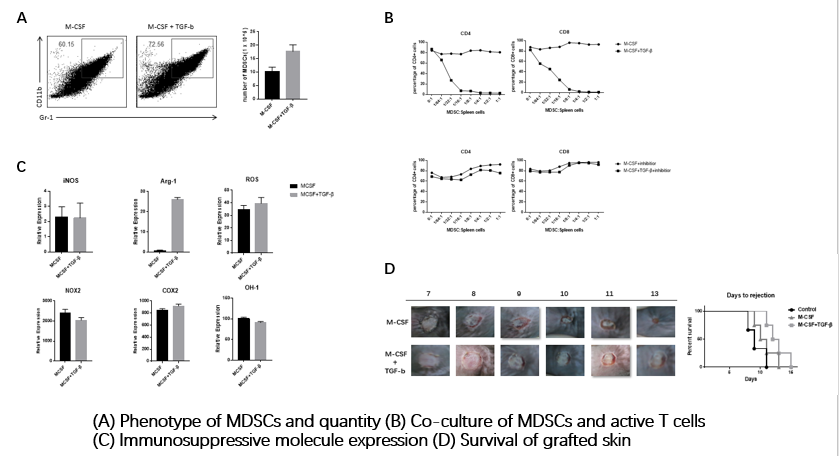 To cite this abstract in AMA style:
Cao P, Sun Z, Zhang J, Zhang F, Wang W. TGF-b Induced Myeloid-Derived Suppressor Cells Prevent Transplatation Rejection by Promoting Immune Tolerance [abstract].
Am J Transplant.
2020; 20 (suppl 3). https://atcmeetingabstracts.com/abstract/tgf-b-induced-myeloid-derived-suppressor-cells-prevent-transplatation-rejection-by-promoting-immune-tolerance/. Accessed September 26, 2021.
« Back to 2020 American Transplant Congress